The government must consider Norman Foster's Thames Estuary scheme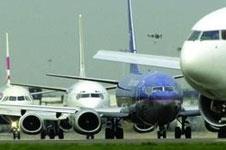 Britain risks becoming simply a branch line in world airport terms, even if a third runway is built at Heathrow. Papering over the growing cracks in existing infrastructure by extending the airport's size will merely serve as a temporary respite to an ever worsening, and ultimately unstoppable capacity problem.
The government really must consider Britain's long-term economic future and embrace Norman Foster's Thames Estuary vision along with good road and rail connections to the rest of the country. The UK is already blessed with a geographical location between the global economic superpowers but urgent action must be taken if we are to remain the passenger traffic gateway between both East and West.
Any decision taken now will be tough politically, but it must be done in the knowledge that future generations will benefit. For many years, short-termism has shackled the type of ambitious project which once ensured Britain was at the global forefront of innovative development and construction.
At a time of recession, the sanctioning of such a bold undertaking will face opposition, but the potential long-term benefit - not to mention the impact of immediate job creation - must not be underestimated.
Steven Barker, chairman, Robinson Low Francis