Hadid, Atkins and Pascall & Watson to sit on mayor's panel aiming to narrow down list of proposals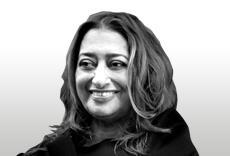 Zaha Hadid is among the experts appointed to advise London mayor Boris Johnson on expanding the capital's airport capacity.
Hadid, alongside others including multi-disciplinary firm Atkins and architect and transport specialist Pascall & Watson, will sit on a panel aiming to narrow down the 15 or more alternative schemes put forward by various others including Foster & Partners, Make and Grimshaw.
Johnson ordered a £3m feasibility study after the government announced that the independent Davies Commission into aviation capacity would not report until after the next general election.
The mayor – who has spoken of his frustration at this timescale – favours a new hub airport in the Thames Estuary but is also understood to be warming to the idea of expanding Stansted in Essex.
The mayor's panel is expected to pick one or two favoured options which will then be submitted to the Davies Commission.
The commission is due to report interim findings at the end of the year.