Rudi Klein supports the Scottish proposal for a statutory deposit scheme offering an immediate safeguard for retentions
In October 2017 the business department published its consultation on retentions together with the research carried out by Pye Tait. The research revealed that, due to up-stream insolvencies, the industry lost £229m a year (at 2016 prices) worth of retention money over a three-year period.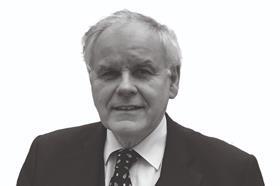 These losses would have been primarily borne by SMEs, especially tier 2 and 3 contractors. On public sector works these lower tiers of contracting always assume the risk of insolvency since public bodies do not go bust.
Some tier 1 contractors will actually ask clients to deduct retentions to make it easier for them to impose retentions on their subcontractors. This is extraordinary
We are now more than two years down the road and, based on Pye Tait's figures, the industry is likely to have lost another £573m worth of retentions. This is likely to be a conservative figure since it doesn't take account of the (still to be announced) huge retention losses resulting from the Carillion collapse.
The government has said it is committed to addressing the issue. The mass of the industry is calling out for legislation to ring-fence retention money (although some in the industry believe, inexplicably, that publishing voluntary road maps will magic away cash retentions). Peter Aldous' bill – which aimed to achieve this – lapsed with the autumn prorogation of parliament. Brexit has stymied parliament's ability to address anything else bar EU withdrawal.
But this does not impact so heavily on the devolved administrations. The Scottish government is now consulting on the practice of retentions under construction contracts. It also employed the services of Pye Tait to research the use of retentions in Scotland. Pye Tait found some interesting contrasts with England:
81% of clients in Scotland use retentions, compared with 65% in England.
The energy sector in Scotland tends to deduct 10% retentions (double the standard percentage).
Almost twice the proportion of clients in Scotland as in England are using retention money as part of their general expenditure.
The proportion of contract value lost due to insolvency is almost three times greater than that in England.
Pye Tait also found that, as in England, most tier 1 contractors in Scotland (82%) use their subcontractors' retentions as working capital or as part of their general expenditure.
The research threw up some interesting evidence. For example, some tier 1 contractors will actually ask clients to deduct retentions to make it easier for them to impose retentions on their subcontractors. This is extraordinary, given some UK large contractors are turning populist by calling for the total abolition of retentions.
That said, Carillion did not need an excuse for taking retention money. It was taking retentions from its supply chain during the upgrade of the accommodation facilities at the Faslane Naval Base, even though the Defence Infrastructure Organisation was not demanding retentions.
The clear consensus of industry stakeholders, according to Pye Tait, was that protecting retention money (and, thus removing the ability of clients and tier 1 contractors to use it as working cash flow) would resolve most of the problems. Pye Tait concluded: "There is a strong reason to accept that the system of retentions is not working to the advantage of the Scottish construction sector."
The consultation document appears to suggest that the Scottish government favours "a fairer, more neutral and protected approach to retentions" rather than "a legislated switch from the practice of retentions to an alternative means of assurance". The consultation, therefore, focuses on a retention deposit scheme as the way forward. This would have to be introduced by legislation, with the emphasis being on contracts having to make provision for retentions to be held in trust in a deposit scheme. In the absence of such provision, the Scheme for Construction Contracts would imply the relevant terms.
This reflects very much the message in the retentions campaign being run by SEC Group Scotland. It also reflects a recommendation that was contained in a review of public sector construction carried out for the Scottish government in 2013.
I urge all responding to this consultation to support the proposal for a statutory deposit scheme that offers an immediate safeguard for retentions (which, after all, belong to the party from whom they have been withheld). Only in this way can we move away from reliance on cash retentions as a source of working capital for parties up the supply chain. The consultation closes on 25 March.
Rudi Klein is a barrister and CEO of the Specialist Engineering Contractors' Group and was responsible for the drafting of the Aldous bill
An IT platform for protecting retention money is currently under development. For more information go to: www.rdch.co.uk