Rudi Klein says subcontractors hit by delayed payments resulting from Galliford Try's takeover of Miller should put work on hold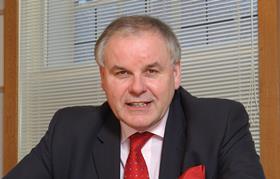 Any subcontractors hit by delayed payments as a result of Galliford Try's recent takeover of Miller Construction have been urged to put work they are doing for the company on hold.
Galliford Try acquired Miller Construction in July and ceased processing payments to Miller's supply chain last month during a switch over to the main group's accounting system.
In a letter to Miller subcontractors last month, seen by Building, Galliford Try informed them that the processing of invoices would be suspended for just over a fortnight from 13 November until last Friday, when it said the accounting system would be "fully functional".
In an update Galliford Try told Building the changeover to the new system has now been completed.
During the downtime, Miller Construction suppliers were warned that no purchase orders would be raised, invoices processed or payments made. Galliford said it would be unable to deal with payment queries or issue payments while data was being loaded on to the new system because it could not access enquiry or input screens.
Rudi Klein (pictured), chief executive of the Specialist Engineering Contractors Group, said any firms that had suffered from payments being on hold could "suspend any further work for Galliford Try", which he said should pay interest on any overdue sums.
"This kind of action is to be deplored given the serious difficulties that many small firms are in as they attempt to climb out of the recession with no or little access to finance," he said.
Klein added that Galliford's action reinforced the general case for project bank accounts, where all contractors on a project are paid from a central pot.
A Galliford Try spokesperson said: "We are delighted to be able to say that the changeover of our integrated accounting and reporting systems has now been completed successfully.
"During this period, we have worked tirelessly to ensure that all payments were made to our supply chain in a timely manner.
"In an IT project of such scale there is always the risk of encountering a technical issue and Galliford Try encourages any supplier who believes they may have been inconvenienced as a result to contact us as soon as possible."