With manufacturing in many countries showing strong signs of recovery, the development of new manufacturing facilities is required to keep pace with contemporary process and technologies, say Mike Wilcock and Miles Jenkins of Davis Langdon, an Aecom company
01 / INTRODUCTION
As a result of the recession, manufacturers around the world have experienced a relatively short, sharp shock, followed by a quick return in demand. Manufacturing activity rebounded firmly in 2010 and ended the year on a strong footing with continued activity in the first half of 2011. In addition, the recession has led to manufacturing firms reviewing their business operations and they now seek to address issues that will position them for future economic trends and growth.
With manufacturing becoming ever more global it will remain a significant source of employment and a major contributor to the GDP in developed countries. However, the sector is also a major producer of CO2 emissions and a large consumer of energy. Therefore, manufacturers must address these issues and consider business strategies that focus on sustainable build solutions and facilities with innovative design.
In the UK alone, a proportion of existing manufacturing facilities have gone beyond their original design life, are no longer efficient and their inflexible arrangements do not allow for improvements to accommodate modern manufacturing processes.
As manufacturers look at their next facility or expansion of an existing facility, they should consider scenario planning. Cost will be a key issue once strategic priorities have been set, but there are wider project drivers that need to be considered as part of the holistic business case, such as political, economic, social, technological, legal and environmental. By taking advice on scenario planning at the outset, manufacturers will be able to make an informed decision. The outcome may suggest a new facility isn't needed, or one smaller than first thought, or in a different location to that first envisaged.
Manufacturing is not just about the production of an end product, it is about research, design and development, production, assembly, distribution, sales and marketing and aftercare services. Historically, all the above elements would have been housed in one "big factory" in a specific location. While this is still a requirement for some manufacturers who look to show their customers the "end-to-end" product and service offering in one location, this type of facility does not provide for the flexibility and efficiency that global manufacturers are looking for as they seek to expand into new markets. However, improvements in global transport, communications and information means firms can now separate out the various parts of the manufacturing process. For example, large components that can be costly and difficult to transport can be produced close to the customers' needs, while the research and design can be undertaken remotely, in a facility elsewhere.
The capital cost of a new facility is significant and the building is required to be designed around the operations, in effect it is designed from the "inside out". The key challenge is one of achieving value for money from the capital investment, making allowances to meet the needs of the "day one" operation but also "future-proofing" allowances that provide flexibility throughout the manufacturing process. Early engagement with all the key business stakeholders is critical to the success of a facility. Some manufacturing processes have a short life span, as technologies develop and move on, a product's life may only be five years, so a process line could change a number of times over the life of a building.
The approach to the manufacturing process has been underpinned by the notion of integrated supply chain and product delivery, the essence of building information modelling (BIM). The building process however needs to catch up with the actual business that will be housed within such facilities. To aid stakeholders' understanding of any early designs, BIM processes and modelling technology is being used increasingly within manufacturing with the added benefit of aiding businesses to understand the internal layout and configurations at a much earlier stage than previously experienced thus avoiding costly mistakes that may have only come to light once a building was completed.
02 / MARKET OVERVIEW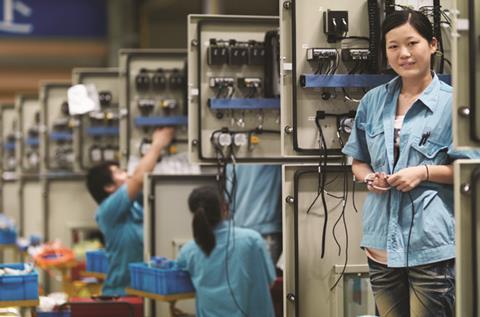 The manufacturing industry in many countries has led the recovery from the 2008/9 global recession - which was the most severe since Second World War. During the crisis, the credit squeeze and decline in consumer and investor confidence, and the collapse of world trade, led demand to plummet.
Those economies that have historically been reliant on a strong manufacturing sector - the US, Japan and the eurozone - experienced a plummet in demand and particularly suffered during the downturn. At the same time, the industry's search for lower costs together with rapid consumption growth has driven continued expansion in many emerging markets across Asia and South America, most notably in China and Brazil, which today are manufacturing power houses.
Activity rebounded firmly in 2010 around much of the globe and ended the year on a strong footing, with industry surveys showing that growth in 2010 as a whole was the quickest since 2004. The expansion was broad-based across countries, with only Japan and parts of Europe reporting contractions. Growth accelerated sharply in the US and the eurozone, led by Germany, and remained strong in emerging economies.
Surveys such as the JPMorgan Global Manufacturing Purchasing Managers Index (PMI) point to a slight moderation in manufacturing growth in the first quarter of this year. Though globally, the sector remains firmly in expansion mode, currently seeing global industrial production growth of between 5-6%. In the US, the manufacturing recovery continues to power ahead, while Chinese manufacturing remains strong despite measures implemented by the Chinese authorities to cool the economy and bring down inflation. Eurozone manufacturing growth slowed somewhat in the first quarter of this year, while the impact of the March 2011 Tohoku earthquake led to a sharp decline in Japanese manufacturing output.
Global manufacturing growth is expected to moderate over 2011, reflected by slower new orders growth in recent months. However, the outlook for the sector remains largely positive. In emerging markets such as Asia, Latin America and parts of Africa, outsourcing of production to low-cost centres, as well as indigenous demand growth,will continue to boost prospects. A key trend to watch in fast-industrialising emerging markets is exchange rate appreciation, seen already in Brazil, Chile or China, which could cause competitive pressures for exporters creating a problem for manufacturers. In a number of mature Western economies, manufacturing is taking centre stage as governments seek to rebalance their economies. Governments and the industry are seeking to increase competitiveness, for example by adopting energy efficient processes and green technologies to give them an edge and to reduce costs - especially energy costs - in the longer term.
Input price inflation is putting many manufacturers around the globe under pressure. Manufacturing input costs started to rise sharply in 2010 and further in 2011, reflecting increased prices for cotton, food products, fuel, metals and timber.
All countries are affected by the rise in input costs, but the sharpest rate of inflation is being seen in Europe, Russia, the US and parts of Asia. Global demand, natural causes and ongoing supply chain pressures are some of the factors behind price rises, with inflation expected to remain elevated.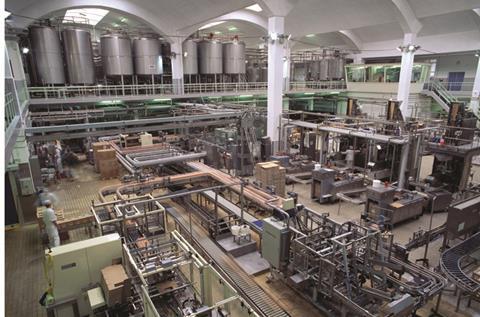 03/ KEY DRIVERS
Manufacturing projects have a number of key cost drivers that will be influenced primarily by the processes and products being manufactured or assembled within the facility. These will include:
Utilities capacity and availability to the site - substantial usage and peak demand can be required in a number of process operations. The cost and programme implications can be signifcant and assessment of locations should be done carefully at an early stage
Substructure - foundation and slab design tolerances related to the potential for large machinery and/or specialised and highly sensitive equipment. The addition of large bases, pits and isolated slabs can add £5/m2 to £30/m2 on the substructure element (£50,000 to £300,000)
Structural frame - the potential for large crane loads, process and/or large span requirements. The addition to the frame cost could be minimal but in some instances where large spans or column free areas are required within cranage zones the additional cost can range from £5/m2 to £25/m2 of the GIFA (£60,000 to £300,000).
Building height - driven by assembly and process requirements, with every increase in 10m haunch height the increase in cost will be £2.50/m2 to £7.50/m2 of the GIFA (£30,000 to £90,000).
Mechanical and Electrical Services - dependent on the manufacturing process, additional specialist services may be required such as specialist gas supply, containment and storage, treated water, process cooling, humidity control and effluent treatment. The addition of process related service costs can range from £50/m2 to £250/m2 of the production area (£500,000 to £2.5m).
Access - external treatment of landscaping, hardstanding and storage areas for materials, lay-down and distribution. The resulting increase can range from £20/m2 to £50/m2 of the area to be landscaped.
04/ BUILDING ENGINEERING
Providing a modern approach to building engineering design in a diverse and complex manufacturing sector for a global market requires harnessing a balance between innovation and traditional designs.
The sector is founded upon processes providing efficient, low cost and sustainable solutions driving a lean manufacturing culture which modern building engineering needs to emulate.
Building engineering achieves this lean approach by harnessing collaborative tools in respect to both design and communication. BIM is at the forefront of this innovative approach by allowing designers to communicate and collaborate in a virtual environment to prototype all technical solutions in advance of true construction.
This is commonly known as "build before you build". This approach addresses the problem of poor co-ordination between complex process engineering and building engineering solutions that often results in costly alterations during the construction phase. This can sometimes result in solutions that compromise the original intent of the process engineering.
Many global manufacturing clients are taking the advantage of early prototyping of their process and building engineering designs to provide fully
co-ordinated solutions. These techniques allow the co-ordination to be proven well in advance of implementation, which is moving the sector towards a truly lean manufacturing solution.
Why stop with one project? This approach can be easily adapted to allow multiple deployments of similar manufacturing projects globally. Through the use of modern communication and collaborative platforms, the fully prototyped project can be adapted to suit different local requirements. By transferring lessons learned from earlier projects into the prototyped model there is an opportunity to improve the efficiency of design solution to reduce cost and time.
Using innovative technologies enables traditional building engineering design techniques to be fully integrated in a holistic solution, which ultimately benefit the manufacturing it supports.
There is one further advantage to the global BIM sector that draws comparison from the automotive design process. Once virtually tested the facility design can form the blueprint for further facilities around the world. The building, as it were, can be rolled off the production line.
05/ WHERE TO INVEST AND WHY?
Global manufacturing centres
Over the past decade there has been a fundamental shift in manufacturing away from industrialised countries to emerging economies. In terms of size and direction, the transfer of global wealth and economic power from west to east is without precedent in modern history. This shift has occurred on the back of infrastructure and logistics developments, which have allowed manufacturers to easily connect multiple production locations with consumers.
In particular products with a high labour content, such as textiles, apparel, appliances and certain commodities, are seeking global production centres where manufacturers can access the lowest possible labour costs in wages and benefits. In contrast, those manufacturers whose products have a high material content or need high-skilled labour, e.g. aircraft, special industrial machinery, equipment for construction and mining, medical and scientific equipment have pre-dominantly retained their production locations in established manufacturing centres in Europe and the US.
However this trend is not universal and some emerging economies are specialised in high-tech manufacturing, such as the aircraft industry in Brazil.
China's manufacturing sector has dominated the global growth story over the past two decades. Its size on some measures now exceeds the US manufacturing sector. When manufacturing is measured in value added to GDP at current US$ prices, China outranked the US for the first time in 2008. When output is measured using real (inflation-adjusted) constant US$ prices, then the manufacturing value added in China is not yet exceeding that of the US. Other countries in Asia, such as Japan, Korea, and Taiwan have been manufacturing hot spots for a while, while others are gaining importance fast, like Indonesia, Thailand, Malaysia or India. Mexico and Brazil are the main manufacturers in Central and South America, respectively, while Russia remains competitive in iron and steel and heavy machinery.
Regional share of global manufacturing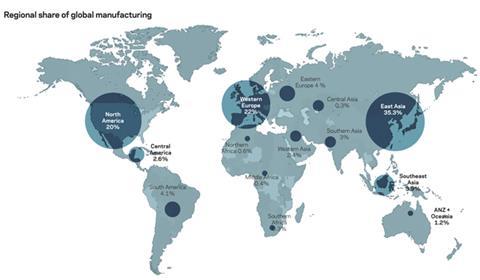 Manufacturing competitiveness
Globally, countries are competing for multi-national companies, R&D firms and manufacturers to create the most compelling business environment to attract investments, which is important for spurring innovation and creating high-value jobs. The most important factors driving manufacturers' competitiveness are labour - low-cost or high-skilled - material and energy costs. A country's industrial capabilities, infrastructure and policies in terms of a positive business environment and manufacturing incentives, are also important.
According to Deloitte's Global Manufacturing Competitiveness Index, Asia, and in particular China, India, Korea and Japan, is the most competitive location for manufacturing now and is expected to hold this title for at least the next five years. The US is among the most competitive countries, but is expected to lose some of its importance in the long-term. Europe also struggles to retain its position as a strong global manufacturing location, but still has the most countries in the Top 25 Global Manufacturers list.
Growth areas
Growth of emerging economies - particularly in Asia and South America, but also parts of Africa - are expected to outpace expansion in the western industrialised economies in the coming years. In these markets, economic development is giving rise to a new middle class with an increasing spending capability. Their demand for consumer goods, such as, food, clothing, automobiles, or pharmaceuticals will drive the production and distribution centres location decisions of manufacturers.
China will retain its leading role in manufacturing, but many emerging markets with large populations are becoming increasingly attractive. These economies will mainly be in (South-east) Asia, Latin America and parts of Eastern Europe and Africa. Some strong, mature economies, such as the US, Germany and other European countries, are expected to retain their leading edge in certain areas of the manufacturing industry.
There are controversial views about global manufacturing trends, with some arguing that the trend to off-shore manufacturing from Western countries will continue, while others see a shift in manufacturers moving their plants and suppliers closer to their main consumer base. Fuel prices could be a determinant in future production locations, as high oil prices inflate transport costs and hurt those manufacturers with long supply chains.
Rapid economic development in emerging markets will eventually lead to higher wages and salaries, increasing labour costs. This trend is already being seen in China, where wage demands are rising or in India, where IT outsourcers struggle to attract the talent. Wage rises hurt the competitive advantage of low-cost countries, and production could eventually move on to the next low-cost location.
Sustainability will be a key driver for supply chains in the future. Long-distant supply chains in countries perceived as having a mix of poverty and authoritarian regime, as well as uncertain employee relations, could prove a significant reputational risk for companies in the future, which in turn could lead to changes in production locations.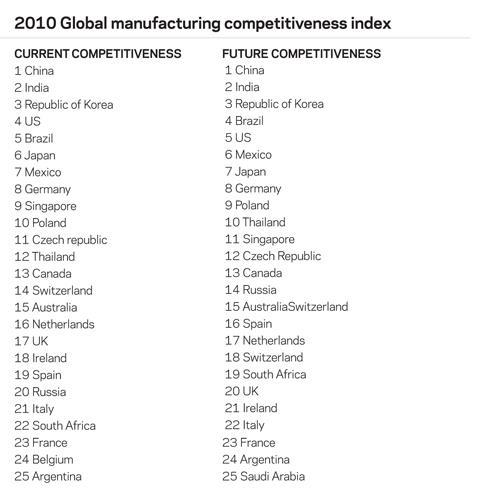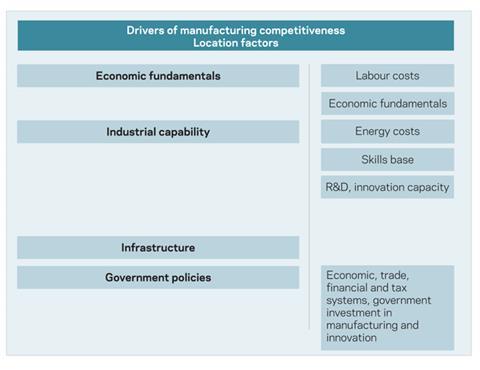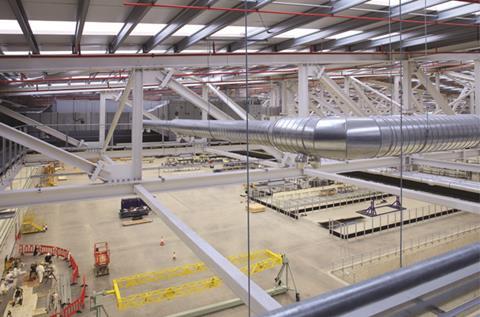 Cost model summary
The cost model summarises the construction costs for a notional machining and assembly facility located in the UK.
The total GIFA is 12,000m2 (129,000ft2) comprising 10,000m2 of production area with 2,000m2 of offices and ancillary space on two storeys. Height to haunch 10m.
Rates are at second quarter 2011 levels and exclude professional fees, VAT, site preparation and abnormals, final connections to machines and specialist services requirements for process, ie nitrogen, argon, de-min water, process steam/water
The rates may need to be adjusted to account for specification, site conditions, procurement route and programme.
Key global location factors
UK 100
Brazil 90
China 50
India 40
Korea 70
Japan 130
Mexico 40
US 100