Developing office schemes on the capital's fringe requires a careful balancing of the need to maximise tenant appeal against the constraints of lower rental income than in the centre. Aecom's David Thornley, William Bell and Joshua Hare explain the cost factors and offer an example cost breakdown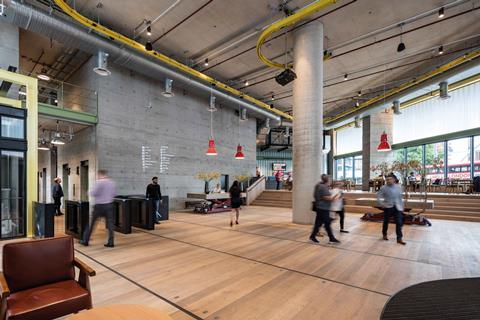 01 / Introduction
Against the backdrop of an uncertain economic and political future, the capital's workers continue to need spaces and places to do business. Office developers, however, face multiple challenges: not least, meeting ever-evolving environment and wellbeing standards as well as rising performance requirements from occupiers.
London's commercial office market is evolving as growth permeates into fringe locations, presenting a new range of design, build and cost challenges for developers. But the narrower rental margins on the fringe dictate a more selective, value-added approach to building design than in more central areas, striking a balance between winning tenants and containing building costs.
02 / Market dynamics
Despite the pressures being exerted on London real estate by a weakening pound, record low investment levels and the uncertainties engendered by Brexit, one thing is certain: rent inflation in the traditional prime office heartland of the West End and Midtown has shown resilience, with rents beginning to rise again recently. According to the Office for National Statistics (ONS), the worker population in London has risen 3.7% over the same period, leading to a cyclically low vacancy rate in prime locations. Businesses are being priced out of these districts as a result, leading to demand for more affordable office space elsewhere.
Developers are now turning to fringe locations – typically, areas that fall into London's outer zone one and bordering zone two. Districts that are now experiencing a significant rise in commercial office space – in a similar way as happened in King's Cross and Old Street three years ago – include Nine Elms, Blackfriars, Aldgate and Whitechapel.
The regeneration of high streets and the creation of "destinations" in these localities is making the developing of office space here a more viable long-term prospect. This is especially true in emerging parts of the capital such as Stratford, Canada Water and Old Oak Common. These are all areas well-served by transport connections, or where significant infrastructure investments and improvements are being made, but which to date have not been perceived as prime office real estate.
The challenge is that the rental prices achievable in London fringe areas do not match those of grade A office developments in prime London areas. This inevitably constrains the level of specification to which fringe developments can hope to aspire. It is likely that construction costs will need to be less than £300 per ft² of gross internal area (GIA) including shell and core and category A fit-out in order for schemes to be viable. It follows, then, that a balance must be struck between on the one hand a building's design features and amenities, which will aid in attracting potential tenants, and on the other hand the rental income it can be expected to generate. This is where careful costing of building features and thorough evaluations of the expected return on investment are essential.
Developments in the fringe are increasingly incorporating a mix of uses to improve the rentability of the spaces created, with the growing prevalence of demand for offices to reflect the live-work-play lifestyle of their occupants. Mixed-use developments are now going beyond the traditional blend of office and retail, with cultural spaces beginning to play a key role in attracting tenants to the area.
Integrating flexibility that will allow later repurposing of an office space is becoming an important consideration in the early design stages, so that developers can react quickly to the changing demands of the market and accommodate the evolving behavioural patterns of the tenants they hope to attract.
Creating permeability – the sense that the building is open to, operates within, and is an active part of its environment and the local community – is a design concept that is spreading across both new and refurbishment developments in London.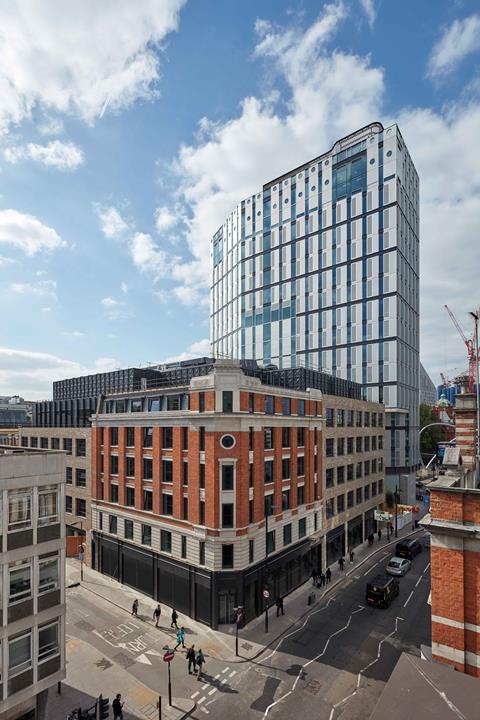 03 / Product evolution to meet changing demands
As the Millennial and Generation Z populace increase in numbers in the workplace, their concerns and demands are escalating to influence the places in which they work. These professionals are typically more socially, environmentally and politically conscious than their Generation X counterparts and want their workplaces to reflect their interests. As a consequence, forward-thinking businesses increasingly see value in establishing themselves in London locales, such as Old Street, known for their creativity, youthfulness and diversity – attributes they hope to attract and retain within their own workforces.
Leasing structures
Office leasing structures have been changing to reflect the dynamism of these new workplaces. The new breed of office must offer lease flexibility and scalability in order to attract tenants that are unable to risk the prospect of a 10- or 15-year commitment. Businesses need to be able to rapidly scale their office space to match their own growth patterns – a demand that is being reflected in the rise of companies using co-working space rather than the conventional leases that were previously the only option. Some leases are becoming ultra-flexible, with increasing availability of monthly contracts.
Within these offices, established ways of working are evolving. The success over the past five years of co-working brands such as WeWork can in part be explained by their ability to offer multi-modal office spaces and bespoke leases, complete with the amenities that enable people to work at any time of day.
Such flexibility caters to the rising numbers of start-ups, business travellers and the self-employed workforce, which hit a record high in the UK of 4.96 million workers in 2019 (according to the Office for National Statistics). Even long-established multinationals see the value in hiving off certain parts of their workforce to co-working spaces, hoping to capitalise on the entrepreneurial attitudes and inherent dynamism of such environments.
Multipurpose spaces
The concept of agile or activity-based working has now filtered into the mainstream. In practical terms, this idea is about developing multipurpose spaces that enable individuals and teams to work in a more effective manner. This could mean incorporating enclosed areas that promote quiet concentration, alongside wider spaces dedicated to collaborative work, next to office cafes that can perform triple-duty as socialising, meeting and eating areas. Creating multipurpose spaces explicitly designed to meet a broad range of workers' needs makes for more efficient and economical use of the floorplate than do traditional open-plan layouts.
This hard-working, high-density design reflects the more demanding occupancy standards in commercial office space. Much has changed over the past decade. Ten years ago, a workplace density of one person per 10m2 was considered normal. Now this figure is typically one person per 8m2, with some developers wishing to go even lower.
If more people are present and working within a space, the design of almost every other aspect of a building has to be reconsidered: from air delivered to the floor, to toilet facilities, to lift strategies and means of escape. The challenge for developers is balancing the inevitable cost uplift of these performance enhancements by increasing the rentability of the spaces they are creating.
Specification standards
With tender prices expected to inflate softly over the next year, clients are demanding that their offices work harder than ever before. Wider industry quality standards are also on the rise. The British Council for Offices (BCO) released its updated Guide to Office Specification this year, replacing criteria created in 2014 and hinting at how rapidly best practice and standard specifications can evolve. The new guide is reflective of trends towards greater occupation densities, more tenants expecting more generous volumes, and new additions that focus on the benefits of increased building intelligence.
The effects of the built environment on staff productivity and wellbeing are also increasingly being studied. As more research data becomes available, building certifications designed exclusively to benchmark health and wellness standards are emerging, driving higher client expectations. Offices must now meet metrics that barely existed a decade ago.
For example, the WELL Building Standard launched five years ago and measures human health and wellbeing features within a built environment. The benchmark assesses factors such as natural light availability and water and air quality. In short, office spaces are being built to higher technical, health and environmental specifications than ever before.
A further behavioural trend in London over the past decade is the rise of cycling. Transport for London reported that the number of cyclists in central London has risen 8% over the past year, the biggest increase since records began. The average daily total distance cycled by London's commuters has now surpassed 2.5 million miles per day. In workplaces, this is translating into requests for a greater amount of cycle storage with associated facilities such as showers and changing facilities, if not already required by local authorities as a prerequisite of planning consent. Often these facilities must be accommodated in basements, putting greater pressure on the space available for plant and driving up construction costs.
Cost challenges
Achieving realistic costs to build a quality development with consideration of all these factors in the current fringe rental market is a challenge. Capital investment concerns must be balanced against the need for a development to maintain attractiveness to tenants for the long term. Deciding which design enhancements achieve the most return on investment is especially important.
If the inclusion of a rooftop terrace, for example, adds to building's rental value, then the case for its inclusion in the scheme is more easily made than for a design enhancement where the return on investment is not as easy to define but that may still add to the building's marketability and speed to let. If the inclusion of a communal or public cafe and meeting place drives workplace satisfaction and productivity, creating tenant loyalty and satisfaction, then it may be worth the additional cost to the client. All these options must be considered by the client and design team at the outset in order to make current and projected value-based decisions.
Central London's densely built environment also creates specific issues in the construction phase. Many fringe sites will have inherent constraints that must be factored in when considering project viability. Site footprints are typically tight and anachronistic, demanding modern design and construction take place within centuries-old space constraints.
In addition, historic, protected sightlines and rights of light must be preserved, which often heavily influences the shape and form of a building. This can also be the case with below-ground constraints such as the London Underground, which although it is invisible at street level can lead to structural complexities in the design.
Those design criteria that can be influenced by the client and its design team must be carefully balanced from a cost versus value perspective. Analysing wall-to-floor ratio, structural grid, slab-to-slab heights and the nature of the external facade are all fundamental when designing to lower budgets to suit schemes in fringe locations. Minimum standards for these aspects are considered with more focus in the 2019 rendition of the BCO Specification for Offices.
Ultimately, choices need to be made around which enhancements will add most value.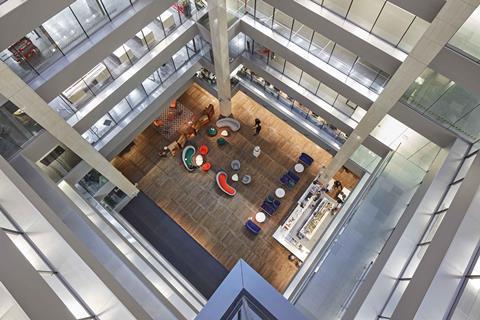 04 / Future trends
The concerns and demands of today's workforce – the need to anticipate those of tomorrow's – are nowadays strongly influencing the construction phase of office developments. Potential tenants are highly aware of environmental considerations and many are increasingly interested in participating in the "circular economy" of recycling, reuse, remanufacturing and refurbishment. Sustainability has to be baked into a development's design from its earliest stages. A BREEAM "Excellent" sustainability rating is no longer a nice-to-have but the norm for most grade A office space in London.
Sustainability concerns play out via client requests for construction to incorporate circular economy principles such as designing out waste, increasing resource efficiency and reducing a building's embodied carbon. The sourcing of local labour and materials and utilising reclaimed timbers and steel are also rising on client's wish-lists. Planning for sustainable end-of-life deconstruction and disassembly has led to calls for more reusable and modular elements. Looking ahead, this will mean an increased demand for more easily reassembled, prefabricated building components.
Demand for these components will also be driven by perhaps the biggest issue pressing upon the construction industry today: a lack of skilled on-site labour. Brexit and the wider political and economic climate mean we are not seeing a rise in skilled on-site labour available in the market and a shift towards offsite production and prefabrication could assist with this problem. As this part of the market continues to become more prevalent and develop at a pace, we may see efficiencies in prefabrication driving down costs.
With buildings becoming more and more complex, a move toward modern methods of construction (MMC) and design for manufacture and assembly (DfMA) are likely to increase, and we expect more collaborative forms of procurement to continue. This will be vital to delivering on the budget and programme aspirations of clients. Many developers and designers are embracing opportunities for offsite manufacturing as a more sustainable and efficient approach, helping to de-risk programmes and drive quality. This is likely to lead to an increased necessity for early trade engagement to input specialist advice earlier in the design process.
The wider issue of future-proofing developments with all-electric buildings is becoming a serious design life consideration. Buildings will need to keep pace with the increasingly electric world around them and could need to accommodate, for example, electric car charging and battery-powered electrical systems as the grid in London becomes more congested. As air source heat pumps become more efficient, this will present an opportunity to free up space otherwise used for chillers and boilers, to be used instead to meet cycle parking or shower amenity demands.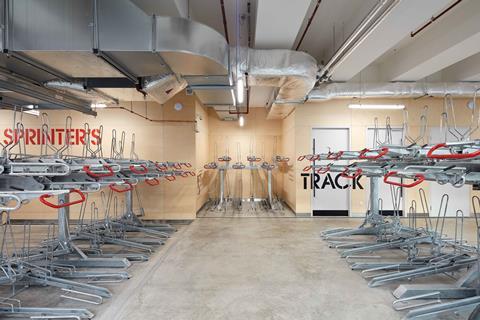 05 / The element of control
Clients want certainty of outcome, certainty of costs and certainty of timelines that deliver products of high quality. Achieving all this requires best-in-class and often bespoke procurement methods.
There are many ways to procure projects in today's market, but there remains a bias toward two-stage methods and we are seeing a shift towards hybrid procurement solutions. Engagement with the supply chain and specialist trades far earlier in the process than traditionally happens is highly recommended. Seeking the advice and assistance of specialists helps to achieve the most efficient design, programme and logistics strategy, as well as providing earlier cost information.
Finding the right balance for a fringe location development does require that clients and their design teams think a little outside the box in terms of how a commercial office building should look and feel. Those willing to explore the benefits of creating places that offer occupants a sense of wellbeing and flexibility are reaping dividends for their investment. By identifying what can and cannot be controlled in a building's design, a clearer view of where to spend money can be targeted right from the outset.
When developing offices on the fringe, it is important to be open to the potential for integrating modern methods of construction. Adopting such methods need not mean compromising on a development's rentability. Generally, sensible solutions to common design considerations, such as the amount of different unitised facade types to a building's external walls, should be considered at the outset of a project and be in line with a development's rental aspirations. Architectural shape and form should be kept interesting but simple, and structural solutions should be based around conventional grid layouts.
As seen with the example of Derwent London's White Collar Factory project over Old Street roundabout, the London commercial office market has historically rewarded those developers that are willing to explore fringe locations with a view to breaking the mould of the prime West End office. With a measured approach to spending money in the right areas, twinned with a stable demand for affordable commercial office space in London, the fringe market will continue to be an attractive proposition for developers for the foreseeable future.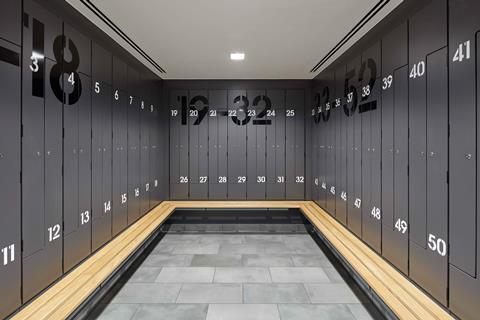 06 / About the cost model
This cost model is based on a new-build seven-storey commercial office building in a fringe London location (as defined above). The parameters are set around a gross internal area (GIA) of 250,000ft², including a single-storey basement, with minimal site constraints.
Overall net to gross efficiency is assumed at 77% of the overall GIA, with an average wall-to-floor ratio of 0.40. The building's HVAC system uses four-pipe fan coils combined with air-handling units and traditional gas boilers and chillers. The external walls are predominantly unitised curtain walling with retail shop frontages at ground floor.
Price levels are set at Q3 2019.
Download the cost model using the link below
Acknowledgments
The authors would like to acknowledge the contribution of AECOM colleagues to the development of this article and cost model.