The latest in our series of CPD modules examines the key issues when selecting a rooflight, including the diff erent types of glass and operating systems, as well as relevant standards and testing procedures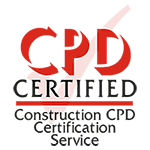 How to take this module
UBM's CPD distance-learning programme is open to anyone seeking to develop their knowledge and skills. Each module also offers members of professional institutions an opportunity to earn between 30 and 90 minutes of credits towards their annual CPD requirement.
This article is accredited by the CPD Certification Service. To earn CPD credits, read the article and then click the link below to complete your details and answer the questions. You will receive your results instantly, and if all the questions are correctly answered, you will be able to download your CPD certificate straight away.
CPD CREDITS: 60 MINUTES
DEADLINE: 9 OCTOBER 2015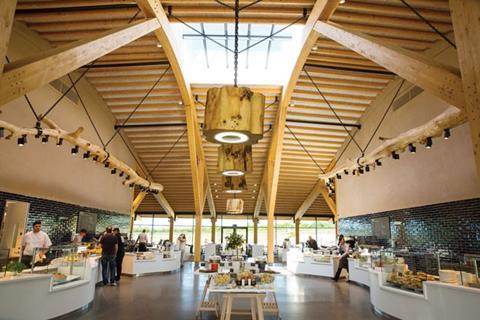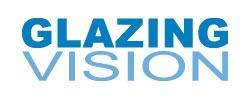 INTRODUCTION
Rooflights have been a popular means of drawing daylight into buildings since the Victorians first developed relatively inexpensive processes for making high-quality large panes of glass. Over the past 150 years, overhead glazing has been used extensively on a variety of building types. Public and commercial buildings benefit from its ability to bring light into deep-plan structures. In housing, meanwhile, improvements in durability and thermal performance over recent years have made rooflights a key element of design. They bring loft spaces into practical use, and are usually a cheaper and less obtrusive option than dormer windows.
This CPD will examine the main factors that specifiers need to consider when selecting a rooflight as well as the relevant standards, regulations and testing methods.
SPECIFICATION CONSIDERATIONS
A number of key factors influence the specification of rooflights. These include the primary function of the glazing (that is, whether it is for daylight, ventilation or access), the loadings it needs to support, the type of building, and the altitude and position of the roof.
Type of glass
All overhead glazing must be a safety glass. There are three principal types of safety glass: toughened, laminated and wired. The two most common types of treated glass used in rooflights are toughened glass and annealed laminated glass.
Toughened glass This is a preferred option for rooflights, as it is four to five times stronger than annealed glass of the same thickness. In addition, if toughened glass does break, it shatters into small fragments, which minimises the risk of injury.

Toughened glass is made by passing annealed glass through a furnace and heating to above annealing point, then rapidly cooling. The strength of the glass is increased by a combination of high compressive stresses at the surface and tensile stresses in the centre.

There are some disadvantages to the use of toughened glass. In the toughening process, nickel sulphide (NiS) particles can become trapped in the unit; these can expand and cause spontaneous breakage without any load or thermal stress being applied.

However, this risk can be significantly reduced through the use of heat soak tested (HST) glass. Heat soak testing involves heating tempered glass up to 290˚C over a controlled period of time to accelerate NiS expansion. Usually up to 95% of NiS-infested panes are destroyed during this process. Heat soak testing tends to be used on large pieces of glass, and particularly walk-on and structural units.

Annealed laminated glass This is produced by combining two or more sheets of float glass with one or more interlayers. Glass integrity is maintained through the use of a laminated interlayer – commonly polyvinylbutyl (PVB) – which is processed with heat and pressure under factory conditions. Should any damage occur, glass fragments are held together and remain in place due to the bond with the interlayer.

British standard BS 5516 Part 2, which covers patent glazing and sloping glazing for buildings, states that:

up to 5m above floor level, toughened or laminated glass can be used
between 5m and 13m above floor level, toughened glass no more than 6mm thick and no greater than 3m2 can be used, otherwise it must be laminated
at heights greater than 13m above floor level, laminated glass should always be used.

In all cases, a risk assessment should be carried out of the particular application and location.

Combinations such as toughened laminated or HST toughened laminated are also available. Annealed glass can be susceptible to thermal stress cracking, so there may be occasions where either a heat-strengthened or toughened laminated glass is required. Toughened and laminated glass is also commonly used where the additional strength of toughened glass is required in structural applications, such as walk-on glazing for glass floors or for glass fins.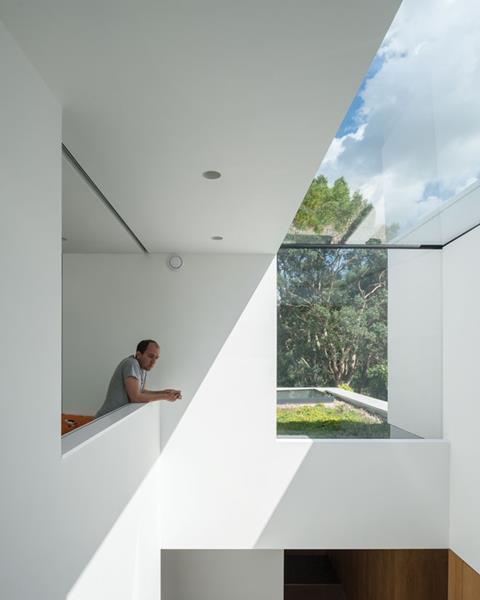 LOADINGS
Loadings must be specified for wind, snow and maintenance. Wind and snow loads will depend on both geographical and topological factors and can be determined from the relevant Eurocodes.
The maximum design load for a rooflight depends on application and building type – and primarily whether it will be walked upon. Loading requirements differ from country to country, and will depend on factors such as frequency of use and whether the installation is on a public or domestic building. Specifiers will need to provide the supplier with adequate information to allow them to calculate the correct glass specification. Further details on loading requirements can be found in the National Annex to BS EN 1991-1-1:2002'.
In the UK, a typical load for maintenance purposes would be 0.9kN/m2, which equates to the weight of one person. For walk-on installations, glass is measured both in terms of uniform distributed load (the load it can withstand over 1m2 or 1ft2) and concentrated load (with the force applied to a 50mm x 50mm square).
For a UK domestic walk-on rooflight installation, the uniform distributed load requirement is 1.5kN/m2, and the concentrated load is 2.0kN.
For a UK public walk-on rooflight installation, the uniform distributed load requirement may typically be 5kN/m2, with a concentrated load of 4.5kN.
As an example of a domestic walk-on installation, Glazing Vision supplied a private residence designed by Make Architects with a modular unit that comprised a 33mm triple-ply low-iron clear toughened HST pane, a 14mm black argon filled spacer and an 8.8mm clear annealed laminated inner pane. This was installed on a green roof and allowed the client to drive over it with a lawnmower.
THERMAL PERFORMANCE
In the 2013 version of Part L of the Building Regulations, which came into force last month, the upper limit for heat transfer through rooflights in domestic buildings remained unchanged at a U-value of 2.0W/m2K. However, a target fabric energy efficiency rate for windows and rooflights was set at 1.4W/m2K. If this is not achieved, further reductions in thermal transfer will have to be made elsewhere in the building.
For non-domestic buildings, the U-value limit remains unchanged for windows and rooflights, at 2.2W/m2K. These buildings will not be expected to meet a fabric energy efficiency standard.
It should be noted that the addition of a thermally broken extrusion may not necessarily provide a better U-value. Some systems that are not thermally broken but have no exposed frame on the inside may be more thermally efficient than thermally broken ones where the whole frame profile is larger to accommodate the thermal break. It is the size of the internal exposed surface area of the metal frame that contributes most to the heat loss and also increases the risk of condensation.
Solar gain
It is important to consider the position and orientation of the rooflight, as this can affect solar gain. The solar energy transmittance of the glass is measured by the g-value. The use of solar control glass can reduce the transmittance of solar energy through a rooflight, and thus reduce the risk of overheating.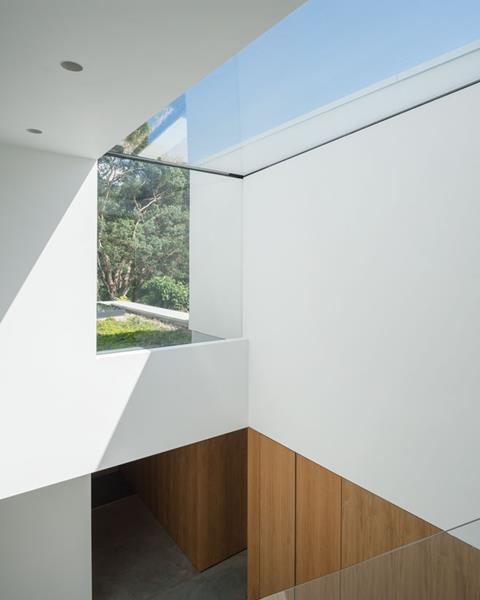 TYPE OF OPERATION
There are three main types of rooflight operation: fixed, hinged or sliding.
Fixed rooflights These are used when daylighting is the only function of the installation. Ideally they will have minimal framework.
Hinged rooflights These are available in manual or electronic operations. Typically, manual models are operated by a screw jack and pole mechanism, while higher performance electrically hinged rooflights use synchronised twin-drive motors, which offer higher security when closed, better stability when open – particularly in windy conditions – and an unobstructed view through the opening. These can be controlled automatically (see below). It is important to consider how far the rooflight needs to open: vent-only units need to open to only about 30°, while for roof access 90° opening is required. Electric models often use hydraulic systems to allow 90° opening, particularly for larger sizes.
Sliding rooflights It is important to consider whether the opening mechanism can be visible, or should be concealed. Sliding rooflights usually have built-in hidden electronic controls with battery back-up, speed control and creep sealing for quiet and efficient operation. Options include bi-parting openings, sliding over a fixed unit, and sliding over the roof. Consideration needs to be given to the primary function of the rooflight. Is it solely for ventilation, to transform an indoor space into an outdoor space when open, or for access? For large openings, there must be sufficient unobstructed roof space to slide the rooflight onto when open. When space is restricted, a sliding stacking option is a good solution to maximise the openable area.
Electronically operated rooflights can be operated by remote control or wall switch. They can also be connected to thermostats and rain sensors for automatic operation, or linked to a wider building management system.
SPECIALIST GLASS
There are a variety of specialist applications that can be incorporated into rooflights. These include LED glass, fire-rated glass, bullet-proof glass, switchable opaque-clear glass, acoustic glass, heated glass and photovoltaic glass.
COLOUR
In most aluminium systems, the frame will have a polyester powder-coated architectural finish. For durability and a lasting appearance it is advisable to specify a paint finish that is backed by a quality mark such as Qualicoat; this will also ensure that the full paint manufacturer's warranty is passed on to the end user. If the rooflight is going to be located in a particularly aggressive environment, such as a coastal area, a marine-grade finish may need to be specified.
A comprehensive range of RAL colours is usually available, though the industry seems to have standardised on a mid-grey such as RAL7015 for external surfaces, as this blends in well with typical roof finishes such as asphalt, lead or slate. Where thermally broken profiles are used, it is easy to provide frames with dual colour and common to use a standard white such as RAL9010 on the internal surfaces.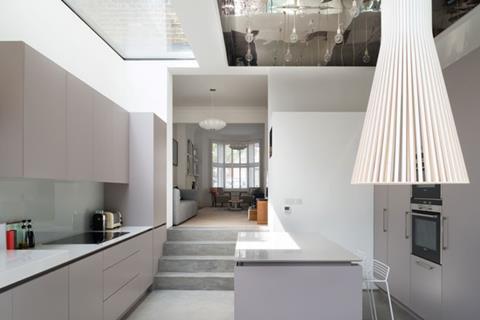 STANDARDS AND TESTING
Although relevant British standards exist for roof windows, conservation, sloped glazing, roof coverings, smoke vents and roof accessories, there is no harmonised European standard or specific British standard for flat-roof glass rooflights or skylights. This means that there is no mandatory testing in the UK, and that the only way to prove suitability and compliance is through certification by independent testing organisations such as the British Board of Agrément (BBA) or through a European Technical Approval (ETA). Because of the absence of a relevant harmonised European standard, an ETA is the only route to having CE-marked glass rooflights.
A typical testing regime for a rooflight would be similar to that for a window or door and would include air permeability, water tightness and wind resistance. Additional testing would cover safety and impact resistance, which should be in accordance with the Centre for Window and Cladding Technology (CWCT) test TN67. This includes impact tests to assess the effect of both hard and soft bodies on glass. Even if the glass does not break, all the outer panes must be manually broken and the tests repeated to test the stability of the unit: the impacter must not pass through to the inside. For the soft body test, sandbags totalling 180kg are laid on the broken glass and must remain there for a period of time without falling through. This simulates someone falling onto the glass and the weight of a second person going to recover them.
Such tests can be onerous and expensive for smaller projects, and are not always required. CWCT TN92 provides a set of "deemed to satisfy" criteria, which is an alternative for specifiers to avoid expensive testing, though this will not be appropriate in all cases.
INSTALLATION
Before installation, it is important to consider the following:
What is the weight of each section?
What are the arrangements for site access?
How will the unit arrive, and in what type of transport?
How will the rooflight be hoisted to the roof?
Does the supplier also provide installation?
Have edge protection and safety platforms been addressed?
Are the installation team CSCS registered?
Does the installation team have recognised HSE accreditation?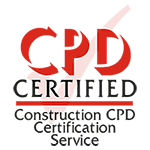 How to take this module
UBM's CPD distance-learning programme is open to anyone seeking to develop their knowledge and skills. Each module also offers members of professional institutions an opportunity to earn between 30 and 90 minutes of credits towards their annual CPD requirement.
This article is accredited by the CPD Certification Service. To earn CPD credits, read the article and then click the link below to complete your details and answer the questions. You will receive your results instantly, and if all the questions are correctly answered, you will be able to download your CPD certificate straight away.
CPD CREDITS: 60 MINUTES
DEADLINE: 9 OCTOBER 2015

Privacy policy
Information you supply to UBM Information Ltd may be used for publication and also to provide you with information about our products or services in the form of direct marketing by email, telephone, fax or post. Information may also be made available to third parties. UBM Information Ltd may send updates about Building CPD and other relevant UBM products and services. By providing your email address you consent to being contacted by email by UBM Information Ltd or other third parties. If at any time you no longer wish to receive anything from UBM Information Ltd or to have your data made available to third parties, contact the Data Protection Coordinator, UBM Information Ltd, FREEPOST LON 15637, Tonbridge, TN9 1BR, Freephone 0800 279 0357 or email ubmidpa@ubm.com. View our full privacy policy at www.building.co.uk/cpd