This CPD, sponsored by Eaton, will outline the sorts of risks different buildings and spaces face and outline a range of potential technologies that could reduce those risks for people going about their daily lives.
CPD CREDITS: 60 MINUTES
DEADLINE: 26 OCTOBER 2018
For more information about Assemble Media Group's CPD distance-learning programme, click here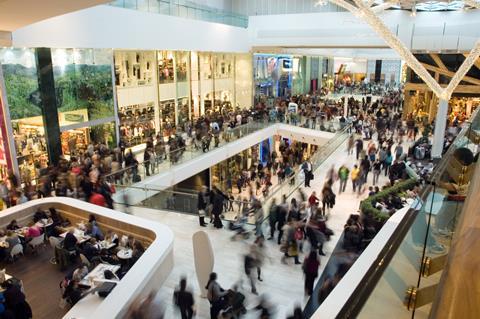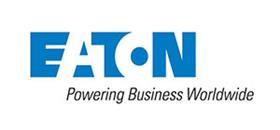 INTRODUCTION
The changing profile of risk in a fast-moving world is forcing buildings to re-evaluate safety strategies for those who use them. The ability to prevent issues, detect danger, alert occupants and evacuate them is essential.
But contending with a diverse range of potential threats, whether it be fire, terrorism, civil unrest, major crime or extreme weather, in higher risk buildings is a difficult challenge.
This CPD will outline the sorts of risks different buildings and spaces face and outline a range of potential technologies that could reduce those risks for people going about their daily lives.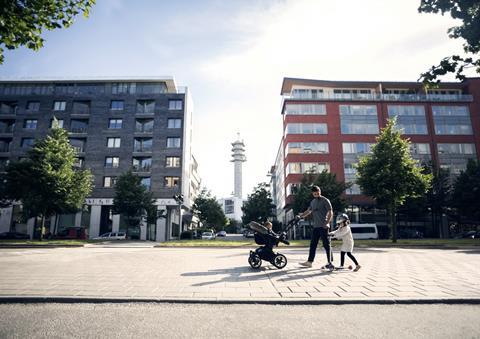 Threats to well-being
The prospect of terrorist attacks has increased in recent years major fire incidents in UK buildings have followed a back drop of increasing insurance claims over a 10year period, to a peak in commercial buildings in 2016. Despite developments in codes of practice, regulations and understanding, there were nearly 16,000 fires in the UK in non-domestic buildings leading to 21 deaths and over 1,000 casualties in 2016.
The cost of UK fires has tripled in less than a decade and more than 50% of the total claims paid out by insurers in the UK in commercial buildings related to fire and explosions.
While it is rare, terrorism is also increasing. Of the 34 countries that comprise the OECD area, 21 experienced terrorist attacks in 2015 and the number of deaths rose by 65%, according to the 2016 Global Terrorism Index from the Institute of Economics and Peace (IEP).
In addition, civil unrest, severe weather and major crime are highly prevalent around the world and can all be triggers for evacuation.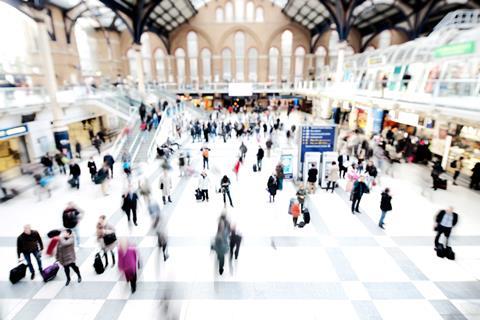 Factors influencing risk
Factors influencing risk within buildings could be considered by combining guidance from the Hackitt report, published in the wake of the Grenfell Tower disaster, and the 18th Edition of the IET wiring regulations. A high-risk building could therefore be deemed as one which is more vulnerable due to:
Scale – Density of people and distance to travel to evacuate.
Demographics – Limitations due to health and well being
Familiarity – Does the building have transient occupants?
Complexity – Multiple or single escape routes.
Building construction – Materials used (brick, tiles, glass, thatched roof, etc)
Buildings application – Storage of flammable materials
Buildings affected
High rise residential buildings feature a high density of people; overnight accommodation; the potential for temporary occupants unfamiliar with surroundings and high fluctuations in the number of people present.
Schools and universities also feature factors that can exacerbate risk. There will inevitably be multiple buildings on a single site; lifestyle risks associated – rightly or wrongly – with younger people; numerous escape routes; a high fluctuation in number of people present and the potential for overnight occupation.
Universities can be spread across large sites with multiple buildings and multiple entry and exit points, where escape routes may differ between buildings and any response to emergency can be difficult to coordinate. Such emergency responders also need to consider indoor and outdoor areas. In many universities there could be transient population of staff, students and visitors, some of whom may be unfamiliar with a building's layout and escape procedures and whose presence on the site may not be logged centrally. There will also be difficulties in maintaining a singular overview of the building via CCTV.
With care homes there are likely to be occupants with mobility, sight and hearing issues as well as other physical and mental conditions, plus factors familiar to other buildings.
Stadia and arenas are subject to potential increased terrorism threat – such as the 2017 suicide bombing at the Manchester Arena and the attacks in Paris the previous year. Large volumes of people, unfamiliar with their surroundings, means crowds control can be difficult and the potential for panic to spread quickly is enhanced.
Airports feature a large number of access and exit points and have long escape routes. Again, passengers are going to be unfamiliar with their surroundings and managing the flow of people – land side versus air side – can be difficult.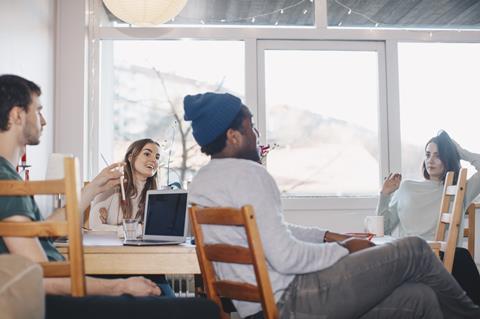 Airport layouts help passengers board planes but are less conducive to evacuation. Airports are designed and built to get passengers through security and bag check as quickly as possible, but evacuations are problematic because passengers might be at the end of a pier and need to navigate a very long distance – and possibly through hazards.
Occupants may not know where to go in an emergency, and there's a risk of them entering hazardous areas. What if people ran towards an area of the airport that was closed for renovation and contained dangerous machinery or incomplete interiors? In 2016, false reports of a gunman at John F Kennedy International Airport in the US led to panicking crowds running onto the tarmac where aircraft are typically parked.
Although no-one was hurt in that incident 20 years ago the Dusseldorf Airport fire saw 17 people lose their lives and another 62 people injured. Most of the deaths occurred in two lifts and a VIP lounge. The subsequent inquiry identified a number of aggravating factors. Stairwells were quickly enveloped in thick black smoke and hundreds of passengers were trapped in the passenger hall.
One of the challenges for airports is the difficulty of conducting drills and tests to assess exactly how people might respond in an emergency, although there has been a lot of work in crowd modelling, which confirmed the need for a more adaptable system of wayfinding in emergencies.
Large buildings, housing retail, leisure, hospitality, entertainment and transport facilities often have a sophisticated layout with various exit points, which may be unknown to visitors. Shopping malls are a further case in point.
There is a high potential for congestion at busy times and so management of crowds can be a challenge, including congestion in busy periods, such as Christmas. Multiple visual cues (many illuminated) could obscure conventional exit signage and the potential for panic and confusion to spread is considerable.
Dangers associated with disorganised evacuation were demonstrated by an incident at Florida Mall in August 2016. Customers fled the mall in what was described as a "frantic evacuation" during which 10 people were injured. Witnesses had heard a series of loud popping sounds followed by a fire alarm. It turned out this had been a fire alarm test procedure that involved popping balloons. Some occupants, still in a state of anxiety following the nightclub shootings in the area two months earlier, mistook the sounds as gunfire and fled.
Three years earlier a Somali militant group carried out a terrorist attack on the Westgate Shopping Mall in Nairobi, Kenya, murdering more than 60 people. The mall had only five exits: the basement car park, the rooftop car park, the main pedestrian entrance, an emergency exit and a delivery area for the Nakumatt supermarket. Of the mall's six emergency stairwells, only one led directly to the outside. The four gunmen controlled two of these exits, and no one inside or outside knew how many more terrorists there were. Hundreds of people had found their way to Nakumatt service entrance, either through the store or via the nearby emergency exit, and rushed onto the street.
The positioning of the gunmen and the movement of occupants were largely visible to security staff via CCTV cameras, but they had no means by which to communicate with people in the shopping centre. There was subsequent criticism of the time taken for security and military forces to move in. This horrifying incident provides a stark example of the limitations of static signage in an emergency.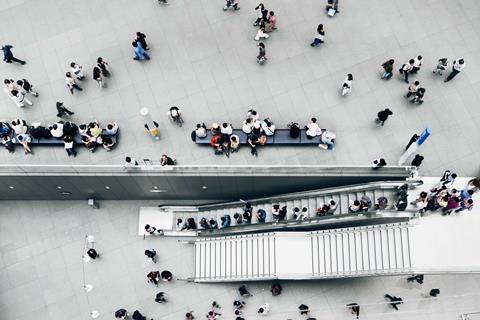 Layering of technology
The 2018 Hackitt report, published after the Grenfell disaster, recommends the layering of technology for prevention (pre-event) and mitigation (post-event) of incidents in high risk buildings.
This can be broken down further into four sub-layers: prevent, detect, alert, evacuate, as per recent work by Eaton, sponsors of this CPD.
Prevention
Safety technology has developed over many years and continues to do so. Layering at a preventative stage helps to mitigate costs, both financial and human.
In the electrical sector, in the 18th Edition of The IET Wiring regulations, Arc Fault Detection Devices (AFDD) are recommended for the first time for higher risk buildings.
These high resistance faults have the potential to generate sufficient heat to ignite a fire, yet cannot be detected by existing forms of over current or earth fault devices.
Although recommended for the first time in the UK in 2018, in other countries the risks associated with arc Faults have been recognised for some years. In 2011 the US National Fire Protection association estimated that 50% of electrical fires in homes could have been prevented by AFDDs.
The causes of arc faults are many and can include:
Crushed wires
Damaged insulation caused by nails, screws etc.
Ageing of installations
Broken cables or interruptions in a wire
UV rays
Pets and rodents bites
Loose contacts and connections
Bent plugs and wires, mechanical overstraining.
Detection
The importance of detecting issues which could place lives at risk is obvious. Over a number of years detection systems have become more sophisticated. In the area of fire detection there has been a move from conventional to addressable systems. With addressable systems which device is being triggered as well as – potentially – the amount of smoke or heat that device is sensed and now, as we will come onto this information can now be used to link create a dynamic link to alert and evacuation technology.
Alerts
As well as prevention and detection the other factor to consider is how to make occupants aware of potential danger. Technologies are being constantly developed to alert building occupants should an incident occur.
There are five reasons to consider alert technology:
It can reduce the risk of panic and crowding
Building occupants have varying needs
People react to differently
The type and location of danger can be fluid in a building
Technology can make the un-familiar, second nature.
The alert stage is vital in terms of fast and efficient emergency strategy. In the event of an emergency in a building, the available Safe Escape Time is defined as 'the calculated time available between ignition of a fire and the time at which tenability criteria are exceeded in a specified space in a building'.

As per the illustration the green area is called the 'pre-movement phase' and is variable dependent on the person; the rest of the graph is fixed. The fire will always be detected in the same way, the system will always take the same time to trigger and your travel time to the exit is always very similar.
The pre-movement phase is the usually the longest phase of the evacuation process and is also the most variable. If the time people wait before leaving the building can be reduced they can get to safety much quicker and hopefully they will all get out before the time passes the 'tenability limit'.
'The bystander effect'
Psychologists Bibb Latané & John Darley carried out a series of famous lab experiments in the late 1960s to find out what situations made people likely to be 'altruistic'. Their experiments showed that there is a tendency towards 'bystander apathy' – this means people will ignore an emergency when they believe someone else will deal with it instead.
The larger the group the more likely it is to display bystander apathy – this is called the 'diffusion of responsibility'.
So how can pre-movement be influenced and the time taken to react shortened?
Audible alerts – evacuation time comparison
Enriched audio alerts through the use of voice alarms or voice sounds allows us to reduce both escape time and escape risk by:
Reducing panic through provision of information.
Avoiding pinch points in buildings.
Managing staged evacuations.
Providing regular, fluid information if the nature or location of the risk changes.
Guiding occupants away from danger and towards safety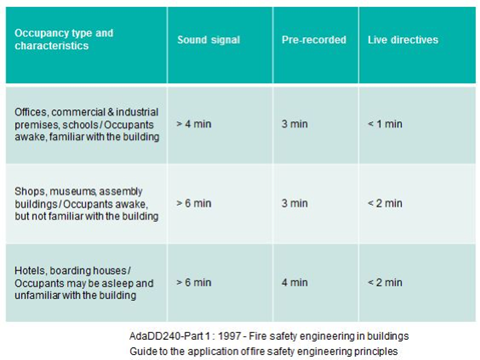 Visual alerts
The ability to recognise emergency exit signs is crucial in emergency situations. However, research has shown that only 38% of people may see conventional exit signs during evacuation from an unfamiliar environment.
As a result, occupants may become confused or be inclined to return to the point where they entered the building.
This lack of clarity can lead to overcrowding, congestion and delayed evacuation.
People largely ignore lighting. It is discreet, something we take for granted and is very often ignored.
Increased Affordance (IA) technology enables emergency exit signs to flash or pulse when activated manually or through automated connection to other evacuation triggers.
IA stimulates people into being alert to an event, increases visibility of exit signs and enables safer, faster building evacuation.
Increased Affordance – how it works
With IA the luminaire flashes, but how does this work when there are rules stating the exit sign must light permanently?
In normal mode IA luminaires have in normal mode much higher brightness than stated in EN1838 (2 cd/m² in green area) to provide good visibility in non-evacuation situations.
This helps to make the people familiar with possible exit routes ahead of possible emergency.
In IA-mode the luminaire will flash from high brightness to 10 cd/m² in green, which is still five times higher than in EN1838 described. With this the luminaires are also in line with ISO 30061 stating the 10 cd/m² as a minimum in case of smoke.
Thus, the luminaires will always stay within the standardised values while by that flashing effect the visibility will be increased.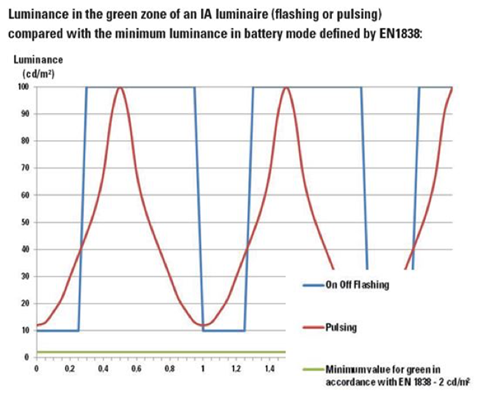 Evacuate
Effective evacuation technology is vital at a time when building occupants need it most.
Instead of a static exit sign that only points one way – which could actually lead people towards a danger – adaptive signs can redirect people, pointing out the safest and fastest available route and displaying a red cross when a route is closed.
A number of factors can influence the effectiveness of an evacuation.
For occupants factors can be:
the number of occupants and their distribution
occupant alertness/state (e.g. awake or asleep)
familiar and trained or unfamiliar with buildings and what to do in an emergency
physical ability
For buildings and building systems factors can be:
warning systems in place
fire safety management
staff/ occupant training
single or multiple enclosures/rooms
physical means of escape
spatial complexity
Conventional escape route markings are deemed to show the safest escape route in case of emergency or during power outages.
But what will happen in hazardous situations like fires, terror attacks or gas accidents, is the situation static, does the location or nature of the risk change? is the predefined escape route really safe?
It is worth remembering the adage that the shortest escape route is not always the most secure one.
Evacuation systems
It is worth considering technologies which adapt to certain situations. The more adaptive the technology the more effective it is likely to be.
Adaptive evacuation/exit signage: can be safer, quicker and therefore more effective, and capable of changing in response to changes in the environment. The system takes into account the exit blocked by works or danger. It will often feature dynamic blinking exit signs, making them more visible, leading to less confusion and a faster and safer evacuation.
Capable of being liked to other systems such as fire detection systems, these new adaptive technologies now provide the potential for a fluid escape strategy in changing building situations.
There is no silver bullet to building safety, but layering of different technologies to prevent danger, detect danger, alert occupants and provide flexible evacuation strategies can help to mitigate the changing nature of building risks.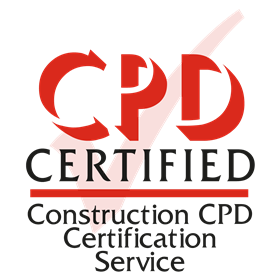 How to take this module
Assemble Media Group's CPD distance-learning programme is open to anyone seeking to develop their knowledge and skills. Each module also offers members of professional institutions an opportunity to earn between 30 and 90 minutes of credits towards their annual CPD requirement.
This article is accredited by the CPD Certification Service. To earn CPD credits, read the article and then click the link below to complete your details and answer the questions. You will receive your results instantly, and if all the questions are correctly answered, you will be able to download your CPD certificate straight away.
CPD CREDITS: 60 MINUTES
DEADLINE: 26 OCTOBER 2018

Privacy policy
Information you supply to Assemble Media Group Limited may be used for publication and also to provide you with information about our products or services in the form of direct marketing by email, telephone, fax or post. Information may also be made available to third parties. Assemble Media Group Limited may send updates about Building CPD and other relevant Assemble Media Group Limited products and services. By providing your email address you consent to being contact by email, telephone, fax or post by Assemble Media Group Limited or other third parties. If at any time you no longer wish to receive anything from Assemble Media Group Limited or to have your data made available to third parties, contact the Data Protection Coordinator at building@building.co.uk. View our full privacy policy here.