This CPD offers a guide to an essential aspect of building security: entrance gates, lanes and turnstiles. It is sponsored by Boon Edam

How to take this module
UBM's CPD distance-learning programme is open to anyone seeking to develop their knowledge and skills. Each module also offers members of professional institutions an opportunity to earn between 30 and 90 minutes of credits towards their annual CPD requirement.
This article is accredited by the CPD Certification Service. To earn CPD credits, read the article and then click the link below to complete your details and answer the questions. You will receive your results instantly, and if all the questions are correctly answered, you will be able to download your CPD certificate straight away.
CPD CREDITS: 60 MINUTES
DEADLINE: 8 APRIL 2016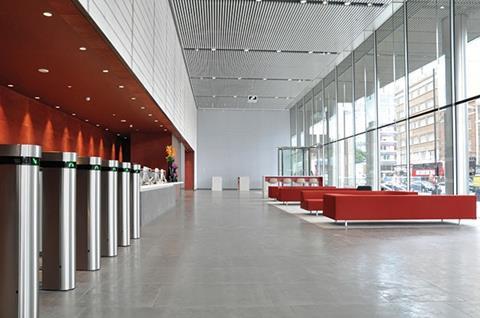 INTRODUCTION
This CPD focuses on the specification of security doors, security turnstiles and lanes. It addresses the key questions that architects, building users and owners should ask themselves to determine the appropriate specification, as well as compliance with all relevant standards and regulations.
DESIGN CONSIDERATIONS
The starting point for specifying a secure entrance is to understand the requirements of the building design and the end user. Specifiers should ask a series of questions:
Is the entrance to be manned or unmanned? An unmanned area will require a higher level of security. To prevent users from tailgating or jumping or climbing over the security products, a full-height turnstile, revolving door or air lock entrance is likely to be needed. In a manned area which is controlled and monitored, the end user wants only to control access and egress, the risk of users from gaining unauthorised access is reduced and therefore the required level of security is lower.
Is the secure line of the building at the main entrance, within the reception area or at the rear of the building? The secure line is similar in concept to the divide between landside and airside at an airport. The secure line is where the security product is sited, and the point beyond which access is controlled. If a client wants to control access before users enter the building, then the security product would usually be installed on the facade. If they want users to be able to enter the building freely, but for access to certain areas to be restricted, they would install the secure line at the boundary to those areas. This is determined by the client's requirements, and the decision would usually be informed by a risk assessment carried out by a security consultant, which identifies the weak points of the building.

How many users are expected to pass through this entrance and what is the potential growth of the business? The secure line can be future-proofed by providing capacity to expand if necessary. To calculate the required capacity of turnstiles/doors, it is normal practice to use a very simple formula: n= 15% of building population/5 minutes. This will provide the specifier with an arbitrary figure on which to base their security design, although additional information such as building circulation, location and mode of transport should also be considered. For example, for a building with 2,000 occupants:

n = (2000 x 0.15)/5 = 60

Therefore, turnstiles and gates with a total capacity of 60 people per minute should be specified as a minimum.

What is the working pattern of the building? For example, will everyone arrive at the same time or will this be spread over a period of time? Identifying the peak flow rate ensures that the security product has adequate but not excessive capacity. This can be illustrated by comparing two identically sized buildings, one located on an office park, the other in a city centre. The majority of building users on the office park will travel by car, so an even distribution of people entering/exiting the building would be expected. In a city-centre location, the majority of users will travel to work by public transport and "pulses" of traffic will be seen as each tube, bus or tram arrives.
What is the greater priority: maintaining the flow rate or ensuring security? Is it more important that all users who arrive for work gain access within a set period of time, reducing the problems with queuing and waiting? Or is security paramount, and accepted by users, in which case the flow rate might be compromised by a higher level of secure product.
What type of users will be accessing the building? Will the entrance be used by authorised personnel only, or will visitors need access too? If the secure line requires visitor access at the main entrance, allowance may need to be made for intercom and control systems at a remote location. The area may also require CCTV surveillance, and consideration must be given as to the location to mount the necessary equipment. If the secure line is within a reception area, will visitors be escorted or issued with the same type of cards? There may be a requirement to integrate card-retention units, which reduces the number of cards lost to visitors, therefore reducing costs.
What is the requirement for disabled access? There are two options: include a designated door or turnstile to permit disabled access, or make all doors or turnstiles equally accessible to all. It should be noted that it is usually necessary to reduce security on disabled doors/lanes, so that security systems do not register walking sticks, guide dogs and wheelchairs as tailgating.
Will this be a fire escape? Will the security product need to fail-safe to allow an approved escape route, and prevent users from being trapped? Consideration should be made (through consultation with building control) as to how this fail-safe operation will be initialised – for example, via the fire alarm signal or by a break-glass switch.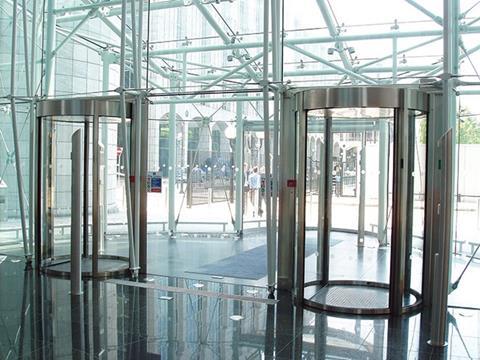 SECURITY REVOLVING DOORS AND AIR-LOCK DOORS
High-security revolving doors are an appropriate solution where buildings and entrances must be accessible only to authorised users and unauthorised access is prohibited. These can be secured, so that rotation is only started following a signal from an access control system such as a card reader or biometrics reader. Other features can be included, depending on the level of security required.
Revolving doors offer the additional advantage of reducing draughts and cold air entering the building, and therefore reducing the heating energy demand and the building's CO2 emissions.
A revolving door will only allow able-bodied access. Under Building Regulations Approved Document M on the Access to and Use of Buildings, a secure line must allow access by people regardless of disability, age or gender. To achieve this, it is possible to include a simple swing or sliding door operated by access control, but for a higher level of security an airlock-type door can be specified. Air-lock doors offer a very high level of security, while also reducing draughts. The downside is that the flow rate through this type of door is far lower than a revolving door.
There are a number of questions that must be asked in order to prepare an appropriate specification:
Will the door be required to accommodate simultaneous bi-directional traffic? >A four-wing revolving door is necessary in these instances. If not, a three-wing door could be specified. Each configuration offers advantages and disadvantages, which can be explained further by your chosen manufacturer.
What is the diameter and height of the door? Manufacturers offer a range of sizes, and security doors can also be made to fit a specific opening in a glass facade or internal corridor. Note that, through necessity, there are limitations on the maximum diameter of security doors to maintain appropriate security levels.
What level of security is required? Additional features, in ascending order of security, may include:

Ceiling sensors are normally employed to prevent tailgating authorised users through a door. This is a relatively effective solution but offers no anti-piggybacking security.
Contact mats detect the presence of a user in a segment of the door. The doors can be set to block when an unauthorised attempt is made to enter the building by using the segment directly behind an authorised user, ie tailgating. This type of security function is normally paired with a hang sensor to prevent intruders from avoiding the contact mats by hanging from a door leaf.
A weight system uses electronic scales integrated into the floor of the door which compare the load imposed by the door user and their luggage to a pre-set weight. If the weight inside the door exceeds this, the door will assume the user is not alone and will block access. A weight system is the most commonly used method of preventing piggybacking as well as tailgating.
Volumetric cameras integrated into the ceiling of the door can create extremely accurate 3D images of the user to determine whether or not they are alone, and block access in the case of inappropriate use. The more sophisticated options allow the user to customise sensitivity and security levels.

Will the entrance require remote monitoring? This is achieved by CCTV surveillance with the option of overriding the door from a remote location via a control panel.
What type of card reader and access control equipment will the door system will need to integrate with? The design must include a location where this equipment can be mounted. It is common for a form of biometric control to be installed within security booths to ensure that the user is a) alone and b) the owner of the access control card.
What grade of glazing is required? That is, whether the doors need to be vandal resistant, burglar resistant or bullet resistant (see "Standards", below)
What surface finish is required? Manufacturers typically offer a range of finishes including anodised, colour anodised, satin stainless steel, polished stainless steel, brass or even wood. The door can be finished to match the surroundings of the entrance area, or to contrast with them.
What flooring material has been used? It is important to understand the flooring material under the door, as allowance has to be made for the correct ring fitting to support it. This generally refers to the type of floor sub-structure. For example, doors can be fitted to either a solid concrete/screeded floor or a raised-access floor internally, both of which require different types of fittings. A raised-access floor must also be able to support the weight of a door. Doors fitted with weight sensors and/or contact mats will require either a larger sub-floor installation or a ramp to accommodate these security measures.
SECURITY LANES
Security lanes or gates are low-level barriers, fitted to control access and egress to a building. They are usually installed in locations that are manned, such as reception areas. Design considerations include:
Aesthetics: how does the client want the units to look? There are many options available, in different widths, heights and finishes.
Does the barrier need to integrate lift display or card-retention units? Lift display units (LDUs) assist in buildings where user access and flow rates are controlled and monitored. When a card is presented to the reader on the cabinets, the access control system contacts the lift manufacturer software and calls a lift, which takes the user to the designated floor automatically without the need to press any buttons. The LDU is mounted on or in the security lanes, and shows the user which lift number to go to. Card-retention units can be integrated into the secure side of the lanes. Visitors insert their cards when exiting the lanes, which prevents the loss of cards and reduces the costs of operating the system for the end user. Designers should take into account the needs of disabled users when integrating these additional measures.
What type of access control system is being used? This is up to the architect/end user, but the manufacturer will need to be informed so that it can ensure the specified card readers fit within the cabinets. There may also be a requirement for a special type of card reader window. For example, at the Walt Disney headquarters in London Boon Edam supplied a reader window in the shape of a Mickey Mouse head. The minimum read range of the card reader should be considered, ensuring that they are positioned as close to the outer casing as possible and that their location is obvious to those not familiar with the turnstile installation.
Will it require remote monitoring? When installed in close proximity to reception desks, it is normal for the turnstiles to be operated by a control panel located at reception, in addition to an access control system.
What's under the lanes? Allowance has to be made for the correct type of fittings in the floor. If this is not possible – where the floor cannot be penetrated because there is underfloor heating, for example – floor-mounted plinths can be installed. This also provides flexibility to move the lanes to another location. Another important factor to consider is the ability to connect the lanes to power, data and fire systems, via cables running underneath the floor to the underside of the lanes.
RELEVANT STANDARDS
BS EN 16005 is the European standard for the code of practice for safety in use of automatic doors for pedestrian use. Although security doors are exempt from this standard, door manufacturers should consult it in regard to user safety.
BS EN 1627:2011 on burglar resistance of pedestrian doorsets, windows, curtain walling, grilles and shutters.
BS 3621: 2007+A2: 2012 on thief resistant locks, key egress. This is the minimum standard for locks on external or entrance doors to be acceptable to the Association of British Insurers (ABI) and the police. It should be noted that the effectiveness of the lock also depends on the quality of the door, frame and other hardware which is not tested by this standard and which may fail before the lock.
PAS 24: 2016. Published in February, this updates the previous PAS 24:2012 and provides a method for testing and assessing the enhanced security performance of external doorsets and windows of all material types. Products are still required to meet material-specific requirements detailed by the product standards for doorsets and windows.
BS EN 1303:2015 on lock cylinders. Cylinders are classified using an eight-digit coding system, covering category of use, durability, door mass, fire resistance, safety, corrosion resistance and key-related security.

LPS 1175. This is a specification for testing and classifying the intruder resistance of building components, strong-points, security enclosures and free-standing barriers. This is one of a series of loss prevention standards set by the Loss Prevention Certification Board, and it is acceptable to both the ABI and the police. The latest version is issue 7.3. This includes doors, shutters and grilles primarily for commercial premises and some door and window applications for higher risk domestic premises. The standard has eight levels, with security rating 8 (SR8) being the highest. Security ratings 1 and 2 are equivalent in many respects to PAS 24 for doors.

To achieve SR1, a door must be able to withstand a test lasting no longer than 10 minutes, with a maximum working time of one minute using tools in category A. These include a single lever, a single screwdriver, spanners up to 150mm long and tweezers, selected to simulate an opportunistic attack using bodily force and easily concealed tools.

To achieve SR2, a door must be able to withstand a test lasting no longer than 15 minutes, with a maximum working time of three minutes, using tools in category B. These include all tools in category A, with the addition of tools with a higher mechanical advantage such as a bolt cutter, hand drill and junior hacksaw. This is designed to simulate a more determined opportunistic attack.

At the other end of the scale, to achieve SR8, a door must stand up to a test of 60 minutes, maximum working time of 20 minutes with tools including a concrete chainsaw, pneumatic impact tool and oxyacetylene cutting kit. This represents extreme means of attempting to force entry into higher value storage areas before resorting to the use of vehicles, firearms or explosives.

Relevant standards for glazing include:
BS EN 12600:2002 (which superseded and partially replaced BS 6206), on impact tests for flat glass
BS EN 356:2000 on security glazing and resistance against manual attack. This classifies security glazing products into categories according to their ability to withstand force, such as P2A, P4A and P6B.

How to take this module
UBM's CPD distance-learning programme is open to anyone seeking to develop their knowledge and skills. Each module also offers members of professional institutions an opportunity to earn between 30 and 90 minutes of credits towards their annual CPD requirement.
This article is accredited by the CPD Certification Service. To earn CPD credits, read the article and then click the link below to complete your details and answer the questions. You will receive your results instantly, and if all the questions are correctly answered, you will be able to download your CPD certificate straight away.
CPD CREDITS: 60 MINUTES
DEADLINE: 8 APRIL 2016

Privacy policy
Information you supply to UBM Information Ltd may be used for publication and also to provide you with information about our products or services in the form of direct marketing by email, telephone, fax or post. Information may also be made available to third parties. UBM Information Ltd may send updates about Building CPD and other relevant UBM products and services. By providing your email address you consent to being contacted by email by UBM Information Ltd or other third parties. If at any time you no longer wish to receive anything from UBM Information Ltd or to have your data made available to third parties, contact the Data Protection Coordinator, UBM Information Ltd, FREEPOST LON 15637, Tonbridge, TN9 1BR, Freephone 0800 279 0357 or email ubmidpa@ubm.com. View our full privacy policy at www.building.co.uk/cpd