CRASH honoured its patrons' unwavering generosity and loyalty at their Annual Reception and Above and Beyond Awards on Thursday 29 September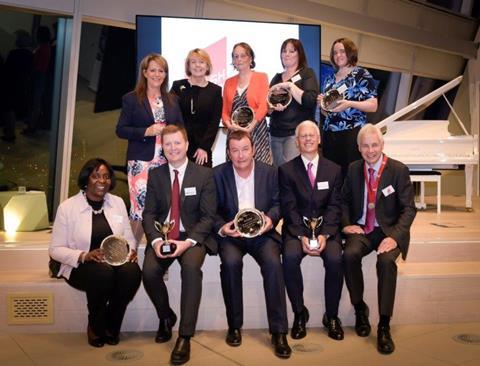 Hosted by Building, Ecobuild and Barbour ABI at UBM's Head Office, the ceremony brought together an illustrious gallery of big names from the construction and property industry who have all given their valuable time and resources to support the CRASH cause.
CRASH Chairman and Arcadis Chief Executive Alan Brookes welcomed guests and spoke about some of the achievements that had been made in the charity's 20th Anniversary Year. He also thanked retiring Trustee Steve Hodkinson for his 10 years invaluable service on the Board of CRASH.

CRASH Chief Executive Francesca Roberts then addressed the reception saying:
"This event is the one time in the year when the CRASH team can publicly thank you our Patrons for all the tremendous work that you do throughout the year.
"Patron companies underpin every aspect of CRASH. Over the past two decades, the charity has become an exciting and effective partnership of the corporate world and the charitable world.
"What CRASH achieves is only possible thanks to you and your efforts to help people when they are most in need."
Above and Beyond Awards
Patron Company Buildbase received recognition for its 10 year commitment to CRASH. Fellow Patrons BAM, British Gypsum and Hewden received awards for their donations of professional expertise, materials and fundraising respectively.
CRASH Special Recognition Awards were presented to British Gypsum's Caroline Salmon and Hayley Greszczuk for their unstinting support and infinite patience. Both ladies have for the past 10 years made sure that vital materials are delivered in the right quantities to the right location and always on time even when faced with the most complex logistics.
The final award of the evening, the Tony Dennison Award for outstanding commitment to helping people, was presented to St Michael's Hospice Chief Executive Celia Pyke Lees and Head of Finance Vinyo Aidam .
St Michael's Hospice in Hastings is the first Hospice project that CRASH has worked with. They suffered an arson attack in July 2015 that had a devastating effect not only on the building but on patients and staff there.
"Many of us are involved in preparing risk strategies for our organisations. And I'm sure we all hope that we won't have to actually put those strategies into action," said Francesca. "Envision for a moment, the challenges involved in caring for critically ill people, your employees and the aftermath of a major fire.
"The Trustees and management team at St Michaels, admirably led by their CEO Celia Pyke Lees, had the presence of mind to realise that what they should do was not only put right the fire damage, but grasp the bull by the horns and put into place a programme of construction that would develop the hospice for the future. Imagine doing that when your experience and skillset is in running a hospice and caring for people, not directing a large and complex construction project.
"CRASH was delighted to help and we were deeply impressed with how Celia and Vinyo grasped the construction and fundraising challenges, while never failing to continue to deliver services to their patients from a different location in Hastings."
For more information about CRASH's work with St Michael's Hospice, please see http://www.crash.org.uk/projects/landmark-for-crash-as-first-hospice-project-completes/
CRASH 20th Anniversary Year in Numbers (2015-16):
£562,202 - total value of CRASH's support given to homeless and hospice charities
£355,022 - Donated Professional Expertise and Building Materials worth through direct involvement with homeless & hospice projects
£207,180 - Cash Grants of enabled through your Patron donation & fundraising efforts
45 - Projects helped across the UK creating places that care for homeless, vulnerable and terminally ill people.