Aecom reports on how major UK cities are thriving through investments and growing populations. How are Dublin, Bristol and Manchester flourishing amid Brexit and political unpredictability?
Dublin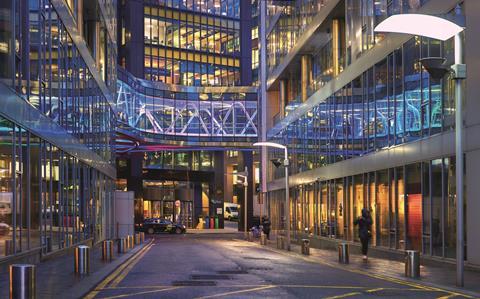 The Republic of Ireland has recorded the fastest economic growth in Europe for the past five years. In turn, the construction sector has seen double-digit growth during that period. It is predicted that construction output in 2019 will approach nearly €25bn (£21.5bn) per annum.
Every region and sector in Ireland recorded growth in construction output. The highest level of activity took place in Dublin – particularly in the commercial and multinational sectors. The government's planning and development strategy, Project Ireland 2040, offers a focused and regionally inclusive programme that aims to propel the Irish economy in the coming years, with the construction sector set to play a fundamental role in this story.
Population growth outside Dublin is focused on the metropolitan areas of Cork, Galway, Limerick and Waterford. The plan sets out a series of infrastructure developments required to support this expansion, including a metro line from Dublin city centre to Dublin airport and a series of other road, rail, health and education initiatives. The public sector capital programme is set to increase by more than 10% in 2019 and 2020 to deliver these infrastructure plans.
Ireland is set to be the only English-speaking EU country and has the advantages of an educated and flexible workforce and a low corporate tax regime.
Dublin's city-centre commercial office market offers the most visible signs of this burgeoning construction output. High-profile technology companies such as Google, Facebook, Amazon and LinkedIn have led the charge, with EMEA headquarters buildings being developed for growing international and increasingly diverse workforces. Pharmaceutical and medical technology development has been joined by a new wave of data centre construction, which should put mechanical and engineering trades in significant demand.
The Irish property sector has benefited from Brexit – Ireland is set to be the only English-speaking EU country and has the advantages of an educated and flexible workforce and a low corporate tax regime. While major relocations to Ireland have been limited, Brexit has certainly played a part in some businesses targeting growth in their Irish locations.
Housing demand continues to grow but supply has not kept pace, resulting in large rent increases. The private rented sector (PRS) is growing, with many developers and funding institutions focusing on PRS schemes in Dublin. Purchase prices have also risen but affordability and mortgage borrowing restrictions are challenging viability in the build-to-sell market. The government's programme of social and affordable housing is also trying to address the housing shortage.
Alongside economic benefits, recent construction sector growth has brought attendant challenges. Capacity constraints are evident in numerous trades, with early trades such as formwork and concreting suffering acute pinch points. The abundant new work available, not least the prospect of large infrastructure projects, means these early works trades are likely to see strong pricing trends. Stakeholder and consultant capacity risks exist too, particularly in the pre-contract realm, where front-end work, skills and expertise are required to enable projects.
Skills shortages are plainly evident across many trades and professions, which brings project viability and delivery risks. Wage inflation and increases in Irish construction tender prices result from labour demand. With tender prices increasing – running in excess of 5% for several consecutive years – the viability of future projects may become more challenging. Furthermore, continued Brexit uncertainty has delayed some projects and the potential overall negative economic impact of the split also introduces some clouds on the horizon for the industry.
While uncertainty exists around Brexit, overall construction output is expected to grow over the next 12 months. Upside risks include continued robust economic growth accompanied by the 10% increase in the public sector capital programme. This pipeline means supply chain selectivity in bidding will extend into the medium term. Pushback from the supply chain on risk transfer will consequently continue too, with the potential for prolonged or extended pre-contract stages while commercial terms are negotiated.
Bristol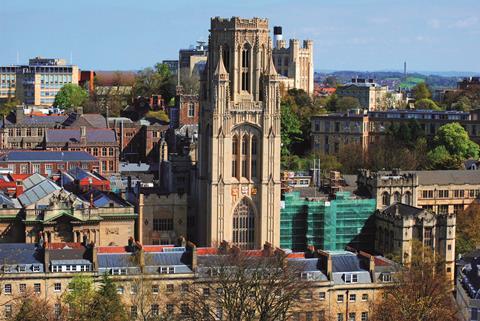 Bristol remains the major growth centre for the South-west, with robust activity in almost all construction sub-sectors. Bristol city council is an active and major investor – schemes cover multiple sectors, from the £50m refurbishment of music venue Colston Hall to the Hengrove and Hartcliffe residential scheme of 3,500 homes. The council is also working with private sector partners on projects such as the proposed mixed-use redevelopment of the Temple Island site next to Bristol Temple Meads train station.
The University of Bristol is a major construction client – its £300m Temple Quarter Enterprise Campus project is expected to act as a catalyst for the Temple Quarter Enterprise Zone, earmarked to provide student accommodation and PRS workload.
Additionally, a huge site of 65 acres at Filton, north of the city, is being developed under various regeneration schemes and will include 2,700 homes, a mixed-use town centre, three schools, nearly 600,000ft2 of warehouse space, retirement and care provision and a railway station and metrobus route. Redcliff Quarter is another major mixed-use development, based in the city centre and consisting of commercial, retail and residential elements.
The abundance of brownfield site development in and around Bristol means there are growing risks and intricacies in getting projects to site. Procurement rules, complementary skill sets and supply chain capability are combining to create subsector conditions that often require additional pre-contract management. Furthermore, once these early stages are worked through, commercial dynamics have created pinch points in the second stages of a two-stage design and build tender process. The use of additional or extended contractual machinery has been a typical response, to build commercial protections into a scheme.
The £20bn Hinkley Point C project is exerting significant demand for site labour across the South-west and further afield. This pressure will continue for a number of years and will have knock-on effects for most construction sectors in the South-west. Because of its megaproject status, neighbouring regions are seeing pull effects on the labour market, with localised spikes in labour rates as a result. Input costs and subcontractor tender pricing for certain trades – groundworks for example – are likely to remain elevated as a result of this trend. The flow-through to supply chain dynamics in the rest of the region may see changes to designs – for example decisions around concrete versus steel frames.
Given the ongoing high level of activity in the South-west, and continuing supply chain pressures, this theme is currently more pronounced than in other UK regions.
The fallout from the Brexit vote is also worsening skills and labour shortages in the South-west. The trend of EU workers moving from the UK is being felt in the delivery of regional construction projects. On the back of housebuilding demand, labour rates for bricklaying, groundworks and other specialist trades are very strong, with labour mobility adding to these localised spikes in wages rates.
Contractors in the region remain broadly selective with respect to bidding and tendering opportunities. Given the ongoing high level of activity in the South-west, and continuing supply chain pressures, this theme is currently more pronounced than in other UK regions. A preference for selectivity invariably results in reduced competition for current tenders, challenges with negotiating contractual terms and extended consideration of the apportionment of risk during the tender process.
Housing is one of the strategic challenges facing the South-west in the coming years – both its demand and delivery. A healthy residential sector is integral to and essential for the smooth functioning of the construction sector in the South-west. Increased house prices and increasing rents in Bristol above the national average are evidence of this problem.
An additional strategic issue – albeit not on the scale of the housing requirement – is the planned future restriction on diesel vehicles in Bristol city centre. As its development pipeline builds out in coming years, this is likely to affect the planning and delivery of schemes in the city. Commercial impacts are inevitable when restrictions are material to a project – whether through higher cost and risk allowances or through programme implications.
London

The London construction market continues to be affected by the uncertainly surrounding the impending departure of the UK from the EU – developers retain an element of caution and the desire to invest in large-scale projects has been hampered in some cases. Some projects that were in their infancy at the time of the referendum are under review or moving forward at a slower pace than expected due to developers' reluctance to build.
Demand for commercial office space has broadly held up in the city, with take-up to the end of Q3 in line with an equivalent average over the last 10 years, according to a Savills Market Watch publication from October 2019. The residential sector, in contrast, where many clients are dependent on business from prospective overseas buyers, has seen property prices stagnate, and fall in some cases. Another factor influencing residential investment is the cooling of certain overseas economies. In China, for example, gross domestic product slowed to its lowest year-on-year growth since 1992 of 6% (three months to 30 September).
Smaller commercial developers are engaging in projects of more than £50m, resulting in a broader range of clients outside of those who traditionally construct larger schemes.
On the positive side, finance and tech giants such Apple, Deutsche Bank and Google are undertaking significant office fit-outs of between 500,000ft2 and 900,000ft2. Derwent, British Land and Landsec also continue to invest in large commercial office blocks, in both central London and fringe locations. Additionally, smaller commercial developers are engaging in projects of more than £50m, resulting in a broader range of clients outside of those who traditionally construct larger schemes.
Major infrastructure projects continue to fuel a large part of the construction industry. This has seen the continuation of works on the delayed £18bn Crossrail project and the Thames Tideway Tunnel (£4bn current estimate). In addition, the £1bn Silvertown Tunnel stretching between the Royal Docks and Greenwich Peninsula, and the controversial HS2 project, which is reported to be going ahead (£88bn current estimate), should continue to provide prosperity for the construction industry in the London region over the coming decade.
Front-end trades such as earthworks, piling and concrete frame contractors are indicating thinner order books over the short term. Follow-on trades such as joinery, drylining and flooring contractors are signalling a reduction in orders into the medium term. Both trends offer increasing evidence of slower overall levels of construction activity in the capital.
Tender price indices in the region continue to rise, but 2019 is set to record lower price inflation, at broadly 1.5% over the year. This is noticeably less than the total of around 2% recorded in 2018 or 5% in 2017. Tender prices in 2020 are forecast to follow similar trends to this year, assuming the UK's exit from the EU in January is resolved without undue volatility.
There are hopes of a "Brexit bounce" for the London office market – an increase in activity that would see some developers push ahead on projects that are being held back until after the UK leaves. If this bounce is considerable then tender prices will move higher than those currently forecast, but global macroeconomic factors will continue to have some influence on London's development activity.
Manchester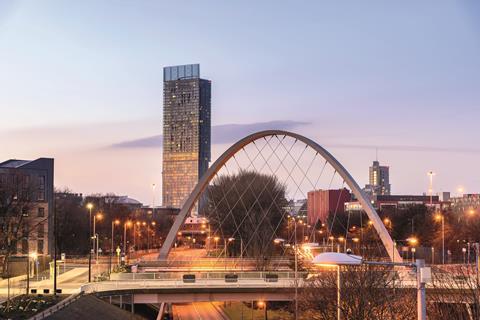 Manchester is proving resilient to the UK's political uncertainty, with a residential development scene that continues to expand quickly in response to growing demand for homes. Housing has been the most active sector, with various surveys confirming that 60% of construction on site is due to the residential sector. New office space (20%) and hotels (15%) are the next most active sectors.
The influx of residents creates the need for additional services and amenities such as education and health, creating other spin-off development opportunities. Manchester's skyline is being transformed, with nine schemes of more than 25 storeys due to be completed by 2021. However, the inner-city market is reaching saturation, so attention is shifting to major programmes around the periphery of the city as well as the redevelopment of industrial sites.
The Northern Gateway strategic regeneration framework, a joint venture between the city council and the Far East Consortium (FEC), will provide 15,000 homes over the next 15 years in one of the largest residential-led regeneration schemes in the UK. Plans to redevelop the Mayfield industrial area near Piccadilly station, drawn up by the council and developer U+I, include a 6.5-acre park, 1,500 homes, 75,000m2 of office space and a 650-bedroom hotel.
The community of 100,000 university students is another driver of accommodation demand, with schemes such as the 55-storey Hulme Street Tower for Student Castle. The Oxford Road corridor also seats a host of other projects including Vita Group's Circle Square mixed-use development of 1.2 million ft2 office space, 1,700 homes and two hotels, and incudes a large student offering. However, if a Brexit-prompted downturn in international student numbers materialises, this buoyant market may well be dented.
Looking to the future, the fact a large volume of projects will finish at the end of 2020 to mid-2021, without a similar level of replacement workload, means shifts in market competition and tendering approach are expected. The two-stage design and build procurement route remains popular – it has been the only realistic route to market in recent years. This reflects wide bidding choice and abundant regional workload. Single-stage competitive tenders are set to receive more interest if the construction pipeline out beyond 2020 becomes more patchy, provided invitation to tender documentation is of sufficient quality.
Key trades such as facades, mechanical and electrical and drylining, as well as trades dependent on non-UK labour, are driving price inflation in the North-west market
The high level of regional workload in and around Manchester corresponds with the responsiveness of trade contractors to bidding and market cycle stage. Brickwork, drylining and mechanical and electrical trades have proved more challenging to engage with respect to tendering. Early work trades such as demolition and groundworks are showing more interest in discussing future workload and more willingness to bid.
Manchester is a hot spot for price inflation and the large volume of activity will keep the rate of inflation for projects at a higher rate than other northern conurbations (which are also experiencing inflation) over the near term. Key trades such as facades, mechanical and electrical and drylining, as well as trades dependent on non-UK labour, are driving price inflation in the North-west market.
It is hoped Brexit-related uncertainty will be offset by further government support for the Northern Powerhouse Rail (NPR) programme, which seeks to achieve economic growth and drive local residential demand. Some mediation also comes from currency risks associated with Brexit and sterling because current Manchester residential tower schemes are generally less reliant on imported components, typically due to a combination of sales values and costs of selected design specifications.
One risk to the marketplace comes from the delay in the agreement and implementation of the Greater Manchester Spatial Framework, a policy that covers Greater Manchester's development to 2037, including the use of greenbelt sites. As its progress has been slow, developers could have increased uncertainty for projects and associated viability.
>> Also read: This is Manchester: What's behind the city's building boom?