Housebuilder records slight dip in reservation despite huge drop-off in use of government's subsidised purchase scheme
Barratt has seen its sales rate drop slightly amid a big fall off in reservations made using the government's Help to Buy scheme.
The UK's biggest housebuilder said in a trading update that it saw average sales of 0.85 homes per site per week between the start of July and October 10, down 2.3% on the same period last year, when the market was inflated in the immediate bounce back from the spring lockdown.
It said this small drop still left it on course to hit end of year targets and came despite the proportion of its homes being sold using Help to Buy plummeting to just 21% in recent months, from 51% in the comparable period.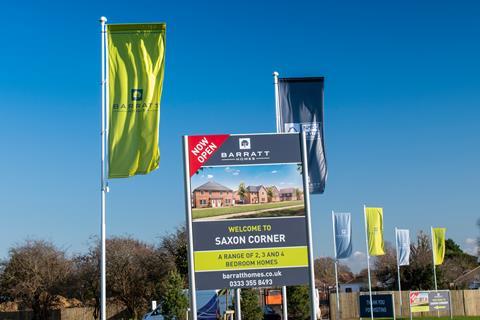 The drop in the use of Help to Buy has come with the move over to a new less generous version of the scheme since April, with only first-time buyers qualifying for government assistance, and a series of regional price caps on the value of homes able to be purchase under the scheme.
The £4.8bn turnover housebuilder said the drop to 0.85 sales per site per week, while below the 0.87 recorded in the period in 2020, was well above the 0.72 seen in the "more relevant comparative period" in 2019.
The news comes as economic indicators are reporting gradually slowing growth in both house prices and housebuilding activity in recent months, with the removal of the Stamp Duty relief and growing concerns over the availability of construction materials and labour.
But in a trading update this morning, Barratt said: "To date we have not experienced any significant disruption to our own build programme with our sites continuing to operate successfully throughout the country."
It said it was expecting build cost inflation of between 4% and 5% across the financial year.
Barratt, which is due to announce its interim results for the six months to December next February, also said that its new chief financial officer, Mike Scott, who is joining from rival housebuilder Countryside, will start work in December.
Scott leaves Countryside at the end of next month and will be replaced in the interim by Tom Wright, Countryside's current group financial controller, while a permanent successor is chosen.