After the Conservatives' unexpected torching of construction policies, Joey Gardiner investigates what the driving force is behind this drastic industry shake-up, and if there's more to come…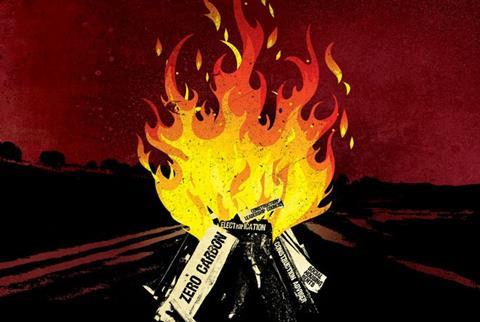 Hands up those of you who thought the Liberal Democrats had no influence in the last government. If you answered yes, then the last few weeks have shown that you were wrong – spectacularly so. A series of bold and unsignalled policy moves have shown how different this majority Conservative government is from the coalition that preceded it. Many predicted that this government – while being tougher on welfare and spending austerity than its predecessor – would, with the same prime minister and chancellor leading it after all, essentially follow the same path as the Tory-Lib Dem coalition. In fact, the opposite is true, and nowhere more so than in relation to the built environment. Policy after policy in the built environment sector has been junked, from the role of chief construction adviser and the ambition to build zero-carbon homes, to the housing associations' 10-year rents settlement and (potentially) even the construction industry levy. The coalition had its self-titled "bonfire of the quangos" – this government seems intent on a bonfire of the policies.
Clearly, then, this is a government that is intent on being a lot more radical than many in the sector expected. So what's driving this radical shake-up, and can we expect more changes to come?
The most obvious thing to say is that this is a government which sees itself as brand new rather than any kind of continuation from the uncomfortable coalition compromise seen in the previous five years. Tory ministers are hence keen to demonstrate this by ditching what went before. For the administration's leaders, David Cameron and George Osborne, there is a raw political requirement, when operating with their small majority, to keep grumbling backbenchers happy by highlighting the difference from the compromises of the coalition period. Graham Watts, chief executive of professional body association, the Construction Industry Council (CIC), says: "They're clearly distancing themselves from the coalition. The Lib Dems had a big impact on [business department] BIS, and it seems anything with their mark is going to get kicked out. People didn't see this coming to quite the extent that's happened."
As a majority Conservative government it is of course pursuing a more purely Conservative agenda: very pro-business, distrustful of any regulation, and instinctively nervous of any government interference in the free operation of the market. Much of this will be welcomed by many construction firms, with many housebuilders and small builders in particular lining up to celebrate the decision to scrap the complex (and some would say unachievable) zero carbon target. But with this new attitude also goes the support some firms had hoped would be forthcoming from government to make it easier for the industry to prioritise ethical goals, such as mitigating climate change, and offering low-cost housing. Ben Derbyshire, partner at housing architect HTA, says: "We're getting a sense of a more consistent Conservative agenda, which means freeing the market to work better, and listening to Treasury. The problem is it is absolutely antithetical to those, like housing associations, that are in business to try and improve things and make the world a better place, rather than just make money."
Radical reform
It is also clearly a government in a hurry – it feels it has a mandate and knows that the first couple of years of a five-year term is the point at which to attempt controversial and radical reforms, while there is still plenty of time before the next election. This pace of movement can be seen in the way the restructure of the Construction Leadership Council (CLC) was handled – the decision made quickly by a tight group of ministers and officials with HS2 chief executive David Higgins, and others members of the CLC not informed until 24 hours before the announcement. The CIC's Watts says bluntly: "The government feels it's got to get things done, and it can annoy who it wants." Professor John Nolan, chair of engineer Nolan Associates and deputy chair of the CIC, was one who was very disappointed by the CLC decision, and hopes ministers will reconsider given the strength of reaction against it. "I'm very supportive of a great deal this government does. But they are moving quickly and want to be seen to be moving quickly and haven't given enough consultation."
The idea of working in partnership between government and industry is dead. The new mantra is dialogue

Graham Watts, CIC
Part of the government's agenda is about – as expected – spending austerity. It is the drive to cut the housing benefit bill, for example, which led chancellor George Osborne to rip up the 10-year rents settlement announced by him in 2013 for the housing association sector, designed to give associations the income security within which to plan major development programmes. Consequently many associations are having to completely rework their 30-year business plans, and are finding multimillion-pound holes in their balance sheets. "[Housing association] registered providers are reeling," says HTA's Derbyshire. "The changes have caused a lot of angst and the mood is very black."
New approach
Austerity may also have been part of the reason for scrapping the chief construction adviser role, with departmental staff numbers also facing further pressure. But it is just as likely this is driven by a new philosophy for how business and government work together, championed by the anti-interventionist new business secretary, Sajid Javid – who, with a portrait of Margaret Thatcher on the wall of his office, couldn't be more different to his predecessor, soft-left Lib Dem Vince Cable. Amid newspaper speculation that Cable's "industrial policies", such as Construction 2025 are soon to be junked, several industry figures who work closely with government say they have been told explicitly in recent weeks by officials that the idea of government working in "partnership" with industry is over. Instead of partnership Javid has said the government wants to have a "dialogue" with industry, implying a greater distance between business and government – and likely less active support. However, in return for losing this close relationship, business can expect further deregulation. The Zero Carbon Hub, an industry-government joint venture set up to pull the housing industry toward delivering zero-carbon homes, is one example of the kind of organisation which wouldn't be considered in this view of the world. "The idea of working in partnership with industry is dead," says the CIC's Watts. "The new mantra is dialogue."
Some in the industry, however, feel that even this reduced description of the relationship overstates the influence industry now has with the government. One industry insider close to the changes says: "The mantra may be dialogue, but we keep being told that everything's changed after the decision has been taken – it's more of a monologue really."
Liz Male, chair of Trustmark, and a member of the CLC until the restructuring last week, agrees it's a fundamental shift. "It's very clear this is an administration that needs the industry to take ownership of its issues and to tackle them. It's entirely up to us to do this – which is potentially quite exciting," she says.
This is partly why the restructuring of the CLC has eschewed representative membership organisations in favour of major contractors whose spending power by default drives industry behaviour. Male says: "It's very clear that harnessing the industry's biggest clients and corporates and getting them to drive change is the way now. It's about following the money. It might mean things happen more quickly but it's not a collaborative environment and may mean it'll be quite a tough period for the supply chain."
The combination of this very different ideology, at BIS in particular, and the political requirement to differentiate this government from its predecessor, means we cannot assume there will not be further changes. HTA's Derbyshire says: "They clearly feel completely free to tear up any agreements made before May; they feel entitled to because of their election mandate. I wouldn't be at all surprised if they re-opened other policy areas, such as housing standards more generally."
The best advice, then, is to keep watching this space.
Bonfire of the policies: what's been torched so far
Chief construction adviser
Last week the government announced it will scrap the role of the chief construction adviser, set up in the last years of the Labour government as the key point of contact between the government and the construction industry. As well as advising on construction policy in general, the construction adviser role has been central to the creation of the 2011 Government Construction Strategy, which aimed to reform procurement, and the 2013 industrial strategy, called Construction 2025. The decision has been widely criticised, with former Construction Industry Council chair Jack Pringle describing it as a disaster (see page 28). The government also said it was dramatically reducing the size of the formerly 30-strong Construction Leadership Council (CLC), set up two years ago to work alongside the construction adviser in delivering Construction 2025. A new 12-strong CLC, dominated by infrastructure clients and main contractors was announced, without any representation (so far) for built environment professions or the materials and products supply chain. It is not yet clear if the government will continue to work toward realising the aims of the decade-long Construction 2025 strategy, which it launched in 2013 as a "long-term partnership" with the industry.
Zero carbon
Two weeks ago the government revealed, buried in the detail of its productivity plan, that it was not pressing ahead with the plan to make all new homes zero carbon from 2016. This target was introduced by the Labour government in 2006, with the industry working since then to improve standards in order to be able to deliver it. Willmott Dixon alone claims to have invested "tens of millions" in developing solutions to meet the target, with £6.4m spent by government and a consortium of housebuilders on one trial project. Amid speculation in the last parliament that the coalition was thinking of dropping the ambition, the government reconfirmed it a year ago in the 2014 Queen's Speech. Nearly 250 organisations this week signed a letter criticising the move and Julie Hirigoyen, chief executive of the UK Green Building Council, said in response: "The speed and the stealth with which this administration has destroyed some of the long-term policies supporting the renewable and low-carbon industries has been breathtaking."
Housing association rents
In his summer Budget at the start of July, chancellor George Osborne announced that he was ripping up the 10-year settlement for housing association rents that he himself had unveiled in 2013. In the 2013 spending round he had announced that housing associations would be permitted to increase rents by consumer prices inflation plus 1% each year for the subsequent 10 years. At the time then housing minister, Conservative Mark Prisk, said: "The spending round provides certainty […] not just for a couple of years after 2015, but for the 10 years beyond that. You can now plan within the long-term framework – which critically includes a rent policy up to 2025." However, Osborne this month said that instead housing associations will actually have to reduce rents by 1% each year, thereby eating into the strength of their balance sheets and reducing the amount of money they are able to borrow to fund development. The Office for Budget Responsibility estimated the measure would reduce the number of homes developed by 14,000, while trade association the National Housing Federation said it would stop construction of at least 27,000 homes.
Other policy victims:
Construction Industry Training Board levy – This has been thrown into doubt following Osborne's announcement of a nationwide business apprenticeships levy on large employers in the summer Budget. The CITB was not consulted on the change, and it is not yet clear what impact it will have on the levy already collected from construction firms to pay for construction apprenticeships.
Network Rail projects – Transport secretary Patrick McLoughlin has said Network Rail will pause work on key electrification projects within its £38bn five-year spending programme. The organisation has effectively been put under review, with a new chairman and the announcement of further devolution to regional "route" companies.
Renewables subsidy – Energy secretary Amber Rudd announced in June the government will end subsidies for renewable energy generation projects a year earlier than expected, in a decision thought likely to affect scores of onshore wind farm projects. Construction data firm Barbour ABI last week estimated that the move would put £6.4bn of projects at risk.