From Monday, any firm wanting to be considered for public sector construction work will need to be BIM level 2 compliant. Yet just days before the deadline, only about half of companies are using the technology. Joey Gardiner reports on the reasons for the unreadiness and the likely consequences for those who still have their heads firmly buried in the sand
One of the more surprising announcements in last month's Budget – though, it feels like, just about the only uncontroversial one – was chancellor George Osborne's commitment to the next phase of development of Building Information Modelling (BIM), so-called level 3.
For those in the BIM-literate community this unexpected news somewhat stole the thunder from this spring's other big BIM development – the long-expected moment when the government's BIM mandate comes into effect, and it starts procuring all work using the technology. The culmination of a five-year journey which has revolutionised parts of the industry, this coming Monday – 4 April – is the date from which central government departments will have to start procuring in collaborative level 2 BIM (if they're not already).
Mark Bew, chairman of the BIM Task Group, says the date shouldn't feel like a big watershed, as most big government construction departments have been largely procuring using BIM for the past year, but admits that for industry it may be a wake-up call. "It means it's getting harder and harder and harder to work with government if you're not familiar with the technology. The level of complexity of the ask will be variable, but every project will have this as part of the contract."
Companies can't say they weren't warned. But the latest evidence, revealed here by Building, is that around half of the industry has yet to even start using BIM, let alone get proficient at it. Furthermore, the figures from the annual BIM survey conducted by NBS, show that adoption, far from accelerating, has been stagnating, with the adoption figure the same as that recorded two years ago. Most worryingly, the respondents to the survey, primarily architects, overwhelmingly say the wider industry is not up to speed on BIM: just one in 10 say the construction industry is ready to deliver on the 2016 BIM requirement; by contrast, 70% say it is not.
Alongside growing signs private clients and particularly main contractors are also starting to make BIM capability a requirement of doing business, the findings from the 1,000-strong survey raise serious questions about the future of those businesses which have not yet taken the plunge. So how badly behind is much of the industry, and what does it mean for those that haven't yet jumped on the bandwagon?
Stagnating BIM uptake
NBS's survey, which had just over 1,000 respondents, confirms once again the huge leap there has been in BIM usage since the government first set the 2016 mandate in 2010 – at which point only around one in 10 in the industry made use of the technology. However, the figure for those currently using BIM – 54% – is the same as recorded two years ago (it fell to 48% last year), reinforcing the sense that the rapid uptake seen straight after the level 2 target was set has fizzled out.
Data in other areas is mixed, but it includes worrying signs that the technology has still a distance to mature, with two-thirds saying BIM is not sufficiently standardised, just a quarter saying they trust what they hear about BIM, and almost 60% saying BIM is just for larger organisations. Half of those that haven't yet taken it up think it's too expensive for them to do so, even though 55% admit they'll get left behind. Adrian Malleson, head of research at NBS, says respondents who have taken up BIM are very positive about the benefits, but doubts from non-users remain. "There's now a strategic acceptance of it, but when it comes to the mechanics of delivering BIM in their businesses, there's clearly more work to do."
The worrying thing about the government mandate is it could exclude those who aren't the biggest and don't have the resources to train staff

Colin Harding, former CIOB president
Clearly usage of BIM will vary enormously according to size of project and sector, with some firms legitimately able to claim they will have little need to acquaint themselves with the technology in the near future – but BIM Academy director professor David Greenwood suggests others may be burying their heads in the sand. "Ultimately it depends who you work with, but if you're a sizable contractor, then pretty soon this is going to be a real problem to you."
As an example, contractor Balfour Beatty says it has won £1.8bn of work in the past few years on which usage of BIM was compulsory, and which it would have missed out on without BIM expertise. Peter Trebilcock, director of BIM at the firm, says while most of this work was public sector, an increasing number of private clients and contractors are insisting on it, meaning the industry is getting close to a tipping point where it becomes standard practice. "I think we're probably three years from that generally. But for us it's already our default – we've seen the benefits and we use BIM wherever possible, even when not specified by the client."
Nevertheless, Trebilcock echoes the survey findings that "large parts" of the industry aren't ready. "If you can't do BIM, you'll run the risk of excluding yourself from public and increasingly private work," he says.
This is potentially more of a problem for smaller businesses, which lack the capital and personnel resources to invest in skilling up for this new challenge. Former Chartered Institute of Building president Colin Harding says: "The worrying thing about the government mandate is it could exclude those consultants and contractors who aren't the biggest and don't have the resources to train staff. We don't want medium and small firms excluded from work just because this mandate has been forced through."
In some ways it's strange more firms haven't made the leap, given the positive testimony of those already converted. NBS's survey finds most BIM users reporting better co-ordination of construction documents, improved visualisation, cost efficiencies and better client outcomes overall. Fewer than one in 20 say they wish they hadn't made the switch. James Pellatt, head of projects at London developer GPE, which has pioneered the use of BIM, says he is starting to see huge benefits in procurement negotiations and his contractors are seeing myriad construction benefits. "At Rathbone Place [a mixed-use scheme in central London] Lendlease's managers on site can immediately see the benefits – there's very little doubt or confusion about who's doing what and when. The debates about construction co-ordination just don't happen."
Task Group chair Bew cautions reading too much into the survey findings, and suggests that a figure of half the industry being BIM proficient should not be seen as unexpected. "It's what I'd expect to be seeing at this point. I expect the rest of the industry to trickle over in the years to come." The man who as chief construction adviser told the government to set the BIM deadline, Paul Morrell, is likewise very positive about progress (see page 26): "Given how difficult all change is – particularly in the construction industry – I think a 50% adoption rate is an astonishingly high level of engagement.
"It is no great surprise to see the figures 'flat-lining' as it is a vast industry, operating in many different markets, and the pressures for change will also differ. For projects of scale, however, the reality is that BIM is simply becoming the new way of doing of business."

What's the hold up?
Nevertheless, why aren't more firms on board already? The first issue might be the lack of a strong client "pull", despite the existence of the mandate. The government's decision to use collaborative 3D BIM from April 2016 only actually applies to work from certain big-spending central government departments. So, with less public sector work around, the need for firms to adapt themselves to suit government work is further diminished. In addition, the evidence from the NBS is of confusion over the mandate itself – four in every 10 say they don't know what they have to do to meet the mandate, and only three-quarters believe it will be implemented at all. Bew isn't perturbed. "We're not an industry well-known for innovation and improvement, we've had 3 million people to communicate this change to, and we've all had to go through a sequence of events to get there. Both government and the industry have had to work spectacularly hard to get where they are today – we shouldn't look for ultimate perfection from day one."
One of the off-putting factors for companies may have been the way inexperienced government clients have so far gone about tendering projects using BIM. Departments have to set their expectations of how the technology is used on projects with Employers' Information Requirements (EIRs). On one of the first pilot schemes, Cookham Wood, the Ministry of Justice asked for BIM data on nearly all the "BIM objects" that made up the building – ultimately generating about 750,000 lines of data, according to Bew, when a maximum of 1,000-2,000 is all that's necessary to run a building. "One of the problems we've seen is that clients aren't clear what they're asking for when working in BIM," says the BIM Academy's professor Greenwood. "Consultants are drafting EIRs for them and throwing the kitchen sink at it. It's causing main contractors some difficulties as they're getting too much information at the wrong time."
Both government and the industry have had to work spectacularly hard to get where they are today – we shouldn't look for perfection from day one

Mark Bew, chairman of the BIM Task Group
Bew, however, maintains this problem has now been solved: "We've all learnt from that, and it taught us really valuable things. There's now an understanding across government we have to be very clear about minimising information requirements," he says.
Bew has little sympathy for the argument that small firms can't afford the investment in software or training to upgrade to a BIM-enabled world – he says a five-year run-in should have meant that any firm could have incorporated it into its natural business improvement cycle, taking up BIM software when existing CAD software leases required renewing. It is never quite that straightforward in the real world, however, with firms that didn't have the money to invest in BIM during the recession now likely to be lacking the time to do so. "When you're running a business there's never an easy time to adopt BIM. When you've got the time you've not got the money, and when you've got the money you probably haven't got the time," admits NBS's Malleson.
Certainly NBS's surveys show good intentions aren't necessarily enough. This year's survey finds 95% of respondents saying they'll be using BIM in three years' time. But looking back three years to the 2013 survey, 91% of respondents said the same thing – but only 54% are. "There's clearly a gap between what people intend to do and what they actually do," says Malleson.
A continuing difficulty for those using BIM is in realising the benefits of improved collaboration that proponents of the technology have promised it will deliver. The NBS finds evidence of collaboration, but still only just over half of those using it are sharing their BIM models with people outside of their organisation – disappointing because this is, in essence, the point of creating a BIM model. Just 37% use a BIM model from the very start to the very end of a project. Collaboration remains difficult because looking over the shoulders of the architects and engineers are the claims consultants and commercial managers whose job is to protect construction firms' contractual position. Hence the common practice, encouraged by the wording of officially endorsed advice in the CIC's BIM Protocol, of companies submitting BIM models with the caveat it is "for information only", and cannot be relied on. "It's fair to say there is an issue about the reliance you can put on information as it gets passed from one team to another," says Greenwood. Harding adds: "The last 50 years have shown you're not going to get collaboration or partnership without full-process integration, because people have to protect their legal position. You can't expect some whizz-bang system will force people to integrate."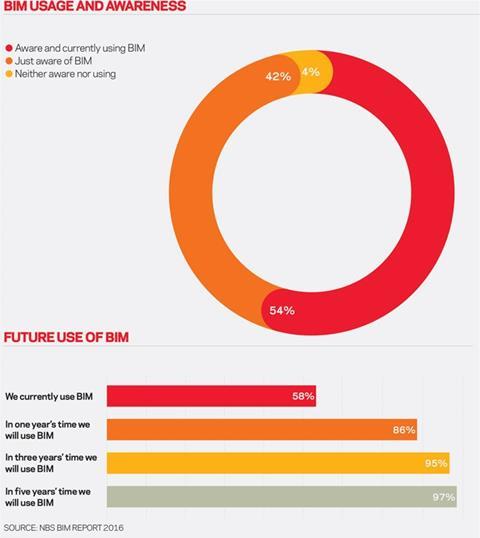 Balfour Beatty's Trebilcock agrees this is a problem and says he has heard "horror stories" of architects' behaviour – but insists it is part of the learning process. "There is a distrust of BIM models sometimes, some designers put caveats on them. But the best know that this is how they work," he says.
In fact, the data seems to indicate there's a "hardcore" of businesses that aren't convinced BIM will be beneficial: 27% of those that haven't taken it up say they would rather not adopt it, and only a third of the non-users think their clients will increasingly insist on it in the future. Harding says: "It'll take years until you can say the industry is BIM facilitated."
Whether Harding's pessimism or Bew's optimism is the more accurate is an academic question. But for the really small firms deciding whether or not to invest the significant time and energy into becoming BIM enabled, the decision could ultimately be a life or death one.

The BIM Mandate: what does it mean?
In the 2011 Construction Strategy, the government said it would "require fully collaborative 3D BIM (with all project and asset information, documentation and data being electronic) as a minimum by 2016". Since then, this pledge has been refined to make clear that it refers to projects procured after 4 April 2016 by the big-spending central government departments covered by the strategy. These will be expected to set out Employers' Information Requirements for a BIM model as part of the construction contract.
BIM Task Group chairman Mark Bew says most have been doing this for around a year already, and therefore it will be "pretty much situation normal" after the deadline. Local authorities are not included in the mandate but are being "heavily encouraged" to take part, says Bew. He says the Cabinet Office will monitor whether departments fulfil the promise, publishing the information in annual reports. The government definition of level 2 BIM is that members of the design team will produce 3D models to common standards that can be shared within the project team.