The £2.3bn merger of US engineering giant Aecom with rival URS made it the UK's second largest consultant. But where does it go from here and what does the merger mean for the UK? To find out, Building talked to Aecom's EMEA boss Steve Morriss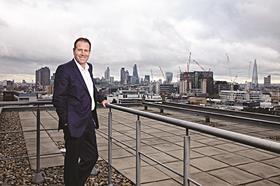 Say what you like about it, but Aecom isn't a company to hang about. From 5 January next year, it will formally start operating as one firm with former global rival URS, just a month after the firms' £2.3bn mega merger completed in Los Angeles. And they've already picked a name - you've guessed it, Aecom - the only question being whether this change is rolled out for all 95,000 staff of the merged business to the same timetable.
Morriss says that after bringing in independent brand consultants the feedback from emerging markets tipped the balance in favour of sticking with Aecom: "I think many of us felt going in to that exercise that a very possible outcome could be a completely new name to emphasise that this combined entity was something quite different. [But] we will go to market as Aecom. The URS guys, I think, are really happy with that. The exact timescale isn't clear yet. But I doubt it'll be terribly long."
Having got its first decision out the way, it's not (really) much of an exaggeration to say that this allows the combined firm to proceed with plans for world domination. Because for Aecom, the deal consolidates its position as the world's biggest engineering design company, with turnover in excess of £11.1bn and operations across tens of disciplines in 150 countries. The global logic for the deal, as set out by chief executive Michael Burke, is to allow Aecom to harness 50,000-strong URS's expertise in the oil and gas, nuclear and industrial sectors where Aecom has been comparatively weaker, "dramatically accelerat[ing] our strategy of creating an integrated delivery platform with superior capabilities to design, build, finance and operate infrastructure assets around the world."
But little, so far, has been said of what the deal will mean in the UK. It's likely that with around 7,000 people the combined firm will become the second largest UK consultant by staff after Atkins, but questions about structure, who will lead it and what its focus will be have not been answered. So, Building sat down with Steve Morriss, who last month was named chief executive for the 18,000-strong combined firm in Europe, the Middle East and Africa (EMEA), to find out what it will all mean for both the business, and its customers.
Happy together
Morriss, who joined Aecom in 2010 from Mouchel, is a relaxed and refreshingly non-corporate presence, still a couple of years shy of his 50th birthday. Hailing from south Wales, he is quick to smile, and gives the impression of someone who wears his seniority pretty lightly.
His first priority when the merger was approved, he says, was to focus on where the combined company now has the opportunity, with greater breadth of services, to do things that it couldn't before. "On the Friday [the deal was approved] we had people volunteering to give up their weekends to get to know what their URS counterparts are doing. Just in those first few days [there was] this incredible generation of ideas of what we could now do that we didn't do before. That in itself is generating a huge pipeline of opportunities. To say to our global clients - 'we can do that for you, wherever you want to do it,' is a fantastic offer."
He says the two firms are already working as one when it comes to winning new work. Aecom has learnt a lot, he says, from URS's approach to its biggest corporate clients, such as Shell, where it had dedicated people working to understand its needs globally. Burke has promised to set up a global business development division that will target winning work from the firm's biggest clients, and Morriss says in EMEA this will comprise a "relatively small group" of up to 150 people, who will pursue opportunities the firm couldn't get to before the URS deal.
However, it's not until January that the operational and delivery sides of the business start to come together. And in many ways it's not surprising the business elected to keep the Aecom name, because in some ways it will be business as usual. The combined firm will adopt Aecom's "matrix" management structure approach, albeit with some tweaks, where separate management lines cover markets such as commercial building or nuclear power, in addition to others looking over specific geographies. And the overall vision of the world's leading infrastructure services provider will be familiar to anyone who has followed Aecom's rise in prominence since its 2010 take-over of Davis Langdon.
In this way of thinking, URS simply gives Aecom a more global reach, and greater breadth of service lines and sectoral expertise. Morriss says: "If you look you see these little gems. In the London commercial market all the work that URS team do in environmental permissions, [and] planning submissions for our blue chip London clients, is a really important specialist service that's now something we can add. This is an opportunity to add to the Aecom portfolio."
But while the acquisition adds much, there are also areas of duplication, though Morriss insists these are limited. One example is the Highways Agency's £5bn Collaborative Delivery Framework, where Aecom had to withdraw its entry because of URS's submission (URS was earlier this month named one of 10 engineers to win a place on the framework). But Morriss denies this means the potential revenue to URS and Aecom from the Highways Agency will be diminished.
"Most of our competitors on the framework don't have the scale of capability, don't have the depth of resource, don't have the same level of expertise, and crucially can't bring the same level of global experience to bear. So we're very confident we'll punch our weight in that new framework."
The issue of overlap has also, inevitably, been concerning some of the firm's employees. Morriss confirms that the combined firm will seek savings in back office functions, albeit that the EMEA business will contribute less that its equivalent 20% share of the £146m "synergy" savings identified as part of the deal globally, because EMEA is "so strongly in growth mode". Many of the savings it makes will be from merging offices and leveraging greater buying power with suppliers, rather than cutting staff, although a "tiny percentage" will go.

Avoiding strife
Potentially more disruptively, all of Aecom and URS's senior leadership team in EMEA have been forced to reapply for jobs in the newly merged business, with the selection now made. Now the tier of around 150 managers that work beneath that level are going through the same thing. It's a process which, in some mergers, can result in months of navel gazing and internal politicking, and given Aecom's intergration with Davis Langdon - which led to a large number of partners leaving the business - one that could conceivably have led to strife.
But Morriss, who conducted the process alongside former URS Europe, Middle East & India managing director John Horgan, is excited about the outcome which has seen former Aecom directors taking three-quarters of the EMEA leadership roles. These include former Davis Langdon partner Peter Flint who will run the Buildings + Places division. Horgan will be MD of EMEA alongside Morriss, who says he's not received any negative feedback about the process.
"The great majority of people who we want to keep in the business will stay in the business," he says. "There's a huge leadership challenge to take the business through to the next stage."
Much of that challenge is down to the pace of growth that Aecom under Morriss will continue to chase in EMEA. Last year he told Building the firm was embarked upon a "proper old-fashioned pre-recession growth adventure", and it seems the URS purchase hasn't sated that appetite to grow. He says Aecom alone grew 20% in the UK in the last year, and the wider EMEA business has met its target of hiring 3,000 people "across the board" of disciplines and sectors. So while some back office and senior managers may depart, the overall story, having taken on 800 graduates in the UK, is about recruiting. "We have well over 1,000 live vacancies, so we don't need too much growth to soak up really talented people," he says.
And contrary to competitors such as EC Harris, which have talked of the need to outsource work to access quality staff, Morriss says the firm is not struggling to recruit. "People talk about resource constraints in the industry, but we don't see it. We've proven we're a place that can attract some of the best and most bright, and retain them better than we used to. Our recruitment operation would shoot me if I made it sound too easy, [but] I think we've got an attractive proposition for new starts. It's a hell of an adventure."
Morriss says he wants to grow the EMEA business a further 10% next year, and that this is possible due to the investment Aecom made in graduates during the recession. "One of the common knocks that we'll get from some smaller competitors is that individuals will get lost in this big company. Well I tell them our staff are happier here than they were last year, and we're giving them the most fantastic training. Opportunities open to our graduates are global and they're the world's biggest projects as well as good local ones," he says, citing staff surveys he says show three quarters of employees are happy with the merger. "Two or three per cent are a bit more negative than positive. If you'd have told me beforehand I could be in this situation, I'd have bitten your hand off."
He's convinced this is because Aecom is less corporate and risk averse than some assume. "Our track record shows how agile we can be. We put a lot of effort into training and development."
Performance over size
But, though Aecom keeps getting bigger, Morriss insists his focus is on excellence in individual disciplines rather than size. "What we've always wanted to be is market leaders. We want to be the people that all of our customers turn to for the best advice, the best new ideas, the best people. That matters to me more than anything. The benefits of scale [is that it] gives us a huge opportunity to deliver on that market leadership position."
The combined firm will continue Aecom's journey toward offering broader services for clients, from financing projects on which it is a consultant (which it does in the US via Aecom Capital) through to programme management and actual construction, which it already does in the UK in the utilities and infrastructure sector. Another new service line is construction management, an offering it has been growing for a year and a half. "We're responding to what our customers need. In EMEA this is one of our strongest growing areas."
So, can the firm really be all things to all people? "There are customers who will always want single services [and] we've got to be world-class at every single stream. But there are those who just want a solution," he says, citing the traditional distinction between "client side" and "supply side" of a project.
"For me that has always been an artificial divide, because the best projects you've worked on are where everyone works together as a single team, and that's what we're offering," he says.
For someone who confesses at the end of the interview to being "not very good at knowing where I'm supposed to go next", Morriss gives a convincing impression of a person you'd trust to have planned this merger very well. From January, it'll be down to Aecom and URS to deliver it.