This year has seen some great leaps forward for off-site construction. But is it the future of the industry or a cyclical fad?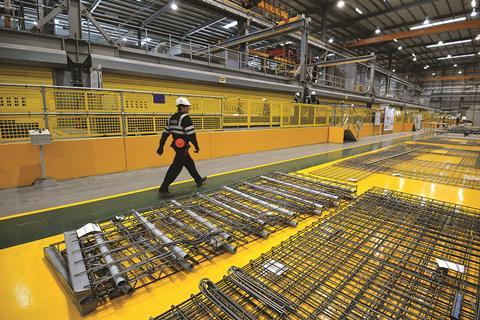 It's been quite a year for off-site construction in the UK. Developments include Swan Housing Association's plan to set up its own off-site factory, Manchester developer Urban Splash's launch of its customisable factory-built HoUSe product and - above all - the decision by insurance fund L&G to build the biggest off-site factory in Europe to supply homes for its private rented housing development pipeline. Richard Ogden, the chair of industry body Buildoffsite, thinks it adds up to a big shift. "We're calling 2016 the year of off-site," he says. "People aren't talking about it anymore - they're doing it."
This, however, will not necessarily persuade the cynics. They counter that off-site construction and so-called modern methods of construction (MMC) have, since Sir John Egan's Rethinking Construction report, spent the best part of 20 years being the future of the industry without ever really hitting the mainstream. For every success, such as the off-site fabrication of large parts of the Cheesegrater, there have been failures - such as the £61m recently written-off by Laing O'Rourke against problems on just three off-site jobs.
Overall, growth in off-site has been stymied by high costs, fluctuating demand and the need for industry culture change in order to get the best of it. Laing O'Rourke has recently paused its investment in the next generation of what it calls its "Design for Manufacture and Assembly" plants, and a recent National House Building Council (NHBC) survey actually found that the proportion of homes built with MMC had dropped from 24% in 2008 to 16% last year. In general, a paucity of reliable data makes it very difficult to assess whether or not this technological revolution has finally arrived.
What data there is comes from the NHBC's housing registrations data, and an annual survey conducted by Ogden's Buildoffsite, which covers not just housing but commercial and infrastructure construction too. Ogden says Buildoffsite's survey, while not purporting to be definitive, shows MMC gaining traction and likely accounting for between 15-20% of all construction. This is up from 6-7% of the market when it was set up in the early 2000s.
The claim of those promoting off-site construction is that it offers faster build to a higher quality with fewer defects. This is achieved by moving from a construction to a manufacturing approach, using production-line techniques. In addition, its proponents see it as a solution to the growing skills crisis, by replacing the need for skilled tradesmen such as bricklayers and joiners with a much smaller number of semi-skilled factory operatives.
So could off-site construction prove to be the panacea UK construction needs to solve both the skills shortage and the housing crisis? Or will the industry always ultimately depend on more traditional building techniques?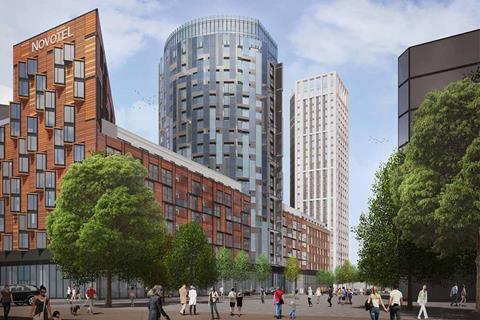 Time for a change
Mark Farmer, founder of consultant Cast, is currently undertaking a review for the government of the construction industry focusing on the need for technological innovation to address its looming demographic challenges. He says off-site construction is needed primarily because the industry is only recruiting 20,000 people a year to replace the projected 70,000-100,000 who are projected to leave each year over the next decade.
He says: "It's absolutely clear the industry is facing the prospect of being marginalised because of a long term shrinking workforce. We have to change because suddenly we will find we have an industry that's not fit for purpose."
Off-site construction is therefore seen as key to allowing the industry to grow - NHBC's recent survey found more than 95% of the housing industry said off-site construction would have either a key role or make some contribution to raising housebuilding output.
Nevertheless, large parts of the industry – particularly housebuilders - have long had concerns over using modern methods, because of fears about how mortgageable MMC-built properties are, whether consumers will accept them, and whether the required investment in plant and factories pays off in what is a notoriously cyclical industry. A number of housebuilders who had experimented with MMC before the last recession were seriously burned by the experience of suddenly empty factories sucking up precious cash when the credit crunch hit.
This has slowed investment, says Arcadis partner Richard Jones. "You're not going to put £200m into a factory if you think demand could disappear overnight - it needs certainty of order book."
Farmer estimates that the UK capacity for what he calls true MMC - not including timber frame construction - is currently little more than 15,000 [homes] per year.
A number of these problems can be said to have been addressed, with, for example, the introduction of the BOPAS scheme providing Lloyds-underwritten certainty to insurers and mortgage lenders about the quality of MMC construction. But by far the biggest barrier to adoption by clients has been the high cost of most off-site build - that is, until now.
Recent huge rises in traditional construction costs over the past two to three years, which have hit anything between 20-50% in the residential sector according to Arcadis' Jones, have recently driven a clear renewed interest in MMC. Where a few years ago the biggest housebuilders could build homes for as little as £40-60 per ft2, and off-site construction was well over £100 per ft2, the prices have converged. "Traditional build costs are quite location-dependent," says Jones. "But on the edge of London where they are high, MMC is very competitive. In some projects in the right location it's cheaper."
"People are genuinely starting to turn to factories," says David Birkbeck, chief executive of Design for Homes. The NHBC survey backs this, finding 45% of housebuilders expect usage of MMC overall to grow in the next three years, with the number of them using fully volumetric construction set to more than double, and those using off-site built "pods" to more than triple. Birkbeck says: "People had always stuck with traditional construction because it was more forgiving, but what Urban Splash are doing, for example, is really impressive. They're offering a level of customisation that is genuinely exciting for the industry."
An example of this is the plan by housing association Swan to invest £2m to build its own off-site factory in Basildon, Essex, to supply 100 homes a year, initially for the 564-unit Beechwood development. Geoff Pearce, executive director of regeneration and development at Swan, says he expects to save 10% on the out-turn build cost of the most recent phase of the same scheme done through traditional methods, as well as saving 40-50% in on-site time. The association has an overall programme of 700 homes a year, and says the plant can triple production if required.
"Generally off-site is seen to be more expensive," says Pearce, "but one of the main reasons for this is the lack of certainty manufacturers have in their market, so they build in a lot of risk cost. We're in control of our own order book and can plan the scheme around our required production."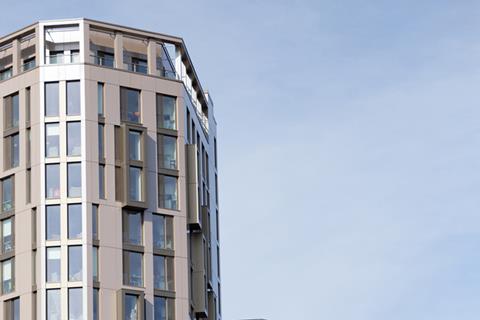 Filling the gap
It's not only cost convergence but the lack of availability of trade contractors in the traditional build market that is driving this interest.
Ben Derbyshire, managing partner at architect HTA, which has been involved in numerous off-site schemes, says: "We're finding that new entrants such as private rented developers are coming to the market and realising the supply chain is pretty much tied up. They're increasingly turning to off-site solutions."
This lack of capacity is certainly driving L&G's investment. Paul Stanworth, managing director of L&G Capital, says: "The UK is only building half of the homes it needs. It can't double that amount simply by doubling the money in the market as you can't suddenly get double the number of plumbers or bricklayers. We wanted to capture some of the supply chain by doing this [investment]."
Relapse risk
However, if the success of off-site construction is predicated on rising costs in traditional construction, there is a danger clients will just flip back to using traditional build the next time prices dip in a downturn - as happened in 2008/9.
Cast's Farmer says: "It's very easy to get carried away by a wave of euphoria. There's a very real risk this is just a short-term reaction that will fade as soon as the market cools down."
Critics of the drive to MMC are more damning. "We've been here before haven't we?" says Mike Leonard, chief executive of the Building Alliance, referring to the big push for off-site construction after the Egan Report. "There's a lot of hype around off-site construction but it's spin - it's not reality. The reality is the majority of housing construction takes place on relatively small sites where the adaptability of traditional masonry build is a key driver. Unless homes are being mainly built on big sites where the replication of large numbers of units and components is possible, nothing will beat the flexibility and efficiency of masonry."
Leonard's criticisms are reinforced by the fact a number of the big barriers to developers choosing off-site construction remain - such as the fact it commonly requires both the design to be tied down at a much earlier stage, reducing flexibility, and suppliers to be paid much earlier in the cash flow.
Also, housebuilders see little or no benefit in off-site construction's faster build speed as there's no advantage in them building homes quicker than they can sell them. Many funders remain concerned about off-site construction, particularly given it is not usually compatible with a developer transferring construction risk by tying a contractor down to a fixed price contract.
So what evidence is there that things are different this time around? Most obvious is the investment by L&G in a 400-strong volumetric factory which will be able to produce up to 3,500 cross-laminated timber (CLT) homes a year. This is important because of the boost it will give to the UK's off-site capacity. But it is also important because it shows the potential impact on off-site construction of the burgeoning institutional private rented sector, where the speed of delivery it can offer is a real benefit.
L&G's 3,000-strong pipeline of rented housing, not subject to the cyclicality of the private sale market, gives it the confidence to make a large investment in off-site construction where speculative housebuilders fear to venture. Buildoffsite's Ogden says the decision was a "big moment" for the sector. "There is nobody anywhere that can say L&G haven't got the funding or the strategy to pull this off," he says. Farmer says: "Disruption like this will get everybody thinking. Because L&G have got to make a success of this."
But it's not simply L&G's investment. "I do sense a little bit more of a longer term commitment this time round," says Farmer. For Ogden, the wider story is around the growth of BIM, in a world where digital models can be directly transferred to production lines via CAD/CAM processes. "It's about digital. Lots of planets are aligning. Without the change to digital we could have gone on building traditionally for another 20-50 years. We're in a world of mass customisation. There's now a compelling reason to do things in a different way."
Certainly, there's no doubt the UK is seeing a renewed interest in off-site construction. For many the question of whether it endures through the next downturn is less certain. But for Ogden, the Rubicon has been passed. "There will always be people building traditionally. But the question is do you want your business to be analogue or digital? Around the corner will be an Uber moment, an Amazon moment. Are you ready?"
What is off-site construction?
The term refers to a raft of different technologies in which a proportion of the construction is done under factory conditions and then transported to site.
At the bottom end, this refers to the fabrication of components such as door sets or chimneys, or the use of open panels - most commonly made from timber - which are finished and sealed on site. This is nothing new, with timber frame construction for a long time being the dominant form of housebuilding in Scotland. For many, however, true MMC is used to refer to technology where much more work is done in the factory. This includes closed panel systems, where wood, steel or concrete panels arrive finished and plastered, pre-cast concrete elements such as those produced by Laing O'Rourke, and "pods", typically used for bathrooms. At the far end of the scale is full volumetric construction, where completed buildings are transported on the back of lorries to site.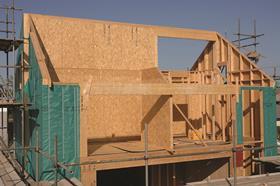 Case Study: L&G
L&G announced its intention to build its 550,000ft2 factory in Sherburn-in-Elmet near Leeds in February, and L&G Capital's managing director Paul Stanworth, says it is already close to being able to ship its first homes from the plant.
L&G has decided to use cross-laminated timber (CLT) technology, and will ultimately both create its own CLT panels, and assemble them into finished homes to be shipped out on low loader. Initially, however, L&G will import CLT panels while the CLT production element of the factory is built - to be completed next year.
"The plan is that wood will come in one end of the factory and a full house out the other door," says Stanworth. "We'll even fit curtains." It will use specially adapted CAD/CAM machines able to shape panels directly from digitally held architects' plans. "We're aiming for something where the wood just clips in simply, for which we're going to need really precision cutting."
He's clear that the decision was taken both because of the lack of capacity in UK construction, and the greater speed of build of off-site construction. "The real benefit to us is we can build apartments in about half the time, which means we can get rent receipts much earlier. That makes a big difference to the economics."
As well as building for its own PRS [private-rented sector] pipeline, L&G will also market the homes to other developers and housing associations.