A guide on how to find, select and manage building trades on a domestic construction project, brought to you by Building magazine in conjunction with TrustMark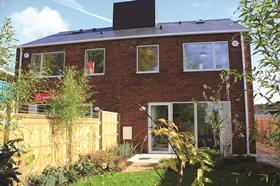 One of the government's key ambitions for the sector – as set out in the Construction 2025 report – is to improve the image of the industry, in order that it inspires the most creative and entrepreneurial young people to join its ranks. But the strategy acknowledges tackling the sector's image problem is impossible without improving the real performance of the part of the industry most of the public interact with – the domestic maintenance and small building market.
And while readers of Building may think themselves expert at procuring and managing builders on multimillion-pound contracts, the litany of over-budget and problem-ridden domestic repair, maintenance and improvement works undertaken by the sector's professionals would seem to argue otherwise.
So, with repairing both of these problem in mind, Building – in conjunction with accreditation body TrustMark – has pulled together a 10-step guide, suitable for the public at large, showing how to find, select and manage a tradesperson on a domestic project.
Finding
1. Search
There are a whole host of places to find local builders, from web searches on Google and Yell to the traditional Yellow Pages method. Use your networks to get recommendations – but don't just get a name from a guy in the pub. Only act on strong recommendations from people you trust who have direct experience of the work, and where the required trades are the same. Both the Federation of Master Builders (FMB) and TrustMark run "find a builder" services on their websites, which search only accredited firms. Above all don't rely just upon letters and fliers through the door or cold-callers – these are the methods of choice for the rogue trader, who look to benefit from people who don't have the time to research their contractor properly. Legitimate traders also use these methods – but check them out carefully. Steve Playle, Surrey Trading Standards' investigations and enforcement manager, says: "The most common mistake is people not doing their homework. Do your research, take your time."
2. Satisfaction check
So when you've found some names, start checking them out. There are three parts to this. The first issue is customer satisfaction. A huge number of customer ratings web sites have sprung up – like RatedPeople, mybuilder, or TrustedTrader run by Which – but be aware how these sites work. While the feedback is usually genuine, many sites do not have any vetting processes for the builders they recommend. Most are simply a service builders pay for to generate sales leads for them. So look at the comments, but don't assume a contractor's presence on the site means they have been somehow vetted and approved.
3. Financial check
The next check you should do is financial. Is the firm you're looking at a properly registered company with a legal standing and a decent trading record? One of the best places to check is your local councils' trading standards team. Many councils run approved traders scheme, in which named businesses have been checked for trading history and financial accounts. Unfortunately, however, trading standards officers can't do your research for you. So if your council doesn't have an approved trader scheme, then check your tradesman out on the Companies House website – you're looking for a firm with a lengthy trading record.
4. Competency check
The third check is for technical competency – don't make the mistake of assuming that because local trading standards has given your firm the thumbs up, that it means they'll do a good job of a plaster skim on your new conservatory. Trading standards has no remit to cover the technical ability of the firms on their list. How you do check this can vary from trade to trade, as many, such as gas engineers, for example, have their own Competent Persons scheme (the gas one, which used to be called Corgi, is now called Gas Safe). Firms which are registered with a Competent Persons scheme are often able to display the relevant logo. Be clear that the competency they are qualified for is the one you're using them for – it sounds obvious but a great electrician is likely to make a lousy builder, so don't be tempted to tag on different jobs. Trustmark, which has 14,500 registered firms across 33 trades, is the only organisation to require all its accredited firms across the broad range of trades to have passed the full suite of checks – customer service, trading practices and professional competency checks, including on-site technical inspections. It also does financial performance checks too. Many TrustMark builders are members of the FMB which likewise provides checks and also offers a dispute resolution service.
Selecting
5. References
Use your research to draw up a list of at least three builders to get quotes from – and make sure they come over in person to assess the job. Ensure these quotes include materials, rubbish removal and making good after the project is completed – as well as VAT. When you have got these, the first thing you should do is take up references from them. It's really valuable to talk to anyone who has worked with them about their experiences – and it should ring alarm bells if they can't provide previous customers to talk to.
6. Ask questions
Make sure you get all of the information you need to know up front at this stage, from the firm's full contact details (if they can't provide a land line number this should raise alarm bells), to whether they'll need access to power and clean water, to what they'll do with the waste. How are they qualified to do the work your asking them to do? What prior experience do they have? What condition will they leave your house in?
7. Make your choice
Choose your builder on the basis of the answers to the above questions, and the quotes provided. Be wary of prices that look to good to be true – they often are. Don't agree to pay a deposit up front unless the builder has a deposit protection scheme in place – all Trustmark-registered builders, for example, have to be able to offer warrantees. If possible make all payments by credit cards. This has two advantages – firstly the payment can be traced electronically and therefore can't be disputed in the way a cash payment can be; and secondly the credit card company itself protects you under the Consumer Credit Act meaning you may be able to get problems sorted out later for any disputed work. Agree staged payments, and never hand over the last payment until your completely happy with the job. Liz Male, chairman of TrustMark, says: "Money is always a huge flashpoint and a source of conflict. It's vital to agree everything up front, but don't hand over cash at that stage. The biggest problems we see are when customers have handed over cash up front which is not traceable."
8. Contract
Formal written contracts are advised. A free standard contract can be downloaded from the FMB website. For the simplest jobs you can get away without a formal written contract – but if you're doing this find a way to record or at the very minimum take a note of what is ultimately agreed. It is possible to download an app from the Trustmark website which takes you line by line through all the questions you should ask, while recording the conversation – meaning you'll be able to hold the builder to it in future even if you don't have a contract.
Management
9. Communication
The first rule is constant communication. You've selected a great contractor. But the relationship can still break down and the job go horribly wrong if you don't communicate. Find an excuse to talk to your contractor every day. In particular if anything concerns you raise it immediately: nothing is more likely to prompt a dispute than a customer raising a quibble after the job has completed that he or she never mentioned as the work was going along. If you have a bad experience with a trader, do let trading standards know, as it can help them identify rogue tradesman and thus protect other customers even when they can't intervene.
10. Variations
If you need to extend, amend or otherwise change the work as the job goes on, this is possible, but you need to be careful. Talk to your builder as soon as you think you might have to change things, and ask him or her to tell you how much it will cost. As before, record, make a note of or formally contract any changes to the spec and additional costs. If the addition is significant, then check whether it is within the formal competency of the tradesman you've engaged. Don't think that just because you've got a plasterer in you can get him to do a raft of other jobs he's not qualified for "while he's there". Consider whether you need to treat the additional work as another job – do you want to get competitive quotes for it, and start the research process again?