At the start of the year, housebuilders could be forgiven for thinking they had never had it so good. But Michael Gove's 10 January announcement that they alone would be footing the £4bn cladding repair bill sent shockwaves through the sector and share prices tumbling. Is this simply the City overreacting or a real fall in fortunes?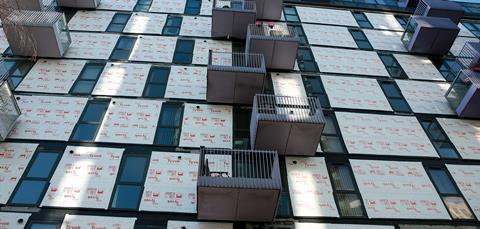 It has been a rollercoaster couple of years for UK residential developers, with the bust and then unexpected – and prolonged – boom of the covid crisis. But we've reached a point where we can pretty definitively say that right now, housebuilders are not flavour of the month. Not with politicians, not with cladding campaigners – and definitely not with investors.
Because despite a recent slew of company results showing some of the sector's top firms in positively glowing health, the share prices of the listed companies have fallen by a quarter since the start of the year. In total nearly £11bn has been wiped off the market value of the UK's publicly traded housebuilders in a determined sell-off, to the point at which a number are now priced at less than the value of the assets they own.
This is quite something, considering Taylor Wimpey last week reported a bumper 157% boost in pre-tax profit and 54% growth in revenue in its 2021 accounts – to give one example – while Persimmon reported pre-tax profit of nearly £1bn, up 23%, on revenue of £3.6bn – to give another. Firms across the sector are reporting lengthy forward order books, huge cash reserves, and continuing strong sales demand.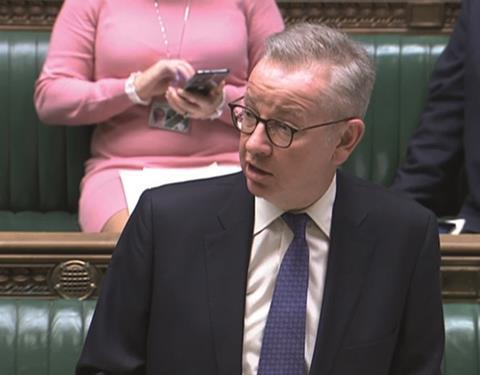 So, what's going on? Clearly, it doesn't take a long look at the news to guess at some of the headwinds facing the sector, from the unquantifiable economic impact of the war in Ukraine, to the cost of living crisis, rising inflation, rising interest rates, accelerating build costs, the impending end of Help to Buy, and a crisis in planning.
But on top of all that, one issue has arisen suddenly to the top of the agenda to become a multibillion-pound drag anchor to the valuation of the industry: the cladding crisis, and housing and communities secretary Michael Gove's 10 January plan to get housebuilders to pay to sort it out. So are City fears justified, and are these issues likely to have as disastrous an impact on the sector as the current prices imply?
Many analysts think it is the cladding crisis, above all, that is affecting the valuation of the sector – in particular, the housing secretary's insistence that housebuilders "voluntarily" contribute £4bn to pay for the remediation of mid-rise housing blocks not covered by existing government schemes.
Understandably, the industry's chief execs are prioritising this issue above all others right now. Persimmon boss Dean Finch, talking to investors last week after results were announced, said: "I've lived and breathed since January the movements with government around building safety. […] The devil is indeed in the detail and will determine at the end of the day how much you're going to ultimately spend."
Unquantifiable
One look at the Building Safety Bill amendments tabled by the department on 14 February and it is not hard to see why housebuilders are getting in such a lather. Gove has publicly threatened to bar housebuilders that do not play ball with his requests from trading, and the amendments – which allow him to stop firms from using planning permissions or gaining building regulations approval – appear, at least on the face of it, to allow him to follow through on that threat. Other amendments allow a previously proposed but limited "building safety levy" on planning applications for certain high-rise buildings to be expanded into a roof tax to cover all residential permissions.
Shane Carberry, building materials analyst at investment bank Goodbody, says: "Prior to 10 January we believed there were a number of key headwinds for the sector to contend with but given the bouyant backdrop, we were relatively comfortable that the housebuilders could weather the storm. However, post the announcement on 10 January we became more cautious given there were such unknowns around the cladding issue.
"Of the share price underperformance versus the broader market, we believe it is predominantly related to cladding," he says, adding that investors such as hedge funds on shorter timescales "are unwilling to take much of look at the sector while cladding remains an issue dominating the headlines".
Housebuilder share prices
Tuesday
4 January
2022 (p)
Market cap
(£bn)
Tuesday
8 March
2022 (p)
Market
cap
(£bn)
Drop
(%)
Drop in
market
cap (£bn
Barratt
760
7.78
531.8
5.44
-30.0
2.34
Persimmon
2,883
9.20
2278
7.27
-21.0
1.93
Taylor Wimpey
178
6.50
127.9
4.67
-28.1
1.83
Bellway
3,350
4.14
2654
3.28
-20.8
0.86
Berkeley
4,903
5.51
3,718
4.18
-24.2
1.33
Vistry
1,225
2.74
946
2.11
-22.8
0.62
Redrow
706
2.49
525.2
1.85
-25.6
0.64
Crest Nicholson
375.4
0.97
275
0.71
-26.7
0.26
Countryside
456.8
2.33
258.4
1.32
-43.4
1.01
Gleeson
800
0.47
640
0.37
-20.0
0.09
Total (average)
42.12
31.21
-26
10.91
While prices have rallied slightly this week, until the middle of last week Barratt led the dive in prices, with shares falling 30%, wiping more than £2bn off the value of that company alone. Overall, the 10 major listed housebuilders saw their valuation fall from a combined £42.1bn at the start of the year, before Gove's announcement, to £31.2bn as of the sector low point on 8 March – a fall of 26%.
Housebuilders, via a co-ordinated campaign through the Home Builders Federation (HBF), have argued that the £4bn contribution asked for by Gove is too high. The HBF says it does not take into account the £1bn of work done by builders to remediate their own stock, and overestimates both the number of remaining properties to be repaired and, to a lesser extent, the cost of the necessary work.
The thick of it
But even though it has commissioned a "big four" accountant to do its own audit of the situation, the HBF is yet to publish its own estimate of what the cost of remediating existing 11m-18m high blocks is, so there is next to no clarity about what kind of figure might be seen as more acceptable for the industry.
Taylor Wimpey boss Pete Redfern recently told analysts: "To ask the industry to match the whole of the bill for 'orphan' buildings [where developers are untraceable] and overseas investors is a huge step, and that's where the difficult negotiations inevitably will be.
"In terms of what the resolution might be, it is really hard to [give a reliable] steer. We're in the middle of that conversation at the moment. […]We're still very much in the thick of it."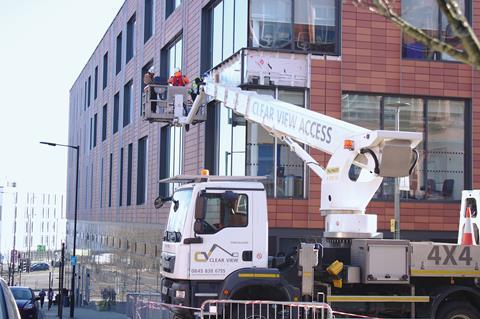 One of the key practical difficulties with Gove's request for a £4bn voluntary contribution is the idea of getting every housebuilder to sign up to a deal on the same terms – particularly given that some, such as Berkeley and Telford Homes, have high exposure to apartment blocks, while many smaller firms will never have built even a single one. One insider close to the industry-government negotiations says: "Government has stopped talking about the £4bn pot, because it realises that no builders are going to get themselves in the position of voluntarily shelling out for someone else's fuck-ups."
Instead, as Persimmon's Finch indicated last week, the view is increasingly that, in the absence of a voluntary agreement, the government will use the powers conferred by the Building Safety Bill amendments to bring in a broad-based roof tax on planning permission for new development to generate the funding it needs. This will allow the government to declare it has recouped the cash it needs from housebuilders, and sidestep the likely obstacle of making any actual housebuilders sign its deal.
Draconian
In this scenario, the sense is that the more draconian powers being taken by the secretary of state to stop firms gaining planning or building regulations approvals would only be used against those refusenik housebuilders that declined to remediate properties they themselves had built – rather than used as a punishment for not paying a "voluntary" levy. While Finch last week said he had "no doubt" Gove would use these "draconian" powers against those firms that refused to remediate their own buildings, there is no sense in the sector that this is anything that major players, which have already signed up to do so, are at risk of.
Finch added he thought that "later this year we will see a levy", and the industry insider said most involved in the negotiations now backed this assessment. "It'll be an expansion of the Building Safety Levy, some sort of roof tax – that's how they'll pay for the remaining buildings not remediated by the sector," the insider said.
"Of the share price underperformance versus the broader market, we believe it is predominantly related to cladding"

Shane Carberry
While this may sound scary for housebuilders – and its impact will clearly depend on the rate at which it is set – this could actually be a good outcome for housebuilders and their investors. This is because, unlike the £2bn-£3bn residential property developer tax, which the industry is already due to start paying from this April on its profits at a rate of 4%, a levy on planning permission would not be a tax on firms' bottom‑line profit. In fact, as a development cost, developers are likely to be optimistic they can offset a large proportion of any roof tax onto landowners – by factoring the levy into how much they are prepared to pay for land.
Kevin Cammack, analyst at Cenkos, says: "If it becomes a roof tax on planning, then it becomes potentially far easier for housebuilders to cope with than a tax on profit. Housebuilders can sharpen their pencils around their land development appraisals and hope to offset some of that cost."
Overblown
Given the arguments, then, that the £4bn asked for by Gove is way above a realistic figure, and that housebuilders might anyway not end up paying all of the contribution asked for, the drop in value of more than £10bn this year seems hard to justify. Goodbody's Carberry agrees, and says he believes the sell-off is "overblown". "The market is overreacting – there's still upside here. I don't think the issues the sector is facing are this bad – four of the top seven firms are trading below book value, which means theoretically the market expects impairments or writedowns," he says.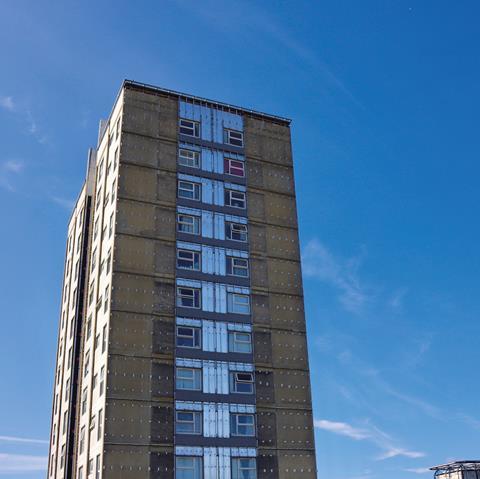 "Once we get out of the way of this cladding issue we could even look to start upgrading our [valuation] multiples from here, because we don't think the rest of the issues that the sector is facing are material enough to warrant the sort of valuations that they're trading on."
However, Carberry says that investors appear particularly spooked by the attitude of the government – which until recently had been so supportive of housebuilding. "They just get worried when it looks like the sector becomes a bit of a political football. What does this affair mean for the next time Gove needs to find some money?"
See also>> Building safety row explained: is Gove really going to shut down housebuilders?
Cenkos's Cammack agrees. "The sector appears to have gone in relatively short order from being one the government is happy to support financially," he says, "with policies like Help to Buy, to being one it has in its sights as one of the bad guys."
But Cammack also argues that the impact of the wider economic headwinds facing the sector should not be underestimated – particularly around interest rates and affordability. History suggests, he says, that housebuilders rarely perform well in an era of rising interest rates, which the UK among many western economies seems to have now definitively entered.
"The sector appears to have gone in relatively short order from being one the government is happy to support financially - policies like Help to Buy - to being one it has in its sights as one of the bad guys."

Kevin Cammack
Add to this, he says, rising costs in terms both of the price to build new homes and the cost of living crisis squeezing potential buyers' disposable incomes, and there are real reasons for investor caution. "Seeing the interest rate cycle finally turn is psychologically very important for investors," he says, "and while housebuilders' position in the market at the moment is undoubtedly terrific, down the road we can all see a huge squeeze on affordability."
While housebuilders argue they have seen no drop in demand from buyers as interest rates have started to rise and the economic and political picture has darkened in recent weeks, it remains to be seen how serious these wider issues will be for the sector. But, more immediately, housebuilders face an end of March deadline to finalise negotiations with the department over their cladding liability – at that point it will be much easier to assess whether the market has indeed overreacted.
Building's print and digital edition is out today
>> Click here for all digital editions