New Balfour Beatty chief executive Leo Quinn has wasted no time making his mark on the contracting giant. But so far his actions haven't managed to stem the flow of senior figures departing the troubled firm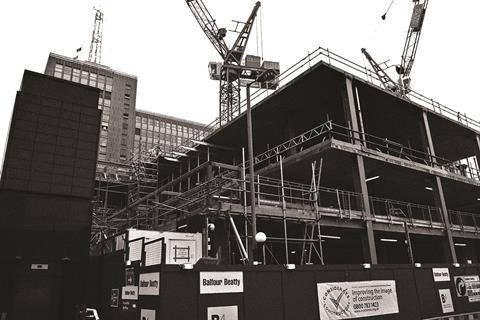 Last month, contractor Willmott Dixon admitted to having had an "annus horribilis" in its housing business in 2014. For Balfour Beatty it would be fair to say the business as a whole has had three of them in a row. In total it has written off £398m in profit over that period, and ended up last autumn admitting it was in danger of breaching banking covenants if the sale of its consulting arm wasn't concluded (it was). This scale of problem, from the UK's biggest contractor, has understandably led to huge management upheaval at the firm: in the past three years the firm has lost its chairman, two group chief executives, two finance directors, and two chief executives of the UK construction business. At one point last autumn the contractor - the UK's largest employer of construction staff - had no chief executive in post and a chairman and finance director both on their way out of the business: the top three posts, all in flux.
On 1 January this year the fight back began with the arrival of highly regarded FTSE 250 chief executive Leo Quinn (pictured), in a move warmly welcomed by the listed firm's City backers. With Quinn seen to have managed a turnaround job at defence research business Qinetiq, Balfour's share price has risen 25% since that date.
Six months in, and it's possible to see the outline of the business he has set about forming starting to emerge from the rhetoric accompanying his appointment. Of his two principal targets - to take £100m of annual cost out of the business, and bring £200m of cash back into the business by the end of next year - he has set about achieving the first by ending Balfour's "federated" structure with a cull and centralisation of back office and support functions. Meanwhile, he has set about rebuilding the culture of the giant through his Build to Last strategy, which emphasises making the business leaner, safer and more innovative while improving customer satisfaction with more controlled bidding, contracting and risk processes. Nevertheless, while he retains the City's confidence, his tenure has seen more profit warnings and a continuation of the regular drip-drip of senior departures experienced over the whole period of turmoil. So given all these changes, what does the new Balfour look like - and who are the people now in charge?
The restructure
Balfour's UK construction business has, in a sense, been in almost continual restructuring mode since early 2012, when it started its "Realise Our Vision" review of the business. That review, complete with hundreds of collective and individual staff consultations, took a year to determine and then much longer to implement, and resulted in the loss of 650 staff. The idea was to cull the majority of Balfour's legacy brands, the likes of Cowlin and Dean & Dyball, and reshape its six UK operating businesses into just one powerful firm - Balfour Beatty Construction Services UK (CSUK). CSUK was itself organised around three business streams - major projects, engineering services, and regional building work operating under four regions.
The initial aim was that this rationalisation would consolidate 75 offices into just 37. However, as this change programme continued, the problems at Balfour worsened, meaning even more drastic change had to be considered. In the last two years this office "consolidation" programme has been deepened, with one source suggesting the firm now has just 12 corporate offices for its UK construction businesses, something the firm declined to comment on. The nine different accounting systems that ran across its original businesses were merged into one, with the aim of introducing consistent business processes across the whole of CSUK.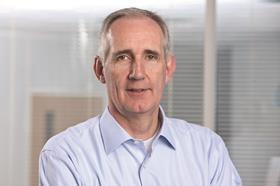 For incoming group CEO Leo Quinn, however, even this consolidation was not enough. By the end of last year, the firm's approximately 25,000 global employees were still costing the firm over £1.4bn a year in wages, and Quinn estimated the back office "group costs" at around £500m a year. He set out the gist of a renewed cost-cutting approach to analysts in March, saying: "There's ample opportunity [to cut costs] in terms of the way the back office functions. […] Rather than run with the federated company that we have today where we have 20-odd divisions, [and] each division has a complete staff of IT, legal, finance, HR, etc, etc, we're taking those particular functions and we're standardising them across all of the businesses."
The first thing this has led to is a dismantling of the CSUK structure, with the major projects business, led by Stephen Tarr, split off from the regional and engineering services businesses led by new hire Dean Banks. The CSUK term is no longer used, with the company moving instead to a "One Balfour Beatty" brand.
In practice Quinn's plan, currently being executed in the UK construction business but due to be rolled out to the other parts of the group as quickly as possible, means all back office functions previously held within CSUK move up to group level. As Building revealed last week, this has already seen key former CSUK staff, such as sustainability director Paul Toyne and HR director Liam Donnelly, move floors at the firm's Wilton Road, Victoria HQ, up from the first to the fifth - the seat of Balfour Group operations. They and their teams will not be replaced at the level of what was CSUK and, likewise, all UK construction teams running finance, legal, commercial, health & safety, IT and business efficiency will be disbanded, with staff having to compete for roles at a group level or depart the business.
It's not hard to see the logic behind this move: when Carillion made its speculative bid to buy Balfour last summer, it talked about making £175m of cost cuts. Therefore, in order for Quinn to make a credible rebuilding case to the City and mount an effective defence against any future aggressive acquisitions, large additional cuts to the firm's overhead were probably a minimum requirement. And while the cost-cutting programme itself won't be cheap - Quinn has advised analysts to expect a one-off cost of £100m - it's easy to see the UK restructure as simply the next phase of the slimming down already achieved.
Likewise, the resultant imposition of uniform group policies on the UK construction business looks like a necessary control given CSUK's appalling financial performance in the past three years. As a company spokesperson said last week: "It's about providing a suitably sized support structure for our business, offering consistent processes, controls and ways of working, 'leaning out' our costs to be more competitive in the marketplace and allowing our operational teams to focus on winning and delivering work."
However, there is the viewpoint that this change will radically reduce the autonomy of those at the top of what was CSUK, and thus reverses some of the previous consolidation by refocusing attention on the six businesses that had sat beneath it: major projects, engineering services and the four regional businesses. Issues such as cash collection, recruitment and commercial policy will, in future, be run at group level, meaning senior UK construction staff won't necessarily be able to tailor those policies to suit their own business units. One industry source says of the move: "We're looking at what happens there because some of the senior directors might feel like they've had their nuts cut off with this change."
Familiar faces
More controversial perhaps has been some of the people brought into the business by the new chief executive (see box, below). This is because many of the senior figures brought in since Quinn's arrival, typified by the new UK construction services managing director Dean Banks, have worked with Quinn in the past. Other examples include the commercial head of the US business, Tim McCarthy, and the head of the Build to Last programme in the UK, Alan Horden. There are differing views about the merits of bringing across former trusted lieutenants from other businesses - whether it hinders open recruiting, or is simply a practical way to ensure you get good people. And of course Quinn has also appointed high-profile people who haven't worked with him before, such as chair Philip Aiken and chief finance officer Philip Harrison. But with Quinn not having worked in construction for the past 15 years, drawing senior hires from his own experience, in many cases, leaves him open to the accusation of surrounding himself with advisers who, likewise, don't intimately know the sector. One analyst, who declined to be named, says: "There's a complete lack of construction experience at the top of the business."
Kevin Cammack, analyst at Cenkos, says it is too early to judge whether this strategy is a worrying sign. "All of the hires in themselves seem pretty sensible - they're respected people, serious people," he says. "You can have people sitting at a senior level whose job is to direct, strategise, nurture and control who don't have much experience in construction, but you need the people out in the field to know the business." For Cammack it is "the combination of lots of new people and people without construction experience [that] brings the potential to have a problem on your hands," but it remains to be seen if this is happening in significant enough numbers.
Certainly, Balfour can point to having brought in senior construction experience at a non-executive level, in the form of former Costain boss Stuart Doughty. Asked about the issue, a Balfour Beatty spokesperson stressed the firm was in the middle of a complex transformation programme. "Our leadership team have delivered proven results in their previous positions during complex transformations. Any leadership team requires a diverse mix of skills to be successful and we have many senior leaders with extensive construction experience," the spokesperson said.
Likewise, analysts are divided on whether the volume of recent departures - exemplified by the departure of CSUK chief executive Nick Pollard last month - is something to be worried about or, given the recent poor financial performance, welcomed. As well as senior executives, the departures have included senior UK operational staff (see box, below). So far, the core CSUK team has been largely kept together with the exception of Pollard (see diagram, below), though Murray Easton is also expected to retire in the autumn. Another analyst says: "There were clearly too many chiefs and not enough Indians at Balfour, it was always expected that people would leave. The question is whether the good people are leaving." Cenkos' Cammack says: "People leaving is exactly what you expect when someone new comes in. For someone like Quinn it will be essential to change the management as far down as is necessary, and he's so confident in his own abilities that he's not going to worry about bringing in new people. However, with the pretty huge volume of change we've seen you have to be a bit nervous."
All in all, with Quinn just six months into his transformation programme, it's too early to say if the major changes he's making will bear fruit. At this stage it isn't possible to know if the volume of operational departures is just down to normal churn in what is an aggressive recruitment environment across the contracting sector, direct action by Quinn to remove what he sees as poor performing staff, director-level dissatisfaction with the direction he's taking the business, or a general loss of patience with the ongoing volume of change within the business. All eyes will be on the firm's interim results on 12 August, to see any signs of where his tenure is heading.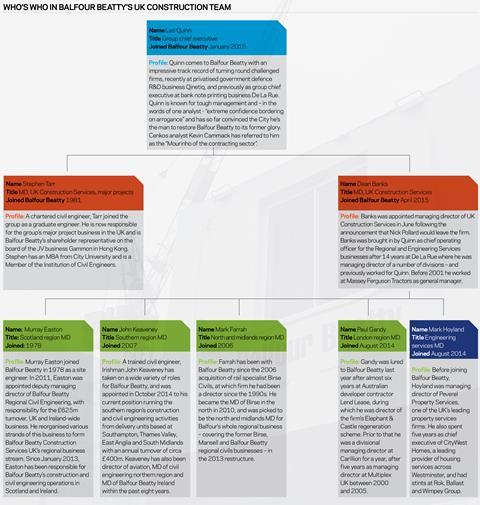 Click on the diagram above to make larger

Leaving Balfour Beatty: Two years of turmoil
Group/executive departures:
Chris Vaughan, general counsel and company secretary - June 2015
Nick Pollard, chief executive, UK construction services - June 2015
Duncan Magrath, finance director - Nov 2014 (announced) May 2015 (actual)
Kevin Craven, CEO Balfour Beatty Services - Sept 2014
Steve Marshall, chairman - Sept 2014 (announced) March 2015 (actual)
Andrew McNaughton, chief executive - May 2014
Senior operational departures from UK construction:
Steve Davies, regional managing director, Midlands - June 2015
Ron Muir, director of design - June 2015
Colin Eke, bid director - June 2015
Mike Peskin, business development director for major projects - June 2015
Colin McArdle, managing director refurb unit - May 2015
Vince Lydon, strategic projects delivery director - May 2015
Beverley Dew, regional finance director - Jan 2015
Ed Morgan, divisional unit managing director, London Infrastructure - Nov 2014
Adam Parker, regional HR director - Sept 2014
Bob Clark, an executive director of the UK construction business - Sept 2014
Mark Cutler, managing director, UK regional construction business - Sept 2014
Phil McGuire, managing director, Balfour Beatty Engineering Services - May 2014
Mike Peasland, chief executive UK Construction Services - Dec 2013

Leo's Lions: Quinn's former colleagues appointed since january 2015*
Dean Banks, managing director, CSUK (De La Rue)
Tim McCarthy, group vice-president, commercial (Invensys, Honeywell)
Alan Horden, corporate turnaround lead (Qinetiq, Invensys)
Jon Ryley, program lead, head of winning business (Qinetiq)
Chris Billimore, interim group CIO (Invensys, De La Rue)
Chris Johnson, group CIO (Qinetiq, De La Rue, Invensys)
* Firms where Quinn worked with them are shown in brackets