Jumps in volume and selling price responsible for increase in revenue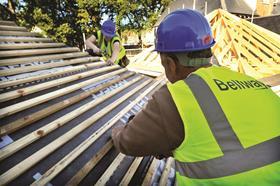 Housebuilder Bellway has reported a 41% rise in revenue in the first half of its financial year.
In a statement to the City, the firm reported revenue of £690m in the six months to 31 January 2014, up from £486.7m over the same period a year ago.
It said the growth was due to jumps in both volume of sales and the average selling price.
Bellway completed the sale of 3,245 homes in the six months to the end of January 2014, up from 2,597 over the same period the year before.
The average selling price of those homes also rose to £212,000 over the period, up from £187,426.
In its statement the firm said: "The growing proportion of completions from higher margin land, together with a more efficient overhead base as the business grows in size, should result in the group achieving an operating margin in excess of 15% for the first six months of the financial year.
"Beyond that, the board anticipates further improvement in operating margin, provided that current market conditions prevail."