Lease of Make-designed office at Miller's £400m development is city's largest property deal since 2002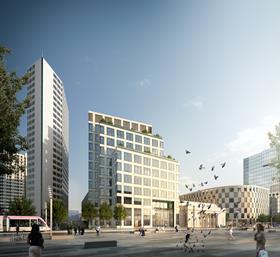 Miller Developments' £400m Arena Central scheme has received a boost with the news that HSBC is set to move its head office to the Birmingham development.
The bank is in advanced talks to sign a 250-year lease on a new 210,000ft2 office at the city centre development - the largest property deal to take place in Birmingham since 2002.
Two Arena Central, designed by Make Architects, will serve as a national head office for HSBC's ring-fenced personal and business operations, and the move will require the relocation of 1,000 roles from London to Birmingham from mid-2017 onwards.
Legal documents are expected to be signed in the next few days and a reserved matters application for the new building has been submitted. Development of the site is anticipated to start by June 2015.
Arena Central is a joint venture between Miller and Pro Vinci Asset Management. The 9.2 acre site has outline planning consent for 2.3 million ft2of mixed-use space, 200,000 ft2 of residential units, 2,500 car parking spaces and more than 1.2 million ft2 of leisure and retail units.
Phil Miller, chief executive of Miller, added: "HSBC's commitment to Birmingham is great news for the city and their choice of 2 Arena Central is a tremendous boost for the development. This will enable us to push ahead with realising the full scale of the scheme and deliver HSBC's requirements and our vision for this key site in the heart of the Enterprise Zone."