Firm reports increased profit driven largely by US business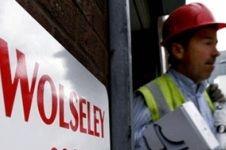 Business services provider Wolseley has reported an increase in operating profit of 9% in its 2013 annual results despite a slight fall in revenue.
In a statement to the City this morning, the firm reported an operating profit of £725m in the year to 31 July 2013, up from £665m the previous year.
This came despite a small fall in revenue to £13.2bn, down from £13.4bn over the period.
Wolseley reported £473m in pre-tax profit for 2013 - more than double that of 2012 (£198m) - but this increase was distorted by a substantial write-down (£377m) of goodwill in parts of its European business the previous year.
Ian Meakins, chief executive of Wolsey, said the US, which accounts for over half the group's revenue had been the strongest region for the firm over the course of 2013.
He added: "Canada and the UK performed well in tough market conditions. We continued to face substantial headwinds in Europe and took decisive action to protect profitability with significant headcount reductions in the year."
But he said the firm was propossing to pay a special dividend of £300m to its shareholders because of the overall positive trading performance.
Wolseley's UK arm reported a 2.5% growth in revenue from ongoing businesses (the firm is holding some small parts of the business for sale) reporting revenue of £1.8bn in 2013, up from £1.7bn in 2012. It also reported a modest increase in operating profit to £95m from £93m over the period.
The UK was the third best performing region of Wolseley's six trading regions in terms of revenue growth from its ongoing businesses. France was the worst reporting a 9% fall in revenue to £642m and the USA was the best reporting growth of 8.2% to £6.7bn over the year.
Meakins said he saw "good growth" for the group in the future.
He added: "Our markets in the US continue to grow steadily and the UK market growth is encouraging. However, economic conditions in continental Europe are very challenging and we expect them to remain so for the foreseeable future."