Simulated cities, 5D modelling and virtually visualised bridges – BIM is advancing and extending into all disciplines and stages of a project, including post completion. Here we look at the latest developments and assess their impact on construction
Over the past 20 years, advances in BIM technology have transformed the industry's expectations of graphics and technology, as well as presenting opportunities for enhanced supply chain collaboration and more sophisticated information exchange.
The days of BIM being principally concerned with 3D modelling are long gone - 4D enables the manipulation of models through time, 5D incorporates cost data, and what some now describe as "nD" extrapolates energy use and sustainability performance. Software developer Autodesk is even using BIM methodology to research the prospect of pre-fabricating digitised modelling data to enable buildings to be "printed".
BIM's operational scope now far exceeds its early incarnation as a mere model-based visualisation tool. Jay Bhatt, Autodesk senior vice-president for architecture, engineering and construction solutions, says: "The BIM concept has been expanded across disciplines as well as work flows to become an advanced business enabler, customised for all stages of construction from concept to completion and beyond."
In other words, BIM can now monitor, manage and manipulate as well as model. Moreover, this capability is no longer concentrated on visualising buildings alone - BIM now aims to influence user experience, post-occupancy management, environmental performance, civil infrastructure and even urban development.
In line with thwis new holistic approach, Autodesk is releasing a series of software packages or "suites" specifically tailored for inter-related disciplines within the built environment community, ranging from civil engineers to urban planners.
Bhatt adds that this new generation of BIM has been driven, in part, by the turbulence experienced in the global economy over the past three years. Constrained budgets, tightened programmes and limited resources have concentrated expectations in the construction industry and engendered a more aggressive business environment.
Against this straitened economic backdrop, Bhatt says BIM is now crucial to delivering "smaller costs, greater certainty, higher efficiency and minimised waste".
Here, we look at some of the key recent advances in BIM technology and assess how they will affect the construction industry in this new order.
Data management
One of the key benefits of BIM technology is its ability to let multiple users in different locations work on the same document at the same time. In theory, this empowers individuals across the design team and increases efficiency throughout the production process. In reality, it is the basis of one of the biggest historic criticisms of BIM: its inability to provide a clear audit trail of the multiple design revisions that occur throughout the life of any project and the implications that this has on individual accountability, responsibility and ultimately, liability.
New advances in BIM technology aim to address these flaws yet maintain the universal accessibility that is essential to delivering efficiencies.
Autodesk has developed several pieces of software, such as Buzzsaw, Vault, Revit Sharer, Autodesk BIM 360 and Navisworks, that have sought to control and consolidate centralised banks of information.
But BIM technology is also now being embedded with the kind of integrated capability that not only allows full access to project data, but also tracks and secures project history. In addition, the increasing use of mobile synchronisation enables instant access to, and editing of, real-time digital data from web browsers and portable media such as iPads and iPhones.
Interoperability
Historically, one of the biggest headaches for BIM and even CAD users has been the inability easily to transfer information across software platforms. Different file formats adopted by competing commercial developers often presented obstacles to efficient workflow and so damaged prospects for collaboration.
Last month two of the biggest operators in this field, Bentley and Tekla, announced plans to link their BIM software formats to ISM (integrated structural modelling) technology and enable interoperability between them. ISM, in turn, provides access to a centralised data management framework with features such as shared data repositories and revision tracking.
This kind of electronic collaboration is essential for protecting BIM workflows. It also presents opportunities for digital team communication and even interfaces with social networking systems. Technology consultant Paul Wilkinson identifies this as one of the key challenges facing BIM. "Supply chains … need to appropriate knowledge, process, tools and infrastructure to help them collaborate electronically. IT vendors also need to enable easy exchange of data between the tools that are used by different team members."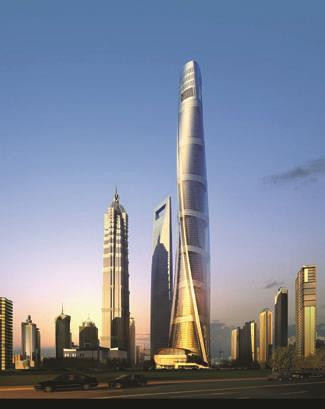 Urban planning and infrastructure
Gone are the days when BIM was solely concerned with the design and construction of buildings – it can now be used quickly to simulate entire cities, regions and even countries. As part of Autodesk's Project Galileo, a basic 3D model of the entire US city of Boston was created in just 40 minutes using existing digital 2D maps and topographical data.
The possibilities for urban planning are mind-boggling. Buildings, roads, squares, bridges and dams could all be visualised virtually instantly and then subjected to the kind of exhaustive feasibility and performance testing that would previously have taken years. Such a process holds the
promise of better infrastructure planning, increased statutory co-ordination, smoother logistics, faster design revisions and more accurate future predictions.
There is also the potential to introduce parametric design into urban planning. Parametric BIM modelling helped determine the extent and location of the extra two lanes on the M25 widening.
Utilities
Strands of BIM software now offer the ability to overlay utilities information onto 3D models. This could include critical details relating to the age, size and location of civil infrastructure components such as sewers, drainage, power lines, access tunnels, gas mains and water pipes. Again, access to this level of information and the ability to quickly integrate it into the design process could lead to greater co-ordination and more sophisticated logistical planning.
It could also have a positive impact on urban life generally by prompting statutory authorities to co-ordinate repairs. This could lead to less disruption, less traffic and lower costs. A variation on this concept was recently trialled in one US city. Drivers were encouraged to buy a mobile phone app that logged car vibrations caused by potholes. The data was sent wirelessly to the relevant authorities and overlaid on a 3D urban model to indicate which parts of the city's road network were most in need of repair.
Post-occupancy
One of BIM's most significant evolutions has been from a planning, design and building tool into a management tool.
The enormous amount of data that BIM accumulates for and during the construction of a building is now being directly deployed in the operation and maintenance of that building long after its completion. In the words of Peter Campot, president of Massachusetts-based Suffolk Construction in the US: "Why throw away the model just because the building's finished?"
Accordingly, BIM can now accommodate all manner of data that monitors and enhances the post-occupancy performance of buildings. This ranges from environmental performance relating to consumption levels, energy use, heat concentration and luminosity down to socio-spatial information such as behavioural patterns, real-time capture, movement mapping and digital scanning.
All of this information can be measured against time, layout and costs criteria, enabling the owner to adopt an appropriate facilities management programme and reduce maintenance costs.