BIMHawk allows the BIM industry to standardise data and automate it into BIM models
Winner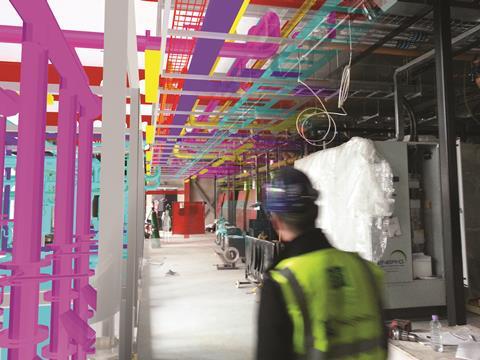 BIMHawk
NG Bailey
According to NG Bailey, the firm's extensive knowledge and experience of what information the industry requires allowed it to develop BIMHawk. The tool allows the BIM industry to standardise data and automate it into BIM models. NG Bailey says it is an important step in helping the industry get closer to meeting the productivity requirements outlined in BIM Level 2 and beyond.
The judges believed that this initiative was a wholly practical solution to a real problem. "It appears to be extremely successful and a worthy winner in the category," they said.
RUNNERS UP
BIM Guidance Portal
Scottish Futures Trust
The Scottish government's 2013 Construction Procurement Review identified that greater efficiencies could be achieved if procuring authorities implemented BIM Level 2 where appropriate from April 2017. Infrastructure procurement and programme delivery body the Scottish Futures Trust was invited to take the lead to achieve this. The trust developed tools and guidance and pooled all those resources into one place – the BIM Guidance Portal.
Brighton 3Ts Virtual Reality
Mid Group
This partnership between Brighton & Sussex University Hospitals NHS Trust and Mid Group has resulted in the creation of a complete virtual reality (VR) model of the Brighton 3Ts hospital redevelopment. The project involves the construction of £485m and 93,000m2 of state of the art hospital buildings and the VR model includes every room, including equipment, all finishes, external areas, and all contractors' and architects' structural and services models.
Component Tracking
Laing O'Rourke
Laing O'Rourke's Component tracking initiative provides near real time visibility of the status of the firm's internally manufactured components. Information can be viewed, reported upon and updated via a 3D model. This is enabled through a combination of software and an internally developed data integration tool known as Datalink. The system was developed by the contractor's internal business systems, digital engineering, and manufacturing and logistics teams.
Data Capture & Process
ISG
ISG's Data Capture & Process initiative was developed to benefit both the project delivery team and end users, including the facilities management team, the occupier, and the development owner. It addresses the need to streamline processes during construction to save time, improve accuracy, and eliminate risk when using data from multiple subcontractors.
GeoConnect+
PCSG /GroupBC / Ordnance Survey
GeoConnect+ is the result of a research project led by PCSG, with support from GroupBC and Ordnance Survey. It connects BIM information with geospatial data to help large asset owners and operators manage big, disparate estates. It provides a cloud-based platform that hosts and connects asset information with unlimited geospatial datasets.
Interactive VIRTUAL REALITY linked to 4D model at 22 BishopSgate
MultipleX
The 22 Bishopsgate scheme is a 62-storey, 2 million ft2 building with a site footprint no bigger than the finished development, so logistics are complex. Multiplex's solution combined detailed 4D modelling and virtual reality, with accurate representations of construction stages and logistics arrangements in a virtual environment.
Visual Dashboard Initiative
Lendlease
Lendlease's platform, developed at its International Quarter London development, enables a real-time snapshot of the BIM model to be turned into a visual report or dashboard capturing key issues such as design clashes.
BIM Intelligent Content
Wavin
Wavin introduced a range of BIM-ready content packages in May 2016. Compatible with Revit software, the packages include a comprehensive range of digital objects and accompanying product details. Modellers can use them to design full plumbing and drainage systems for their projects.