Read about the winner and runners-up of this year's Non-Office Refurbishment Project of the Year award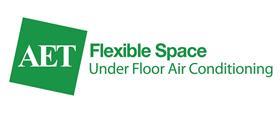 Winner: Northampton International Academy
Entered by Architecture Initiative
The hulking and abandoned brutalist monolith of Northampton's former Royal Mail sorting centre is transformed into a spectacular state-of-the-art academy. By basing the refurbishment on the core characteristics of the original building, such as its concrete waffle slab ceilings, the project proves that no matter how problematic a building may be, its refurbishment redemption lies in the fullest possible understanding of its original character.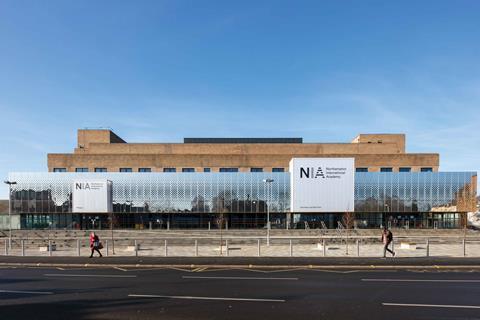 Runners-up
Alexandra Palace East Wing
Entered by Feilden Clegg Bradley Studios
The concept of "arrested decay" has never before been conceived on this scale. Alexandra Palace's showpiece theatre, derelict for 80 years, has been triumphantly brought back into use but with a clever array of largely concealed technical and engineering solutions employed to freeze the advancement of its decay and preserve it within the visual and structural fabric of the venue.
Bloomsbury Theatre
Entered by Nicholas Hare Architects
With a gym, squash courts and former rowing tanks above it, a university refectory below and its rear enclosed by the grade I-listed Wilkins Building, the theatre had no construction access apart from its front door. Yet this highly innovative refurbishment has successfully upgraded the interior and services and devised a sophisticated M&E solution that threads the services of the building's multiple other uses discreetly through the theatre.
Coal Drops Yard
Entered by Heatherwick Studio
Idiosyncratic and inspired, this tour-de-force of architectural spectacle, engineering ingenuity and urban regeneration is a game-changer in terms of what is possible in the conservation sector. Two near-parallel railway sheds are joined when the rebuilt roofs on either side bulge improbably outwards and upwards towards each other, while a glass attic below is suspended precariously above a new retail piazza.
Gatehouse School
Entered by Child Graddon Lewis
This urbane expansion adds floors to a neo-gothic school while extensively refurbishing its interior. A distinction is sought between old and new as white-painted glass-fibre-reinforced concrete panels contrast with the original red brick, and while one part of the new storeys is encased in concrete ribs to ape the gothic windows below, another facade breaks parity in a different pattern.
Pitzhanger Manor and Gallery
Entered by Jestico + Whiles/ Julian Harrap Architects
This assured refurbishment of one of Sir John Soane's masterpieces pulls off a hypersensitive conservation project with modern conviction and historic empathy. The grade I-listed main house has been forensically restored, with original Soanian details, lighting and colour schemes artfully revived and a glass-filled conservatory that Soane was never able to realise built to his designs.
Royal Opera House
Entered by Rise Management Consulting
Many of the opera house's strategic shortcomings were addressed by Dixon Jones' heroic overhaul in the 1990s, but this ambitious internal reorganisation by Stanton Williams makes further improvements, such as a an expanded main foyer, a new double-height semi-basement foyer that improves access to the underground Linbury Theatre, and a more conspicuous link between the street and piazza entrances.
Science Gallery
Entered by WSP
The landscaping and resurfacing of the 1730s entrance courtyard to Guy's hospital turns a car park into a fine public square. LTS Architects has also also created a new science gallery in the Georgian block that forms the courtyard's southern wing – it includes bold new interior spaces and an illuminated, external feature lift tower, combining contemporary aesthetics with heritage sensitivity.
St Albans Museum + Gallery
Entered by John McAslan + Partners
So sensitive is this restoration of a fine neo-Greek museum that it is almost impossible to discern its interventions. A large new basement gallery has been installed in a move requiring great engineering dexterity to preserve the structural integrity of the listed building above, while two new glazed links have been inserted behind neoclassical parapets, and historic interiors have been restored.
University of Huddersfield Joseph Priestley Building
Entered by AHR
A skilful renovation has seen this unprepossessing 1960s block architecturally and environmentally transformed. An innovative bespoke lightweight overcladding system provides a streamlined new facade while reducing operational costs, and a new atrium and central stair with a soft stripping-back to the building's original concrete frame have rationalised the internal layout.