Read about the winner and shortlisted entries for this year's Digital Construction Award
Winner: Ilke Homes and Matterlab
When Matterlab and Ilke Homes began to work together in 2020, they tasked themselves with finding a solution to the challenges created by the complexity and accuracy required in the early designs and when creating the fabrication and assembly content for modular homes. In June 2021, a year after beginning this collaboration, modules designed and documented entirely from the software were built on the factory floor with precision-engineering and automated manufacturing. This introduced huge financial savings throughout Ilke Homes and reduced errors in the overall process, cutting factory floor downtime – which can cost over £50,000 a day.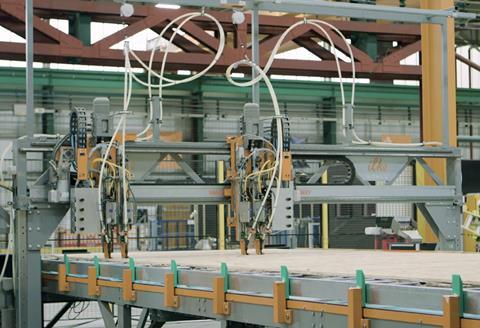 Runners-up
Biosite Systems
Deployment of Biosite's digital workforce management technology has enabled Align, the joint venture of Sir Robert McAlpine, Bouygues and VolkerFitzpatrick working on HS2, to capture and monitor critical workforce data – for staff and subcontractors – at both site and group level, to deliver performance improvements and ensure compliance in real time. The technology generates insight from data captured on areas such as health and safety, training, fatigue management and (with data captured anonymously) diversity. It has improved accuracy in Align's understanding of staff and supply chain profiles by helping it to monitor trends and respond with action plans.
Kane Group
Kane was chosen to complete a scheme to bring Claridge's hotel into the next century. An iconic building in the heart of Mayfair, the hotel has now gained a five-storey underground extension. Kane designed, prefabricated and installed the £12m energy centre. Pumps, boilers, pipework and risers, cooling towers, steel frames, domestic hot-water plant and gantries were prefabricated then transported and lifted into position through a 3m x 3.4m opening to access the underground levels. With prefabrication spanning seven months, Kane's team offered time-saving benefits in on-site time and the overall programme.
Lucas UK Group
Lucas UK Group's digital strategy, developing four bespoke apps in-house to run its entire operations, has made it hugely more efficient. Site App allows project mapping from the pre-start stage as well as managing and documenting complex construction sequences. Team App includes videos in four languages on health and safety issues. Client App allows clients to monitor progress in real time, track completion percentages, and see progress from on-site teams. Office App generates purchase orders, interfaces with suppliers, and plugs into company accounting systems, with tracking of on-site variations and the inclusion of HR functions.
Redrow
RED SMi is a purpose-built app that can be accessed via an iPad. It forms the starting-point of a robust reporting process that tracks the full lifecycle of a build defect, from identification to resolution. At each stage, the app provides reminders and checkpoints to ensure a thorough inspection. Photographs of both good practice and defects can be added and annotated with drawings and comments. Since launching the app, Redrow has regained its five-star rating from the Home Builders Federation, boosting customer satisfaction year on year and most recently achieving a 92.9% score.
Sir Robert McAlpine
At 21 Moorfields, Sir Robert McAlpine's team were digitally enabled before the pandemic struck. Not only did having the digital tools and workflows in place allow work to continue seamlessly, but it also enabled the pioneering of new ways of working and set up a template for future projects. The firm introduced new roles that have now shaped the digital team, including project information co-ordinators and data analytics apprentices. Another key aspect for the success of the construction sequence was the development of a 4D model, which enabled the plan to be communicated more succinctly to the wider team.
Urban XR
The Construct XR programme, developed by James Lee Burgess of Urban XR, delivers efficient ways of working, learning and designing for the built environment through mixed reality. The technology is designed to be implemented on live construction sites, using Trimble XR10 and Microsoft HoloLens. Urban XR's Construct XR project allows design teams to access and train on site-ready headsets, which facilitate data-sharing over most stages of project management. Users can overlay 3D BIM data on site at 1:1 scale and review 3D models collaboratively and remotely, as well as using real-time video call snagging on site.