Qatar is an oil-rich country that plans to spend 40% of its budget improving infrastructure between now and 2016. Can you afford to leave it off your CV?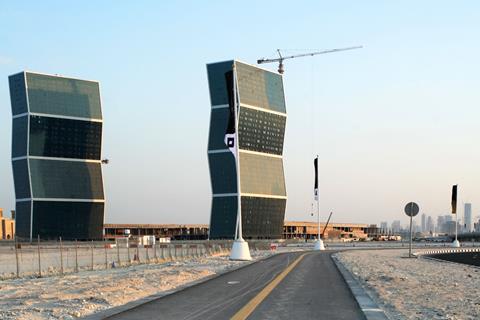 While the UK construction sector comes to terms with public spending cuts dramatically curtailing building activity, oil and gas-rich Qatar is spending its wealth on developing the country.
This has been triggered, in part, by the announcement in 2010 that Qatar would host the 2022 football World Cup. But even before that, the government had drawn up a national development strategy - the National Vision 2030. Estimates of spend in the next decade vary from $60bn (£37bn) to $220bn (£137bn) and it is reported that the government has allocated 40% of its budget between now and 2016 to infrastructure projects.
The local supply chain does not have the expertise or the capacity to handle a pipeline of this scale on its own - which is where foreign firms come in. In February US giant CH2M Hill won the programme management contract for the World Cup, and UK firms have also won a string of major contracts.
So could working in Qatar be the next step in your career?
A challenging environment
Charlie Parish, operations director of Hays Construction & Property in the UAE, who also recruits for Qatar, says: "Engineering consultancies have been particularly active and we expect to see the main contractors follow once key construction contracts have been awarded by the end of 2012."
Work, he says is available on government-funded projects including rail, highways, wastewater, sewage wastage plants and other utilities. And while he says that "candidates from the UK are certainly in demand", he also stresses that it is "very challenging".
"Employers are typically looking for candidates with a minimum of 10-15 years relevant experience," he says. "The preference remains for candidates with proven design and delivery experience in the Middle East."
It's a sentiment echoed by Adrian Baker, head of Arup's Doha office, citing the strict contracts and high expectation of clients in Qatar. He says: "The work is particularly difficult. It's a market where 'cutting your teeth' can be dangerous for the company and individual if not managed appropriately.
"Raw recruits should be integrated into a team that allows them time to mature and understand the different working methods and cultural differences that naturally exist."
Baker has been in Qatar for three years and, though he says he never intended to take an overseas posting before the recession, he describes his time there as "immensely valuable, not only as a personal experience but from a business perspective."
Anything is possible
Despite these warnings for those lacking experience, it is still possible to start your career in Qatar. Graduate landscape architect Laura Edwards moved there in November last year to work for Atkins. She says: "I always envisaged working abroad, particularly in the Middle East, at some point in my career, but did not plan to do so for the next couple of years."
Edwards says she planned to stay in the UK until becoming chartered, but Atkins offered her the chance to work towards a UK chartership for the Landscape Institute while living in Qatar. She adds: "With the job prospects for fresh graduates in the UK being more limited, it was not a difficult decision."
Adam Smith, Atkins' head of recruitment in the Middle East, says that the firm has quadrupled its operations in the country in the past 18 months and now has about 400 people there, having opened a dedicated office in Doha in May. He says: "It's an incredibly exciting time to be in this market because it's extremely vibrant. There's a feeling that anything is possible."
Smith says that in the last 12 months Atkins has seen "significant growth" on transport infrastructure projects, as well as in areas such as communications and project management. He says that civil, structural and M&E engineers are vital, as well as planners and quantity surveyors.
"Anybody who is ambitious to develop their career and wants to gain, potentially, once-in-a-lifetime major project experience should consider moving to Qatar," he adds.
Hyder Consulting, is another UK company growing its presence in the country. Managing director Graham Reid told Building in July that his company was recruiting around 500 people, mainly for work in Qatar and Saudi Arabia.
John Spiers, a project manager for Hyder, relocated to Qatar after a short period in the UAE. Having briefly visited the country in 2002, he is impressed with the new-found focus on infrastructure. He says: "Qatar is very different to when I was here before. The gas and oil revenue is being put to good use and there is a tremendous enthusiasm to improve the country. The sheer scale and ambition of the projects is creating tremendous opportunities for engineers of all disciplines."
Cultural considerations
Working in Qatar may be a smart career move, but what about living there? Edwards at Atkins admits that she was "inevitably nervous" when arriving in the country. She says: "I heard several rumours and myths about single women living in Qatar. I was worried about how to act appropriately, what clothes to pack and if there would be any young females I could make friends with.
"It turns out that many of those myths were exaggerated - half the time you do not realise you are living in a foreign country. There are many people here from all over the world in a very similar situation to yourself."
But cultural differences can be an issue and Atkins' Smith says it's important that UK firms are "sensitive and understanding of local cultures and needs". He stresses that UK firms that have worked in Qatar and the Middle East for a long time are well placed to handle these issues.
Arup's Baker agrees that the cultural differences experienced when moving to a Muslim country are "clearly massive" and says that Arup has support staff to ensure new arrivals are made welcome and problems avoided. Spiers says that Hyder has set up a similar induction process, offering advice for staff new to the Middle East.
He says: "Cultural sensitivities need to be understood, especially around Ramadan period. It is important to be respectful. We are, after all, effectively visitors in Qatar."