Alarmed by the pace at which construction costs are rising, more and more clients are putting their projects on hold. The question contractors are asking is if this is a temporary blip or a longer-term hiatus which will seriously damage the pipeline of work coming in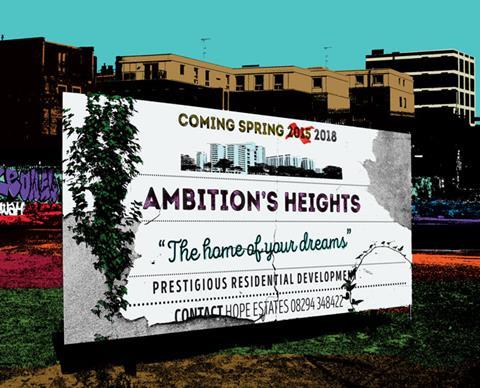 It's no secret that construction costs have been rising. And fast. Cost consultants have been bearing the brunt of clients' frustration about unpredicted budget-busting contract prices since the back end of last year, as revealed by Building in June. But now an arguably more serious problem than a few brow-beaten QSs is crystallising: increasingly these over-budget projects are being put on hold, or even cancelled.
Research compiled exclusively for Building by construction data provider Barbour ABI shows a sharp spike in schemes being put on hold in the last year – the first significant rise since the end of the recession. And, according to testimony given to the magazine, the problem is in danger of getting so severe that it is damaging the pipeline of work coming in to consultants and contractors. Kamran Moazami, head of structural engineering at consultant WSP, says this new trend – which varies in intensity depending on sector geography and client type – is starting to become a real concern for future workloads. He said: "Four months ago I wasn't worried at all, there was still a huge amount of work coming through. But now I don't see where the new projects are coming from. As I said to Steve [Watts, of QS Alinea] the other day, it's starting to get a bit scary."
The question many in the sector are trying to judge is whether this is just a small bump in the general growth story as the industry gets back on its feet, or if these delays have the potential to turn into a significant hiatus if not properly handled.
It's very easy to assume the answer is the former – and for good reason. The sector forecasts for workload are very strong, with the Construction Products Association estimating UK output growth of 13% by 2017. The forest of tower cranes in the capital is now starting to be replicated in the regional economies, particularly Manchester and Birmingham. In this context, the fact that a few developers are taking a pause to think about their projects could almost be seen as a helpful corrective to a potentially overheating market. Gary Sullivan, chairman of logistics specialist Wilson James, says: "It's a strange market. Yes, there's a slight slowdown with some projects. But in other areas there's a real bullishness and a desire to get on. It's still going to be busy, it's just this might stop things being ridiculously overheated."
Common problem
There's no doubt that many clients are firing on all cylinders to rush projects out the door. However, others are not as sanguine, with the evidence growing that the pausing of projects is getting more and more widespread. WSP's Moazami says of projects the consultant is tracking or involved in, that "tons of jobs", worth hundreds of millions of pounds of construction, have a start date which is now unclear because of rising costs. He says he knows of individual jobs worth £100-£150m that, while not formally on hold, are not being given to a builder because the construction costs have risen so steeply, typically 15-20% above where they were during the recession.
Andy Steele, new chief executive of contractor Osborne, says this problem is "quite common" in the market and is behind the delays to two large projects that led to the firm reporting in July a 5% fall in turnover for the year to March – though he declines to name the specific projects. Likewise, John Price, group MD at demolition and groundworks contractor Keltbray, says: "This is a live problem now. A lot of jobs are being reviewed in relation to cost and value. I spoke to one PQS the other day who said two retail jobs outside of London were being put back by six months. The problem is we don't know when that happens if it'll really be six months, or a year, or permanently that those schemes are on hold."
This tide of anecdotal concern is starting to feed through into real numbers. Data held by Barbour ABI, which has a database of nearly 700,000 construction projects in the UK, shows that the value of projects being put on hold has nearly doubled in the last 18 months, with a rise of 89% between March last year and August this. In London and the South-east, where cost rises have been steepest, the trend is even more pronounced, with a 115% increase in the value of projects being put on hold in the previous 12 months, to £348m, by August (see chart, below). While the number of projects on hold is still a fraction of the figure in the recession, the upward trend is clear. And of course while it can't be known if all of these projects are being put on hold because the construction cost has risen, for each of the projects where the client has formally notified the team it is on hold, there are likely to be many more on go slow as they consider their options.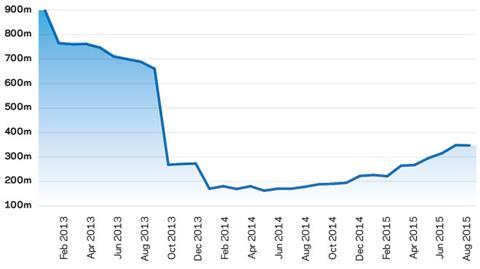 So what is happening to cause this mini hiatus? In short, clients are finding that construction costs have risen much more steeply than anticipated – typically by around 15-20% but often by even more – busting their construction budgets for the jobs. Rises have been particularly steep because of a shortage in key trades, and a shift in the attitude of both subcontractors and main contractors to the price of taking on risk. This means each tier of the supply chain is attempting to build in a little extra margin, as well as cover the rising costs beneath them.
How clients are responding varies by market and type of client. Some calculate that the strong demand for their building means that they will be able to absorb increased build costs in a greater sale price or rental income and are content to grumble and carry on. But many developers have strict viability criteria around projects they buy, and won't go ahead unless they think there is a very good chance of achieving their desired margin. Public sector clients particularly, such as local authorities, often have absolutely no leeway on construction costs, meaning many of these are jobs are struggling.
Simon Rawlinson, head of strategic research at EC Harris, says: "There is a genuine viability issue, which may not be obvious in a rising market. But construction inflation is higher than house price inflation, and certain sectors have even less potential for uplift in the ultimate value of the project. In the education sector, projects are being cancelled or the contractors are walking away."
Keltbray's Price says the problem is exacerbated by the high price many developers have paid for sites, particularly on London residential schemes where the suspicion is that sales prices have levelled off. "People buy a project, but by the time they get round to building it, and after you take an often top-heavy purchase price into account, they can't make a turn," he says. There is then a Catch-22: if the developer puts the project on hold the risk is the job is even less viable when they attempt to bring it back to the market at a later date, because construction prices are rising so quickly. So while many are responding by attempting to value engineer their projects, taking a long time to do this may be counter-productive. "Some take six months to take out £150,000 of costs in a package, only for tender prices to increase £200,000 over the same time," says Price. It is this issue that leaves the market wondering whether a temporary pause to a scheme might end up being much more permanent.
Two-stage troubles
With the market having moved wholesale to two-stage tendering about two years ago, the practical upshot of the issue is that scores of clients and contractors are struggling to close out the second stage of negotiations and get schemes going. One example is Intu's difficulties in its £100m redevelopment of Watford's Harlequin shopping centre, from which contractor Bam walked away after failing to agree a price. Intu in this case says it will press on – despite the fact the price of the build has increased by nearly 50% to £148m. EC Harris' Rawlinson says: "It is becoming really difficult to close down procurement processes and you're getting these extending second stage negotiations that get very contentious. It can then have a really negative impact on the 'team' culture you're trying to create on projects because you get a really contentious second stage."
One director at a national contractor, who declined to be named because of the sensitivity of the issue with its clients, says the fear is that while new projects coming on stream now should be able to factor in the higher costs to their budgets, there will be a whole cohort of developments that would have come on stream in the last 18 months that may never see the light of day. He says: "Jobs are floundering. We had one where the client took 18 months to get to the second stage, and by then the cost had escalated from £20m to £35m. We had to walk away."
While some of these schemes – such as Intu's shopping centre – do eventually get resolved and go ahead, the difficulty of agreeing prices is causing huge indigestion in the system. This has the potential – according to some – to present real problems to the industry, particularly as many contractors are still starved of cash despite the recovery seen in their order books. Rawlinson says: "All this means the cash flow to the industry is not coming through as quickly as it should. The industry is almost eating itself by its pricing reaction to the spike in workload seen in the last two years. It means this workload is not necessarily coming through in the way anticipated."
Jobs are floundering. We had one where the client took 18 months to get to the second stage, and by then the cost had escalated from £20m to £35m. We had to walk away

Director of a national contractor
As well as holding back the flow of cash to parched contractors, there is also the danger that clients are frustrated at the attitude of contractors – there's a sense scores are being settled post recession. There is already anecdotal evidence, according to Price, Rawlinson and Moazami, that some developers are deciding to give in and sell their sites rather than build them out, leaving those projects with an uncertain future. "The clients' patience may well have been tried a bit, and they think that there are easier ways of making money than actually building things out," says Rawlinson. "There's a touch of the industry killing the goose that laid the golden egg here."
Likewise Moazami is clear that it will be the industry that will be damaged by this trend. "Clients are taking the view that as soon as a few big things don't go into construction, then contractors will get a bit hungry again. It's hurting the construction industry."
So what, if anything, needs to be done to counter this problem? First, there seems a general desire for contractors to engage more genuinely in two-stage bidding processes, in a way that seeks technical solutions that reduce the risk of a project, rather than a commercial process that just seeks to cost the risk into the price. Richard Young, director at project manager Buro Four, which has seen delays because of rising costs to two of its projects in recent months, says: "We're consistently disappointed with the nature of the two-stage tendering from contractors. We need to have an honest and open discussion about risk, to agree who is taking it, who is best placed to take it, and who pays for it."
Contractors, however, are also calling for better designs from clients so that they can fulfil their side of the bargain. The unnamed contractor says: "Where the client is choosing an architect on the basis of lowest fee, we're just not getting sufficient information to price a project." Rawlinson agrees: "I think the industry needs to reflect about whether this is how we want to continue to work. It's about designers getting builders on board. There is an industry-wide challenge about making schemes buildable, so everyone can win from projects."
Let's hope clients, designers and contractors are taking notice.

The outlook for the commercial, residential and education sectors will be scrutinised at Building Live. www.building-live.co.uk/programme