In the week the EC Harris name is dropped as part of Arcadis' global rebrand, Joey Gardiner asks why the historic names are disappearing from construction – and if the benefits of rebranding outweigh the risks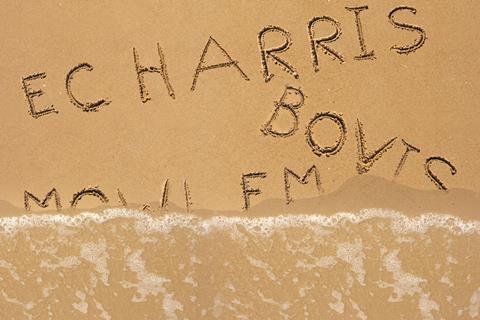 This week EC Harris, the consultant founded in 1911 by Edward Charles Harris, has become the latest in a long line of famous construction names to be lost in the sands of time - victim, alongside Hyder and Langdon & Seah, of a rebranding exercise by the firms' Dutch parent company, Arcadis. In the past 10 years alone many historic names have disappeared from the UK, including Bovis (after 125 years), Mowlem (after 184 years), and Davis Langdon (after 91 years, if you count the period before the merger between Horace Langdon & Every and Davis Belfield and Everest in the 1980s). But the firms themselves have not stopped trading – instead they have just been absorbed into larger entities which have decided to ditch the old name.
Does this matter? Undoubtedly, long-standing employees, clients and business partners will feel an emotional attachment to these names – as one property consultant said this week: "Edward Charles must be spinning in his grave." But for the people running these businesses the equation is starkly unemotional: what name will most help to make the business a commercial success? And even when emotion is put aside, the decision is not straightforward. So are big construction firms right to ditch hundreds of years of heritage? And what do they need to consider when making the all-important branding decision?
Steve Edge, founder of marketing consultancy Edge Design and self-proclaimed "brand guru" for the construction industry, says there are huge risks for successful firms that change theirnames. "A lot of firms talk about changing their name, about losing their heritage, but they forget that usually they've been around for such a long time because they're good at what they do. I say to them - "you've been through world wars, and you want to get rid of your name?"
"Particularly after large takeovers, there's a danger that sometimes you kill the goose that lays the golden egg." But this is not to say it should never be done - sometimes, he says, the requirement for a strong single brand identity outweighs the heritage concern.
With a name as old and established as EC Harris, these concerns are clearly a consideration, as Arcadis' director of marketing and communications, and former EC Harris chief executive, Philip Youell admits - though he says the change has been thoroughly road-tested with clients. "The loss of the name will cause some people to ask if we've lost our soul - but the evidence is that we haven't," he says, citing the fact that Edward Brian Harris, the grandson of the founder and still a director in the business, is a "huge supporter" of the change. "I don't think there are many people in the firm lamenting the loss of the brand. There is some emotion attached to it, but we've taken our staff and our clients with us," says Youell.
Ultimately, you can pay a branding agency loads to make you look nice, but if you don't do a good job, then it's really just lipstick on a pig

Anthony Brown, BW
This week's decision certainly brings the issue of branding to the forefront of construction firms' business concerns. The industry is generally seen as conservative in marketing terms, evidenced by the prevalence of staid dark blue logos and a simple "informational" approach to marketing. Nevertheless, according to Anthony Brown, sales and marketing director at fit-out firm BW, which is itself re-branding from BWI this week, the biggest construction firms can typically spend more than £1m on consultants to come up with a new or refreshed brand for their business.
Designer Edge says: "The industry is literal, always talking about how it'll build on time and on budget, the same bollocks from everyone. Our approach is lateral, it's appealing to people in a different way that makes them say 'wow, I want to work with you'. It's about inspiration, and the difference creates huge value."
The mistake that many construction firms make, according to Edge, is to believe that in a business-to-business trading environment, the emotional element of a brand isn't important, and that your market reputation alone will win you work. "The brand is the most important asset any company can have. If it's good, it's there day in day out fighting your battles for you. That's the power of it."
In order to make any decisions about changing a company brand, Edge says, the first thing is to be very clear about what it is the firm does, and about what the existing name and logo mean to both current and potential clients. "Because if you don't know who you are, then how on earth are you going to persuade any others to work with you," says Edge.
Youell says Arcadis in 2013 engaged branding consultancy Interbrand to undertake research with staff and customers on all the brands within the group, in order to supplement work Arcadis itself was doing to look at the priorities of key customers. He said this exercise, which helped form Arcadis' view about the kind of joined-up services that clients will buy in future, made it realise it needed to change from a collection of businesses to one firm within which there was a free flow of information and services. This in turn led it to the inevitable conclusion that a single global brand was needed - despite the evidence from Interbrand that the awareness of Arcadis' name was actually fairly low in a number of key markets.
However, these market-specific considerations will be finely judged and different for every firm, with Arcadis' decision reflecting the increasing integration of the consulting, design, engineering and other services it offers, originally brought in by different businesses. "The clients want to know they can deal with the same people they always have done," says Alan Brookes, UK chief executive of Arcadis. "But they are also asking, 'what else can you help us with?' It felt like an appropriate time to bring this all together."
Likewise, BW's Anthony Brown says the firm asked 150 current and lapsed clients about the firm and its name, and brought in design agency Pixel & Dot to run a series of visioning exercises, which included discussing nine possible new treatments, including three completely new names. This kind of market research can enable a very detailed picture to be built up of how well a brand is managed, what the awareness of it is, and whether it is seen as authentic.
That doesn't mean, however, that you can in any simple way put a financial value on its contribution to a business. For example, a spokesperson for contractor Osborne, which kept its name after a rebrand last year gave it a vibrant magenta logo, says the change, designed deliberately to mark it out from more conservative-looking peers, had definitely helped it to win work. However, while Osborne has brought in major new customers including Dacorum Housing and the Royal Academy of Music since the exercise, it is impossible to pin these successes entirely on the rebrand. In the marketing industry, the financial value a brand adds to a business is known as "brand equity", and while various companies, including Interbrand, claim to be able to put a figure on it, the financial valuation of branding remains controversial. Brown says: "This area is too intangible to do that, and I think when people try to put a monetary value it's often an accounting trick to add money to the balance sheet. The point is everyone can feel when it's not up to scratch."
Ultimately, says Brown, BW decided against a complete name change, because of the fear of frightening customers. "Changing a name has all sorts of inherent risks. We didn't need to. It is seen as a sign of fundamental change in a business, and you risk raising more questions than you're answering."
With an increasingly media-savvy consumer mistrustful of rebranding exercises, the most important thing is that the message being delivered by the brand is seen to be genuine, and that the service lives up to the promise. Therefore, with contractor profit warnings showing few signs of abating, this is another big challenge for the construction industry. Brown says: "Most construction companies have still yet to get to the point where they're getting their primary job right. First and foremost they've got to provide a great service.
"Ultimately, you can pay a branding agency loads to make you look nice, but if you don't do a good job, then it's really just lipstick on a pig."
Whether Arcadis will be seen to benefit from losing the Hyder and EC Harris names, with all their heritage, remains to be seen.