Why some bosses come back to save the companies they founded - with varying degrees of success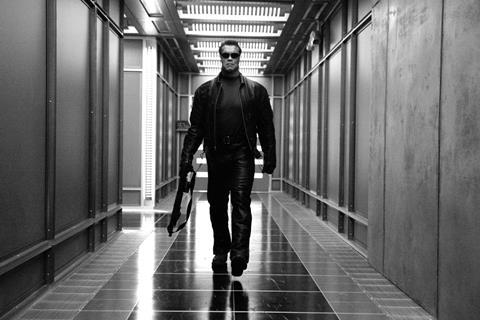 When John Morgan, the founder of Morgan Sindall took the decision last month to return to the fray as chief executive of the £2.2bn turnover contractor and developer, it came as a shock to the market. But perhaps it shouldn't have.
In coming back, Morgan - who as executive chairman had arguably never been that far from the centre of things - joined a long list of entrepreneurs and business leaders in construction who have returned to their roots when their business is at risk of stumbling. Think of the departure of Tony Douglas from Laing O'Rourke as founder Ray O'Rourke, the man Douglas was tipped to take over from, dramatically scrapped the succession plan, or Sir Lawrie Barratt's second coming at the eponymous housebuilder he founded following the 1990/91 recession. Or consider Steve Morgan's audacious return to housebuilder Redrow nine years after selling it. The one thing all the interventions have in common is that the founders came back at a point when the businesses they had created were in some kind of difficulty - potentially putting their hard-won reputation at stake. Morgan's move raises questions about why these powerful and successful people choose to put themselves back in the firing line - and whether it's always a good idea to do so.
Former Barratt chief executive David Pretty remembers when the housebuilder's founder returned to take over the business as chair in 1991 at the age of 64, three years after he had supposedly retired. Pretty, a long-time Barratt stalwart, was working at St George at the time, but returned to join him in getting the business back on track. "When Sir Lawrie returned he appointed me southern regional chair, and Frank Eaton as chief executive. He wanted to re-establish a group of people who knew the business well and believed in the core principles of the business he'd established," says Pretty.
The nineties recession was difficult for all UK housebuilders, but Barratt was initially one of the hardest hit. Sir Lawrie's return is probably the most famous example of a founder successfully turning around a struggling business - within six years he retired for good, prefacing more than a decade of solid growth at the firm. Pretty says: "The early nineties was a very tough time for the sector and the feeling was the existing management hadn't adapted. Lawrie was approached to come back and he felt he could quickly re-establish the disciplines that had made the business a success."
Like other interventions, Sir Lawrie's return was caused by a crisis at the company he founded, which led to a request for him to return. The wishes of investors, shareholders and others with a major interest in the success of the firm is often the immediate prompt for a move back - even when the founder has no desire themselves to return. Bob Holt, chair of Mears, was the man who led the firm's expansion and flotation as chief executive in the nineties. After stepping back in 2004 and appointing Stuart Black chief executive, Holt was dragged back by the board against his better judgment in 2007. "They [the board] felt the business wasn't moving forward the way it had been in the past. I didn't want to come back, and on reflection I probably shouldn't have done," he says despite having been widely perceived to have made a success of his return. "I don't think I had anything to prove, and your reputation can only go one way. Contrary to what people might think, I'm not a meddler by nature."
The one thing all these interventions have in common is that the founders came back at a point when the businesses they created were in some kind of difficulty
But for others it is not so much an order to return, but an irresistible urge. Stef Stefanou, who's return as chief executive at concrete subcontractor Doyle Group in 2008 wasn't enough to save the business, says he had no choice but to return. "People who build up firms live with it. Part of it becomes part of your body. The company is like a living being. It's your baby, it's everything."
For many former business leaders the ties are, though, just as much financial as emotional. John Morgan, for example, has an estimated £30m of personal wealth tied up in his 10.4% stake in Morgan Sindall. This investment must be protected. Kevin Cammack, analyst at city broker Cenkos, says: "I don't think it's the emotion with most of these people - it's the money. They've either got capital in the business or, like Steve Morgan with Redrow, they see a huge opportunity to make money again."
For Steve Morgan, for example, the value of his investment in Redrow has risen by almost 20% since he bought back into the company in 2009.
But if the reasons for returning to the front line are various, so are the outcomes. Returning owner-managers (as they are known is business jargon) do have a number of key advantages though. First, they will know what made the business a success in the first place, and, as long as the market hasn't altered completely in the intervening years, should be able to repeat their successful formula. Obviously this becomes a harder trick to pull off the longer the owner has been out of the game, and the less involvement he or she has had in the intervening period. Pretty says this was key to Lawrie Barratt's success: "If a dynamic and successful founder leaves and returns in relatively short timescale, it is much easier to re-establish core values and disciplines."
Times of change
But as well as holding the key to corporate success, owner-managers will very often be highly regarded across the business and by key customers, a potentially vital advantage in a crisis where big changes may be needed. Pretty, for example, says that Sir Lawrie's return to Barratt saw "a painful and necessary adjustment with the firm cut down in size. But it was an adjustment that was made easier to achieve by the immense respect in which he was held within the business".
David Molian, director of business growth programmes at the Cranfield School of Management, says: "No one has the trust of employees, customers and shareholders more than the founder of a successful business. That's the most important advantage they have, particularly in a crisis."
The example of Mears' Holt shows how this can work. "When I came back in," he says, "it wasn't about sharpening bids or fiddling; it was the passion and commitment we needed to get back. I've got a fairly big personality and it was just a matter of pretty quickly getting round the business to the offices, making it very clear to everyone that I was back. It seemed to have the effect necessary."
People who build up firms live with it. Part of it becomes part of your body. The company is like a living being. It's your baby, it's everything

Stef Stefanou, former chief executive and then chairman of the Doyle Group
The entrepreneurs that set up and grow businesses may also be better suited for times of crisis or difficulty. Molian says: "In many cases the temperament of an entrepreneur is not best suited to a steady state environment. At those times you need someone with professional management skills to keep things running, whereas an entrepreneur is likely to get bored.
"A bored entrepreneur is a dangerous beast, and is likely to interfere. But their skill-set is well-suited to times of change."
The chief executive of Morgan Sindall until two weeks ago, Paul Smith, McKinsey-trained, could be seen as a classic example of the steady state manager. An entrepreneur, however, will use a crisis as a catalyst to make changes quickly. One such entrepreneur, who has moved between direct and indirect control of his business, said: "A recession is where you can do things that make a big difference, and make changes you can't contemplate in the good times. It's actually quite fun running a business [in a recession] because you can do things."
Certainly a return can be used as a tactical move designed to motivate employees, creating a sense of crisis required to allow major changes to be pushed through. One manager who observed the shenanigans surrounding Ray O'Rourke's re-taking of direct control at Laing O'Rourke, says: "It's a way to rally the troops. You create a burning platform or sense of crisis by saying that major leadership change is required."
The year after Ray O'Rourke's re-taking of power at the contractor, it radically restructured the firm, cutting 4,500 staff.
The risks of returning
If there are positive benefits to re-taking control of a firm, there are also risks. The market may have changed or the entrepreneur lost the feel for the business in his or her time away. In addition, the strong the emotional tie a founder feels for his business can be a hugely motivating force, but there is also a risk it can lead to poor business decisions. Molian says sentiment must be managed by good corporate governance. "A well-run business should have a board which is able to take a dispassionate view of the long-term best interest of the company. You can't expect an entrepreneur to take that dispassionate view, but it is a risk that can be managed through corporate governance."
The other risk that comes when a member of the founding family steps back in is that it sends a potentially negative message to others at the firm that the chances of promotion to the highest levels of the business have been severely curtailed. The Laing O'Rourke manager said of Ray's return: "It had a huge effect on the senior team. [Many of] those brought in under the regime of Tony Douglas started to feel insecure and re-assess their place." He points out that a number of senior managers from that time have now left the business.
Most of the recent evidence shows that founders returning to their businesses have had a positive impact on them, with a founder in a unique position to motivate staff and reconnect the business with its core mission. However, entrepreneurs considering this move must do it in a clear-eyed way and make sure that, if they have been out of the game for a long time, there is no risk of them doing more harm than good.
DO RETURNING BOSSES IMPROVE RESULTS?
The financial results for three companies - housebuilder Redrow, contractor Laing O'Rourke and social housing contractor Mears - whose founders either returned or reasserted themselves, shows mixed outcomes for the strategy. The one consistent picture, gained from looking at company results from the year before the management change to two years after it, is that all three have had a period of transformation, with huge changes in staff levels, profits, turnover and senior management.
% CHANGE IN TURNOVER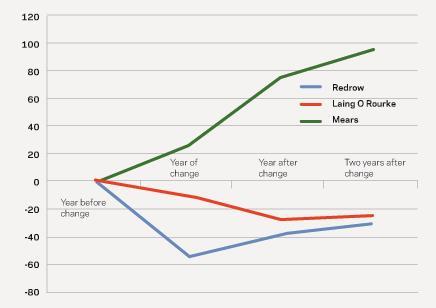 % CHANGE IN STAFF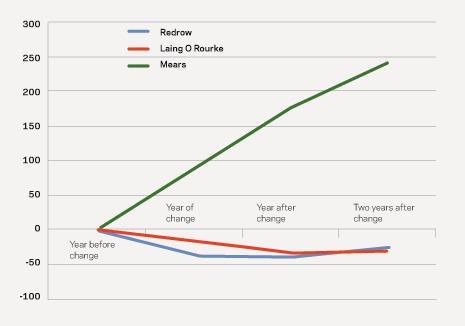 # OF DIRECTOR DEPARTURES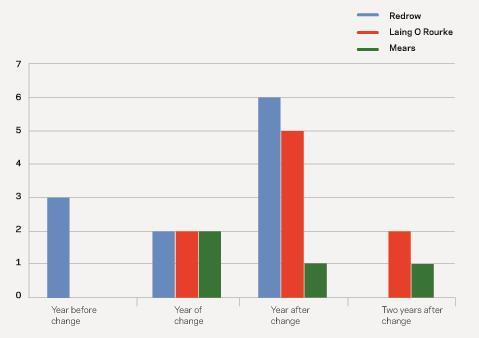 Redrow was the company most obviously in crisis at the point of Steve Morgan's return to the business. The year before he came back - 2008 - it lost a staggering £194m, reducing to a £44m loss in the year he arrived. He embarked on a senior management clearout, with six directors leaving in one year. Each year after that the operating profit margin improved, and by two years after his return, in 2011, Redrow made a modest profit (for a housebuilder) at a 7% margin. However, it is a smaller company - just three-quarters of the staff working there in 2008 are still there.
Likewise, Laing O'Rourke managed to improve profit margins slowly over the period from before Ray's reassertion of control in 2009 - from 0.7% to 1.6%. But it was at the cost of turnover, staff, and senior management by the time of its latest results for the year to31 March 2012, with turnover falling by 25% to £1.9bn, staff numbers by 31% to just 7,891, and eight other directors leaving since of former CEO designate Tony Douglas' departure.
Of the three, Mears was the company in the least obvious trouble when chief executive Stuart Black was asked to leave and make way for the return of Bob Holt in 2007. Holt had retained fairly close contact with the company as chair during Black's tenure anyway, meaning there was little other senior management turmoil following his return. Profit margins, at least in the first two years, actually fell. However, what Holt did do was build a bigger business, through both acquisition and organic growth: more than doubling the number of staff, and growing turnover by 95% to £470m by the end of 2009.