The rise of online shopping has made it impossible to predict customer behaviour, says John Lewis' head of construction Tony Jacob. But what he does know is that the future will involve further expansion across the UK, with more distribution hubs, call centres and 'dark stores'. He explains all to Emily Wright
In an otherwise normal meeting room at the John Lewis Partnership head office, two headless, gold mannequins are propped up against the wall. They are bathed in bright lights of varying strengths, dressed in bizarre combinations of patterned shirts and scarves and naked from the waist down. Their presence is highly unnerving.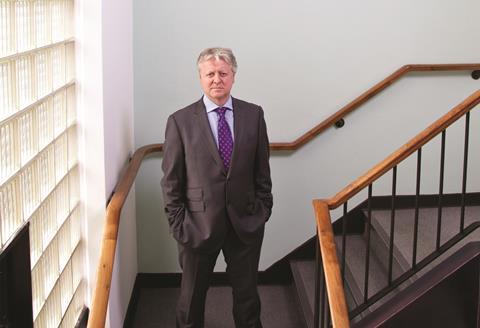 It's an experiment, apparently. An experiment to see which new LED light - one narrow beam and one wide beam, in case you were wondering - makes the products look more enticing to customers. As a spectacle, it's quite amusing. But the experiment really represents the battle that real-world stores are facing as they struggle to survive in an increasingly online marketplace. The tiniest detail, right down to a decision between a spotlight or a warm glow, could make all the difference.
Tony Jacob, head of construction engineering and environment at John Lewis and Waitrose, knows all about the challenges facing the retail sector from a development perspective. The tough economy, coupled with the change in customer shopping behaviour, is taking its toll. Jacob had to "disappoint a lot of supply chain members" last year when the number of construction projects across the portfolio slowed down heading into 2012, and he is now looking to reduce spending on consultants by 30%.
But put into context, the situation at John Lewis Partnership, and Waitrose in particular, is far from disastrous. Waitrose is the fastest growing supermarket in the UK and 2012 still looks set to be a strong year for the group, following on from a record 8.7% rise in sales in 2011 and an increase in property investment from £48m to £150m. The plan is to double the supermarket's property portfolio within 10 years through a mixture of identifying which physical stores are still popular with customers, and developing a host of entirely different types of scheme, such as distribution facilities and call centres to support mobile shopping.
Jacob expects that the development pipeline of £600m spent over the last four years on Waitrose stores alone could be replicated over the next four. The trick to getting in on the action is proving that, in one of the most unpredictable sectors in construction, you can deliver the goods with the speed and efficiency of a jet-propelled Ocado van …
Pipeline puzzle
There is no doubt that, as Davis Langdon reported in these pages in April (20 April, page 48), the retail sector in general is going through a "torrid time". The number of retailers going into administration in the UK was up 15% in the first quarter of 2012 compared to the same period a year earlier, according to Deloitte, and shopping centre space completed in 2012 will be the lowest since the sixties.
Much of the pain is being felt along the high street, with smaller independent retailers bearing the brunt. But the bigger companies have not been immune and the construction industry is getting caught in the fallout. In April, Marks & Spencer announced it was cutting £100m from its £600m store refurbishment programme and Tesco revealed that it was slashing its store expansion by over a third, cutting expenditure by £50m to £3.3bn.
Comparatively, the John Lewis Partnership is faring well - but as department store construction continues to be hit exceptionally hard through the rise of click-and-collect services and online shopping, much depends on the performance of Waitrose. And this is where much of the construction work is likely to be over the next few years, thanks to an expansion plan that Jacob says is still being backed, although he does add that "the days of the space race and growth at all costs" are probably over. Instead, this is what he calls "no regrets growth" - carefully pinpointing what type of store is needed where, to ensure that it makes a return no matter what.
Waitrose has changed its strategy over the past year to suit our straitened times, focusing more on price-matching competitors and becoming more accessible across the whole of the UK. "We have gone from being a very niche player in the South to a bigger player around the country," says Jacob. "We have a big focus on convenience and over the last three years we have rolled out 50 of these stores, including extending to work with Welcome Break at service stations, and we're now trialling two forecourt stores with Shell in Watford and Kensington."
There is an open door for companies. But you have to prove you are as good as or better than everyone else
He adds that now is the time to drive Waitrose's expansion plan forward - especially in Scotland, the North, the Midlands and Wales, where there is little existing presence: "We are really targeting property searches now and I would expect us to be doing 10 convenience stores a year, plus a number of larger schemes. Last year we were the busiest ever and we have climbed down from those peaks this year, but we are still on a very steady growth trajectory and our construction spend is hundreds of millions."
Jacob won't be drawn on an exact figure over the next one-three years, apart from saying he hopes the £600m spent over the last four years can be repeated. This reticence is, he says, due to the fact that, for the first time he can remember, it is genuinely impossible to predict what will happen next in terms of customer behaviour. The best John Lewis Partnership, and its competitors, can do is try to keep up - which is exactly what Jacob is now focusing his attentions on.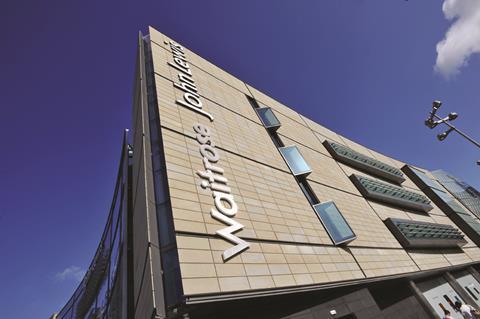 The virtual world
The Office for National Statistics (ONS) revealed this year that £1 in every £10 spent in the UK is now spent online and the levels of online shopping have risen by 10,000% since 2000.
It is clear that times are changing fast and Jacob says that every retailer, big or small, needs to be "utterly on their game" to keep up. "We've got to find a way of being available at all times," he says. "So we are pushing our online strategy hard, which results in different construction opportunities. When I joined this business in 2004 it was to build and refurbish big department stores and big Waitrose stores. Now, not only have the store sizes and priorities changed but my whole remit is different. Now I am building call centres, conference centres, distribution facilities and so far, one 'dark store'. This is a warehouse space which is laid out like a store inside [so that staff called "pickers" can collect the goods for online customers]. We reuse kit and it doesn't even nearly meet our branch standards. But you don't need it to in terms of the look, as customers are only there in the virtual world."
But what does the future hold for new department stores, which are, after all, John Lewis' flagship? This is an area within retail that is suffering severely - neither offering a community shopping experience such as a small convenience store, nor the full Westfield-esque entertainment experience of hours of fun under one roof, with cinemas, bars and restaurants.
"These are interesting times for John Lewis," says Jacob. "The aspiration is to maintain our full line presence and we are committed to developing our new £100m project in Birmingham as part of the New Street Station redevelopment. We are also very hopeful we will get a presence in Leeds. Plus, our experience has been that wherever we have a physical shop, we sell more online, as people know and understand the brand."
Winning the work
So, the work is there, according to Jacob. But winning it won't be easy. Waitrose and John Lewis are famous for building up long-term relationships with suppliers, and a record 2011 that will not be repeated this year has meant a reduction of the supply chain already. But there is still "hundreds of billions" to be spent on the construction of Waitrose stores, and opportunities to work on the data and distribution centres springing up as a result of online shopping. And, says Jacob, the doors are wide open to the right, fresh firms as there is no formal framework of suppliers.
"We believe in long-term relationships but we have a business to run and so firms win and lose work based on performance. Over the years, there has been a loss of people from the supply chain and so there is an open door for new companies. But you have to prove you are as good as or better than everyone else. We expect clear commercial discussions, clear delivery to programme, a safe working environment and strong environmental credentials."
He adds that innovation and an understanding of technological advances, such as Building Information Modelling (BIM), is also a must on his supply chain tick list: "We actively use BIM as a tool," he says. "It helps us in what we do and along our carbon reduction journey. We are also very much looking for people who understand that it's no longer just about building or redoing a facility and walking away, but about thinking of the impact of the building in terms of its whole lifespan."
While considered one of the friendlier of the retail clients to work with, Jacob's main thrust now is to strip out unnecessary costs by working with fewer consultants and cutting the amount spent on their fees by 30% - "Before consultants raise their eyes to the ceiling, it's about how we can better use our supply chain and avoid unnecessary work" - not over-specifying and tightening up procurement.
So that's Jacob's message - work to be won, although not without a fight from a firm-but-fair client in an almost impossibly fast changing market. Good luck and God speed.