The political backdrop to the approaching party conference season looks nothing like it did this time last year. The Brexit vote, which swept Theresa May to power and plunged Jeremy Corbyn into another leadership contest, has many policy implications. So what do the two main parties have to say about construction?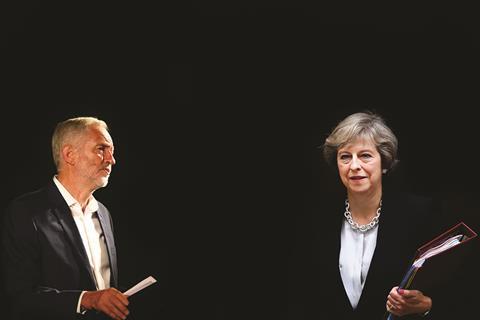 Jeremy Corbyn gets a bad press. However, by zeroing in on housing at last week's prime minister's question time, the Labour leader may have been showing a bit more political nous than he is often credited with.
When asked by Ipsos MORI last month about the most important issues facing the UK, 22% of respondents named housing, up six points from July. This represents the highest level of concern recorded about the topic on the MORI monthly Issues Index since October 1974, when Margaret Thatcher hadn't even been elected leader of the Conservative Party.
It's hardly surprising therefore that housing is likely to feature strongly on the conference programmes at the Labour and Conservative Party conference.
Following perhaps one of the most tumultuous years in recent British politics, both events will be even more keenly watched than usual.
With the Liberal Democrats, whose annual gathering kicks off the party conference season this weekend, back in fringe party status, most eyes will be on the Conservatives and Labour conferences. However, observers will be interested in what the Lib Dems have to say on housing and planning at Tim Farron's second conference as party leader. Reflecting the Lib Dems' commitment to greater provision of social housing, as documented in ex-leader Nick Clegg's just-published memoir of the party's spell in government, the conference will feature a summit dedicated to greater homes provision.
So here we provide Building's guide to the construction issues that will be setting tongues wagging on the main stage of the first post-Brexit party conference season.
LABOUR
For the second year in a row, detailed discussion of issues will struggle to get a look in at this year's Labour conference. The annual party get together opens on Sunday 25 September, the day after the result of Owen Smith's challenge to Jeremy Corbyn's leadership is announced. After nearly two months of campaigning, the Islington MP is overwhelming favourite to retain the backing of the party's membership.
However Labour's year of in-fighting has left little time for developing policy in areas like the built environment.
"Last year everyone was concentrating on having a new leader and said they would get round to policy next year. We've come to next year and were still in the same boat," says Richard Twinn, policy adviser at the UK Green Building Council.
Given the state of Labour's pock-marked front bench, following the mass resignations that preceded Smith's challenge, others question whether there will be much clarification on Labour policy during the conference. "It's difficult at the moment because of the situation in the party," says John Slaughter, external affairs director of the Home Builders Federation.
There's a willingness to invest in social housing but in common with a lot of Labour Party policy, there's not a lot of detail

Andrew Dixon, Federation of Master Builders
A focus on housing
However, Corbyn and Smith have both made housing a central plank of their Labour leadership campaigns.
"Housing is one of the three big issues in the leadership contest along with the NHS and the economy," says John Healey, Wentworth and Dearne MP, who served as shadow minister for housing and planning until joining the summer's mass resignation from the shadow cabinet. The issue's high priority will be reflected on the party conference's programme of fringe events, he adds: "You will probably see as more fringe meetings connected to housing than any other single subject with the exception of health, where you get meetings linked to particular conditions."
Responding to these housing concerns, Corbyn's re-election campaign has pledged to build a million dwellings in five years, "at least" half of which would be council homes to be funded from a £500bn public investment package. In a clear pitch to the Generation Rent youngsters, who are the only age group to currently give him favourable poll ratings, Corbyn, whose Islington North constituency faces being abolished under new boundary proposals, has promised to introduce rent controls and secure tenancies as well as increased access to affordable home ownership.
He also wants to end the right to buy of social housing, reverse the controversial Housing and Planning Act and restore the regional home building targets scrapped under the coalition government in a bid to boost affordable housing provision in rural areas.
However industry's sources are frustrated that Corbyn has yet to develop much policy beyond these headline campaigning slogans.
"There's a willingness to invest in social housing but in common with a lot of Labour Party policy, there's not a lot of detail," says Andrew Dixon, head of policy at the Federation of Master Builders.
New ideas on home ownership
A largely blank canvas creates space for new ideas, says Healey: "Jeremy Corbyn's election opened up territory for fresh thinking and fresh debate, which was certainly true in housing. What is required is to win a hearing from the public is fresh ideas that are radical and credible at the same time."
And if Corbyn wants a few ideas about how to solve the housing crisis, he could do worse than consult Taylor Wimpey's chief executive Peter Redfern, who is still beavering away on a review of home ownership policy for the party.
Redfern was asked to carry out the exercise by Healey when he was shadow housing minister. Even though he is no longer officially responsible for holding the government to account on housing, Healey is carrying on with the review, which is due to be published before the chancellor's Autumn Statement on 23 November.
In the meantime, though, the industry may be more interested to hear what Labour's new champions in London and Greater Manchester - Sadiq Khan and Andy Burnham - have to say on housing and planning at the conference. While the national party is debating, for now it is only at this local level that Labour can actually deliver.
CONSERVATIVES
While Labour looks set to embark on the latest episode in its long-running civil war next week, the Conservative Party conference that follows looks set to be a relatively harmonious affair. Even though the Tories were at daggers drawn with one another during the EU referendum, 23 June's vote has healed many of the party's divisions for the time being at least.
If May wants to make good on what she said on the steps of Downing Street, she has to recognise housing aspirations which are not just about home ownership

John Healey, Labour MP
Progress on delayed projects
One priority for the industry will be looking for signs of progress on a host of big ticket projects had been pushed into the long grass since long before the referendum, most notably the long delayed third south-east runway and the Hinckley nuclear plant.
Also seemingly up for review by prime minister Theresa May is erstwhile chancellor George Osborne's Northern Powerhouse project. There are major doubts over whether May is as committed as Osborne - another MP whose constituency faces being abolished - to devolving powers to new combined authorities.
With the North-east having just decided to abandon its own devolution deal, the suspicion is growing that the new government is allowing the initiative to wither on the vine.
Martin Curtis, associate director at lobbying firm Curtin & Co and a former Conservative leader of Cambridgeshire county council, suspects that while May won't call a halt to the devolution drive, authorities are less likely to have to accept a directly elected mayor in return for additional powers.
Will Theresa May prioritise housing?
Perhaps more fundamental will be trying to work out what May's brand of One Nation Conservatism means for construction.
Curtis expects to see May put some "meat on the bones" of her professed commitment to a more inclusive Conservatism.
The HBF's Slaughter argues that building more homes is one way the Conservatives could spread economic benefits around the country. "Housing is one of the issues where inequalities of life chances and wealth are evident."
The industry will be seeking reassurance from May that she understands the importance of housing. She sent out a worrying signal in July's reshuffle when the new housing and planning minister Gavin Barwell was also given responsibility for London, effectively splitting the portfolio.
In the meantime, the government has a lot of unfinished business to resolve from the Housing and Planning Act, which limped onto the statute book in May following a particularly torrid parliamentary passage.
Labour's Healey says that the government is finding it "very hard" to work out how to implement the provisions of the act.
Scant detail has been provided so far on how its provisions, notably the proposed new system of allowing fast-track planning in designated zones and starter homes, will work in practice. Housebuilders and contractors will be looking for further clarification during the Tory conference.
Barwell and his boss, the communities and local government secretary Sajid Javid, have made it clear that the push to extend home ownership will continue. Indeed Barwell told the Mail on Sunday last weekend that the rules on who is eligible for shared ownership properties will be relaxed, enabling higher income households to participate in such schemes.
But Healey believes that a truly One Nation approach to housing would involve a rethink of the act's focus on starter homes for sale.
"If she [May] wants to make good on what she said on the steps of Downing Street, she has to recognise housing aspirations which are not just about home ownership. Under Cameron and Osborne, the Conservatives were very blinkered about anything that wasn't about home ownership. It's an essential element but it has to be broader than that."
The FMB's Dixon would be relaxed if the government took a less one-eyed approach to tenure, such as by widening the definition of what counts as a starter home for planning purposes. "In the Cameron/ Osborne government there was a big emphasis on home ownership, which perhaps crowded out other types of new supply from the equation.
"Having a broader mix of tenures can be helpful for the broader health of the industry."
Over the next few weeks politicians will be keen to come up with appealing housing policy initiatives for their party faithful, whether they appeal to the industry is another matter.
This article was originally printed with the headline: "It's my party".