It was tempting to hang a 'do not resuscitate' sign on two dingy, barely accessible London hospitals, but Skanska's redevelopment of the sites has made them functional again - which should perk up medical staff and patients alike
When Barts and the London NHS Trust appointed Skanska to redevelop their two central London hospital sites in 2002, Skanska initially responded by posing a question of their own: "Can we build it somewhere else?" The question may have been (largely) tongue in cheek but it was posed in genuine recognition of the enormous challenges involved in essentially rebuilding two historic hospitals on highly constrained inner city sites while keeping both institutions fully open throughout construction.
If being built from scratch today, neither hospital would be located where it is now.
St Bartholomew's, or Barts as it is colloquially known, was founded just decades after the Battle of Hastings and is one of the oldest hospitals in Europe. Add to this the fact that it squats underneath the planning straitjacket that is St Paul's cathedral's protected viewing corridors and that it is located within a City of London conservation area, and the challenges for radical redevelopment begin to stack up.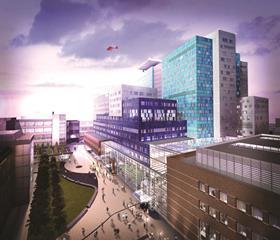 The constraints are arguably even more onerous at the Royal London Hospital in Whitechapel. Hemmed into one of the densest corners of the East End and located directly on busy Whitechapel High Street, waves of grim institutional slabs and successive phases of sporadic, dingy extensions had gradually transformed the sprawling complex into something resembling a Victorian prison camp ostensibly designed to suppress even the slightest chances of healing.
But all this was before the completion this month of phase 1 of Skanska's ambitious redevelopment programme. The 10-year, £1bn PFI scheme involves a combination of retention, refurbishment and new-build at both Bart's and the Royal London. At the Royal London all that will be retained by the time the final phase 3 is completed in 2016 will be the historic brick wings of the principal elevation to Whitechapel High Street.
It takes just three minutes from landing to resuscitation to whisk a patient who arrives by helicopter down the 17 floors to A&E
At present, many buildings earmarked for demolition remain in place for the time being but they are already completely overshadowed by the towering mass of HOK Architect's gigantic new towers, two of which are 17 storeys high (one crowned with a helipad) and the other at 10. Together these constitute 85% of the total build.
The statistics of the new hospital are staggering. Its 746 inpatient beds may be exceeded by other hospitals but it is the unprecedented size of its support accommodation - housing a daytime population of over 10,000 - that gives the new Royal London its prodigious bulk.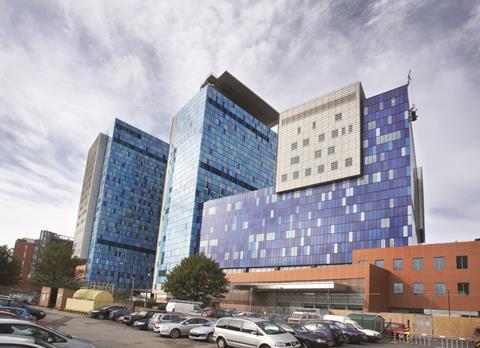 With 148,500m2 of new-build accommodation and 15,600m2 of refurbished space it is now the largest hospital in London. Phase 1 alone provides 5,200 new rooms, 50 of which were completed every week during construction. The frame comprises 175,000 tonnes of concrete, 11,000 tonnes of metal reinforcement and 1,750 tonnes of structural steelwork. It takes just three minutes from landing to resuscitation to whisk a patient who arrives by helicopter down the 17 floors to A&E. And at six times the size of its predecessor, the Royal London's A&E department is now the largest in Europe.
PFI has a reputation - most of it deserved – for poor or at best unexciting architecture and visually at least, the new Royal London is unlikely to do much to unsettle this stigma. Its enormous bulk is ill-concealed by the horrific blue chequerboard glazing applied to its exterior and its squat towers protrude angrily from the surrounding low-rise streetscape like a cluster of swollen, angular boils.
Its scale however (although not its massing) is a consequence of the amount of accommodation the trust required and the fact that horizontal expansion was impossible due to the highly constrained site. Moreover, by exhaustively planning departmental interrelationships in advance and using this criteria to devise an ingenious stacking system which compartmentalises what is essentially several separate hospitals into each tower, the design team has been able to achieve impressive levels of efficiency within floor-plates that belie their high-rise format.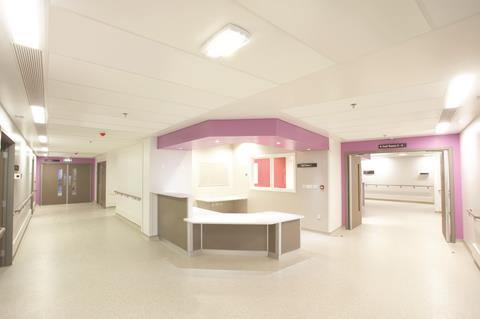 Interiors are also bright, spacious and airy and a vast improvement on the dank dungeons scourged into the old buildings. According to Harry Winstanley, operations director at Skanska, despite the enormous differences between the two projects, the interior finishes and fit-out have achieved the desired level of "commonality and standardisation" with those at Barts.
It is not aesthetics that distinguishes the Royal London, however, but process and functionality. Many of these are simple, such as the locating of all imaging facilities (x-rays, CT-scans etc) into one centralised area rather than being dispersed across the hospital. Therapy gardens have also been constructed to assist rehabilitation. And technological innovations such as destination control enable more than one lift car to occupy the same lift shaft, increasing the speed, localisation and efficiency of circulation around the buildings.
But other elements of the construction process were far more complex, logistics being one of them. For instance, Skanska project director Keith Winton points out that the site was so constrained that all on site deliveries for materials, vehicles, cranes, scaffolding and all the other apparatus concerned with a project of this size only had access to one gate.
In total, 13 buildings were demolished to make way for the new towers in phase 1. During this time the rest of the hospital remained in use, some areas of which were less than two metres away from demolition sites. In order to mitigate noise disruption to operational areas, several buildings were wrapped in full height multi-storey foam and aluminium acoustic screens, reducing internal noise levels by 25 decibels. At the children's wing, the screens were subtly backlit to give the impression of daylight. Highly sensitive dust and vibration monitoring also took place throughout construction.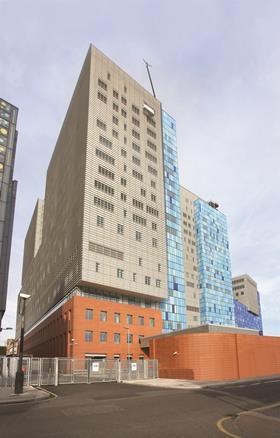 For programme and safety reasons, a huge amount of building components were pre-fabricated off-site, including all the hospital's corridors. As these commonly house up to 40% of the services per floor, they emerged as an obvious candidate for off-site manufacture. A total of 1,800 corridor modules were installed in 6m sections, each one of them fire-stopped and with all mechanical and services infrastructurepre-installed.
BIM also played a huge role in the delivery of the project. All construction managers and supervisors were issued with a tablet PC which provided instant access at any time to everything from room data sheets to reflected ceiling plans. Information could be amended, uploaded and distributed instantaneously and when docked to a central server every night.
The building is sealed with no openable windows, minimising the ingress of dust, dirt and noise and helping control infection. This also helps provides a hermetically sealed and highly insulated thermal envelope. About 300 air handling plants filter and pump fresh air throughout the building and facilitate the heat recovery system. Solar control glazing and extensive louvres provide solar shade and minimise heat loss. Low energy lighting and energy efficient medical equipment also reduce the high energy consumption levels often associated with hospital buildings.
The Royal London will not win any design awards. But it is an efficiently delivered and innovatively devised mega-hospital that has been delivered on time and on budget, no mean achievement for an undertaking this vast and on a site so constrained. Full completion of the project may be four years away but the prospects for the Royal London's continuing role as a vital healthcare resource for the capital look healthier than they have been for decades.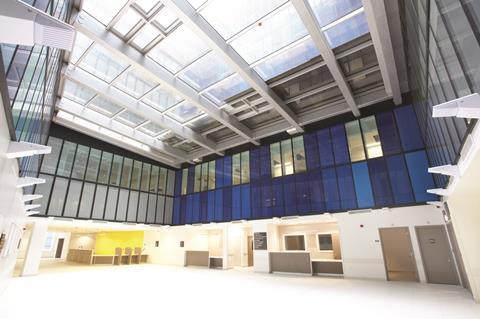 Project team
client Barts & The London NHS Trust
delivery manager Capital Hospitals (Skanska / Innisfree / John Laing)
main contractor Skanska
project manager HCP
architect HOK
M&E design DSSR / TB&A
Facilities management Skanska / Carillion