A year of lockdowns has almost doubled internet sales, and the consequent boom in warehousing is changing the way we think about a neglected element of retail infrastructure. Jordan Marshall reports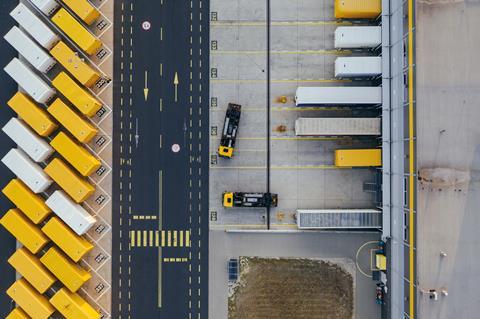 Rethinking Design Series
While most parts of the economy are either struggling or fighting for survival, logistics and warehousing are positively booming. In February last year internet sales accounted for 19% of total retail purchases but by January this year they had leapt to 36%, according to government statistics. Online sales rose £34bn year-on-year last year and are expected to exceed £150bn by 2024. And according to real estate consultant Knight Frank, every billion pounds of online sales requires about 1.4 million ft² of warehouse space.
Facilitating this boom is the industrial construction sector, which builds the warehouses as well as the logistics and distribution centres needed to store and deliver all these online goods. This once overlooked construction sub-sector had £10.4bn of schemes approved last year – ranking it third behind private housing and the hotel and leisure markets, according to Glenigan.
Occupier take-up of grade A industrial space – buildings with at least 100,000ft² floorplates built within the past 20 years – is another barometer for the sector. Jon Sleeman, lead director for EMEA logistics and industrial research at JLL, says 2020 was a record year, with occupiers renting 35.8 million ft² of grade A space and take-up jumping 64% compared with 2019.
And research by Knight Frank found that 40 million ft² of new space is due to be built this year, double the amount completed last year.
The public can see the huge impact that online shopping is having on retail's shopfront – our Rethinking Design series has looked at the changes to high streets and retail centres, but less attention is paid to buildings that are often not so visible. So who are the big and emerging players in this sector? How are they shaping distribution and warehouse hubs in response to increased demand? Where are these vital and often big pieces of our infrastructure being built? And, just as importantly, what innovations are clients demanding and how are construction professionals trying to respond in order to deliver built assets that are future-proof?
Market interest
Prologis, a well-established company with a presence in more than 20 countries, builds distribution hubs for blue-chip clients. It can point to rapid change happening in the UK and internationally. Simon Cox, its UK head of project management, says: "We were already facing an enormous tailwind to the move to online – that was a global trend. The pandemic has accelerated that."
The construction supply chain in this sector is a mature one, but Cox points out that the growth in demand is attracting more players who want a piece of the action. "We are actually seeing a lot of firms re-entering the market," he says. "There are a number of companies that previously worked in this space but left to chase high-profile tower projects who are now looking to get back into it – the pipeline of work is that strong."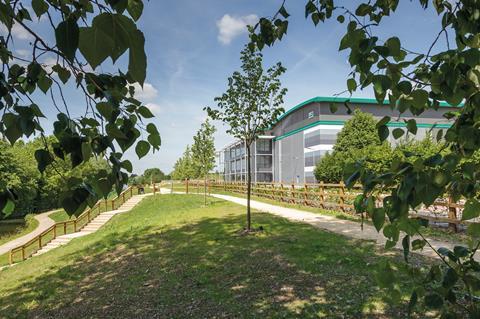 British Land, a developer and landlord known for its commercial and mixed-use assets, was set last month to make its first acquisition in the logistics sector with a £90m deal to buy a 200,000ft² facility in Enfield. The 11-acre site is let to office refurbishment service Crown Workspace and supermarket chain Waitrose as a customer fulfilment centre for online orders.
Meanwhile, multidisciplinary consultant Hydrock snapped up a warehouse and logistics specialist last month. The Bristol-based firm paid an undisclosed sum for Kelly Taylor & Associates (KTA), which provides M&E and sustainability engineering consultancy services for logistics clients. KTA has worked on more than 10 million m² of distribution facilities worldwide, working with Hydrock on several schemes including the recent completion of distribution space at the Magna Park facility in Milton Keynes, home to the likes of Toyota, BT, Asda Walmart, Disney, DHL and Britvic.
More than just sheds
Designing warehouses may have been regarded as a less than exciting specialism in the past: they are just boring sheds, right? Well, if that were ever the case, it certainly is not true now.
Modern logistics and warehouses rely on advanced technology to make sure that goods are stored and then delivered to the customer at high speed. Companies such as Asos, Amazon, Tesco and Argos are buying into this – with all these firms offering same-day delivery in some although not all parts of the country. This is possible thanks to automation, which can mean anything from mechanised material-handling solutions, such as conveyors, to picker systems, from pallet-stacking robots to collaborative robots that support the people working in warehouses.
Integrating all this technology means that contractors have had to rapidly develop or recruit different skills, according to Mark Cesenek, managing director of ISG's logistics and distribution business. "Given the advanced technology and the end-use of these buildings, that is something where there is definitely a shift in skillset," he says. "We are now really integrating our design and the end-user design, which is a very different skillset than traditional L&D where you create the envelope and walk away. It brings in a lot of data centre expertise."
Cesenek adds that there is an increased focus on automation and building these facilities as bespoke for different clients' needs. "The pandemic has meant there has never been more varied demand for the space," he says.
"There's a lot more bespoke buildings being built rather than speculative developments. Clients are coming to us with the end user in mind so the focus comes back to how they are going to operate that building and the efficiencies they need."

The bespoke requirements of clients are something with which Peter Goodman, director of construction at Glencar, is familiar. The firm has just been appointed to the latest in a string of projects for Ocado – the fit-out of its newly built 164,000ft² fulfilment centre in Bicester. "The first thing we will do is strengthen the floor slab to ensure it has a suitable bearing capacity for the load of the mezzanines that we are building in," he says. "We will also need to strengthen the roof as we will be installing a hung integrated ceiling across the whole facility." This is needed for a hung ESFR (or early-suppression fast-response) fire sprinkler system.
The various parts of the store need to be kept at different temperatures to store stock, and Goodman says there has to be a 50:30:20 division between ambient, chilled and frozen sections. In terms of the mezzanine infrastructure, there is significant M&E and communications and data hubs on each. The mezzanines must support the load of all of Ocado's robots, which travel at speeds of up to 40mph.
Multistorey warehousing
Another of the trends that the experts see is the rise of multistorey warehousing – particularly in areas where land is becoming expensive, such as within the M25. According to Urban Logistics, a real estate investment trust, reduced land availability in last-mile and urban warehousing is creating upwards pressure on rent and land values. Hydrock chief executive Brian McConnell says his firm is already working on a multistorey warehouse in London, for an unnamed client. Cesenek too says his firm, ISG, has seen a lot more enquiries for build-to-suit multistorey warehouses – with companies looking for more cost-effective solutions to securing space close to urban centres.
If there is an area with significant mass, there is obviously a need to develop an increasingly attractive building that fits into the urban scape

Simon Cox, Prologis
Prologis's Cox says that Prologis has experience, particularly in Japan, of multistorey assets and that a different approach to the exterior design and planning is needed for urban areas: "If there is an area with significant mass, there is obviously a need to develop an increasingly attractive building that fits into the urban scape."
Cesenek adds that the pandemic has increased the market need for 300,000ft²-plus buildings, to cope with the growth in demand for goods among consumers. He says that these larger-scale warehouses also better allow for building in resilience as technology solutions continue to change.
Scott Price, director at consultant KAM, is also seeing these changes, and says warehouse floor slabs now have to take increased loads, while the building has to deal with greater electrical demand from automation and provide larger yard areas for vehicles. A key lesson from the past year has been designing in flexibility so that facilities can adapt as operational demands may change rapidly.
Low carbon solutions
As this sector's rapid expansion continues, an inevitable challenge is how to make growth sustainable environmentally. A recent report by JLL noted that in logistics, transport contributes more to carbon emissions than warehouse buildings – 87% compared with 13% – but that over the next five to 10 years demand for green warehouses will grow as companies seek to meet net zero targets.
Green warehouse design features mentioned in the report include highly efficient roofing and walls, LED lighting, solar panels, battery storage and the option for design for deconstruction.
"We have been working in the sector for 12 years and the agenda has really changed in the last two years," says Hydrock's McConnell. "The whole ESG [environmental, social, and governance] criteria has become really important and that's driven from two directions – the public and funders."
McConnell says the financial backers of these schemes often have their own environmental targets, which means that they want to know not just that the building is sustainable but that the end user shares those priorities.

One of the challenges for creating sustainable developments in this sector is that energy requirements are increasing. "There is a huge increase in the power usage with automation and, even more so, EV charging," says McConnell. Given the scale of many of these projects, he says there is much potential for engineers to create self-sufficient energy grids that in due course can actually feed back into the grid.
This is echoed by ISG's Cesenek, who says the industry is currently in a "sweet spot" where the power capability of many warehouses is not being fully utilised due to gained efficiencies from new lighting, which is the biggest energy consumer in most warehouses. This means that they currently have capacity to charge electric vehicles, while investing in the green infrastructure to future-proof their asset bases.
Prologis's Cox says his company currently has under construction its first building to have a solar array big enough to take on the complete baseload of the building, meaning it will supply at least the minimum amount of electrical power needed for the facility.
Question of delivery
Clients in a hurry to build and a big pipeline of work are good news, but there is a question around the construction industry's capacity to deliver. ISG's Cesenek is optimistic and says that this increased demand is driving firms to focus on bringing speed to market.
"We will work with clients anywhere from six weeks to six months out," says Cesenek. He says this is also driving an increase in the use of MMC, which in turn helps to deliver on the green agenda.
But there are other hurdles, namely costs. KAM's Price says: "An increase in steel prices has a knock-on effect on the frame, cladding, roofing and reinforcement, as these elements form the majority of an industrial building. As a result, KAM has generally increased our benchmark ranges by up to £2 a square foot and will continue to monitor this in the coming months."
He says the combination of these cost increases, combined with the stresses of a busy supply chain, has meant contractors have needed to strike a balance between meeting their customers' requirements and reconsidering programmes because of scarce material availability. Or it may be that tender sums have to be revised because of sharply increasing material costs.
There seems no end in sight to the warehousing boom. The challenge for the construction sector is to deliver, at speed, increasingly high-tech buildings that are sustainable and match clients' price expectations.
Where is last-mile logistics heading?
Last-mile delivery, which refers to moving goods from a distribution hub to their final destination, is crucial to getting online orders to customers as quickly as possible. The need for speed is turning people's attention to new solutions.
Steve Griffiths, Broadway Malyan's head of logistics, thinks under-used high streets could be part of the answer: "It's the last-mile delivery that needs to be based where the people are, that is to say around the high streets and town centres."
Brian McConnell of Hydrock has seen a number of clients express interest in using empty high-street retail stores for this purpose. "There are some really interesting conversations going on with our existing clients about taking on existing multistorey retail buildings and converting them into not only distribution centres but vertical farms."
Griffiths says another option for improving and integrating last-mile delivery is using basement space in cities. "There are all these towers in London with basement space that is not being used as fewer people have cars," he says. "You can form a real community by having the basement used for last-mile logistics, retail and leisure at ground floor, with commercial or residential above."
For deliveries to areas on city fringes, retail parks are another opportunity. Griffiths believes that traditional retail parks have had their day but are still valid spaces in the centre of residential areas: "So what we need to do is create an area where people want to go and visit, a small retail element, and you've still got this big box behind that can be used for logistics and last-mile collection."