This week Philip Buckingham sketches a view of London from the Walkie Talkie's Sky Garden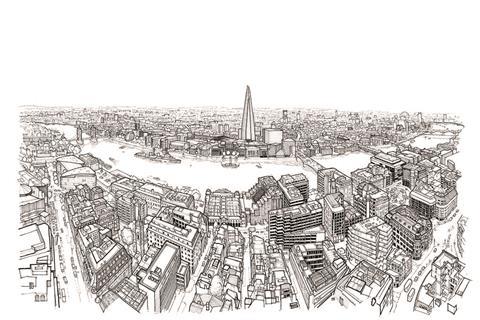 This week's #buildingdoodle sketch is by Philip Buckingham and shows a view of London from the Walkie Talkie's Sky Garden. The sketch is part of his upcoming show at Southwark Cathedral, exhibiting pen drawings of the cathedral and of London. He says: "It is a collection of work based on the iconography and architectual details of the cathedral. The pen and ink drawings explore, at varying scale, the material manifestation of the different architectual styles employed in the building's 900-year history". The exhibition Drawings of Southwark Cathedral is showing until 23 October at Southwark Cathedral Refectory.
To submit your sketches for publication please email building@ubm.com or post via Twitter using the hashtag #buildingdoodle
Day Two of the Ecobuild event in March 2016 will be all about architecture and will feature top architects as guest speakers as well as hundreds of exhibitors. Click here for the latest conference programme, and to register FREE to attend.