Future tenants of the City's major office buildings are increasingly likely to hail from the Far East - and their requirements may come as a bit of a surprise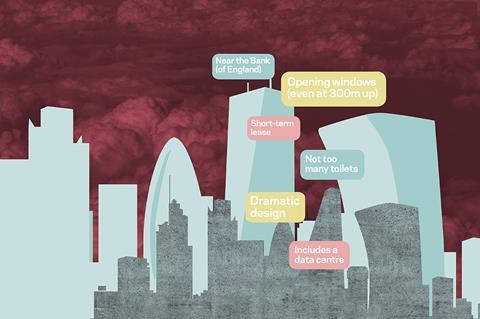 In his keynote address to the British Council for Offices' (BCO) annual conference Lord Myners, the Labour peer and former financial services secretary to the Treasury, outlined his view of future demand for London office development, noting that "much of the established London office market is becoming obsolete against user requirements".
That much the industry knows already, with firms such as Derwent working on schemes that provide structured office space at lower cost and others looking at how inefficient buildings can be refurbished to bring down energy costs.
However, Myners added that "new demand will come from Far East banks and insurance companies." And Duncan Stone, regional managing director for Asia at consultancy Turner & Townsend, agrees with that analysis. "There's going to be a movement of wealthy Asian funds moving westwards," he says.
"It's already happening - Chinese and Hong Kong conglomerates already have interests in the UK. That's going to continue. Some of our clients are growing really fast."
The question, then, is what do East Asian clients want from a building? And what are their priorities?
As a starting point one could do worse than listening to the experience of architects and consultants already working in the Far Eastern commercial markets.
Location is crucial, in particular to the Chinese, according to Jon Lovell, sustainability director, sustainable real estate, at consultancy Deloitte. "By location I mean proximity to the Bank of England specifically," he says. "There's so much emphasis on relationships and visibility. Proximity gives the opportunity
to be close to - and be seen to be close to - stakeholders within the London market.
At the moment that's a key driver, but once the Chinese occupier market begins to understand the City a bit more that may dissipate over time." Lovell adds that being close to the Bank of England is less of an issue for financial services companies from other east Asian countries such as Japan.
Proximity gives the opportunity to be close to stakeholders in the London market. At the moment that's a key driver

Jon Lovell, Deloitte
But where the recent trend in the UK has been for more functional design East Asian clients - in particular the sorts of financial services firms that are likely to set up a base in London - also tend to want their buildings to make a statement. "Clients strive to make their buildings distinctive," says Steve Gillham, chairman of architect BDP Shanghai. "They invariably want their buildings to be the best design possible, to contribute to the cityscape. The cost of a building is a significant factor but design is more important."
Gillham adds that there is a notable emphasis among Eastern clients on developing mixed-use schemes, with hotels, apartments and leisure facilities thrown into the mix. Perhaps more unusually, Gillham says that data centres are often incorporated into such developments to cope with financial services companies' increasing digital storage requirements.
However, while prominent locations and impressive design cost a great deal, in some ways East Asian clients' requirements are more basic than one would expect to find in a London HQ development. According to Ken Shuttleworth, they are less concerned with issues such as the need for natural light, meaning that floor plates can be substantially bigger. There is also less emphasis on the need for consistent temperatures, so savings can be made on air conditioning systems, he adds. In Chinese offices, Gillham says that floor plates, depths and floor-to-ceiling heights tend to be broadly comparable with the UK, but adds that toilet provision is much less than we're used to in London and that design for disabled access "has a long way to go".

Open window policy
Then there are cultural differences, some of which may be difficult to reconcile with UK carbon emission targets. In China, for instance, even the tallest office buildings have windows that users can open. "The building we're doing is 300m tall - it's as tall as the Shard - but they have opening windows in the offices," says Mike Hitchmough, head of offices at architect 3D Reid, which recently won a design competition to build a tower in Shenzhen, China on behalf of developer Kingkey. "It's a cultural thing - people just want opening windows. It's like driving your car with the air conditioning and the windows down. When you start working in a new place you have to observe and absorb and sometimes button your mouth. That's the way things are over there and it's never going change."
Gillham adds: "Sustainability in design is following the western lead and is being promoted at all levels of government. They're catching up but there is still a long way to go."
When it comes to speculative developments aimed at East Asian firms, designing buildings that can be adapted to different uses is also important due to the fact that in many Asian economies, long leases are rare. "Certainly in China the lease structures are really quite different to the UK," says Hitchmough. "People tend to have very short leases. Particularly with things like pension funds, in the UK you'd be looking at 20-25 year leases. What we've found speaking to agents in the local Chinese market is that tenants are looking for much shorter term leases than you would find in the UK."
In China people tend to have very short leases. Particularly with pension funds

Mike Hitchmough, 3D Reid
However, to a certain extent architects will be far more constrained when designing a building for an East Asian client in the UK due to tighter planning and development control standards. "[The controls in the UK] are pretty robust relatively speaking, especially compared to the development market in China," says Deloitte's Lovell. "It's a completely different kettle of fish. So, that's going to drive requirements in terms of design, access and sustainability standards
- all those sorts of issues."
In addtion, many of the major HQ buildings that have been built in major Asia-Pacific cities in recent years have been designed by western practices, so aesthetically buildings are unlikely to differ substantially from what the City is used to seeing. "It might be fair to say that there is a bit more frivolity in China from a design point of view - a race to outperform in terms of height or whatever," says Lovell. "But once you take the planning and regulatory issues in London into account there is less room for that."
So, while the next generation of London towers will be subtly different, the requirements of the next wave of clients and occupiers do not differ so significantly from those of western financial institutions, at least before the crash when buildings were seen as status symbols. However, the industry would be wise to research carefully exactly what East Asian companies want from their new offices. After all, they are in all likelihood the new paymasters.
LONDON: PLANNING AHEAD
The subject of achieving a balance between commercial and residential development in central London was at the heart of several discussions at the British Council for Offices' annual conference earlier this month.
In his keynote speech, former financial services secretary to the Treasury Lord Myners called on planners to be more flexible in the uses they allow central London. The City of London Corporation is particularly against residential development and has secured an exemption from the government's new planning rules that allow a building's use to be changed from commercial to residential without the need for planning permission. Myners commented: "Planners in Westminster and the City haven't woken up to the fact that people increasingly want to live in central London."
In order to ensure that buildings are resilient to changing needs, architect Glenn Howells asserted that his profession should design buildings to be as flexible as possible. This, he said, would allow buildings to adapt to different ways of working and could allow offices to be more easily converted into residential use.
Howells' comments were made in the context of the need for buildings to last longer for environmental reasons - developments today, he suggested, must have the capacity to be reused over hundreds of years - but his suggestions also chime well with the office-residential regulatory change.
Under the rules as they stand, a change of use can only avoid going through the planning system if it doesn't involve significant changes to the exterior of the building. Unfortunately, the design of most offices does not allow this to happen. However, if flexible use were to be designed into a development from the beginning, the potential for quick changes of use at a later date could be a much more viable option.
Such strategies, of course, wouldn't work in the City, but some delegates had a solution for that, with several architects and consultants commenting that it is time for a change in leadership in the Corporation's planning department: chief planning officer Peter Rees has been in post for almost 28 years.