The flaws of Portsmouth's Wilmcote House may have been indicative of 1960s social housing, but now its mass adoption of Passivhaus principles could see it used as a model for sustainable retrofit across the UK and Europe. Ike Ijeh reports. Photography and drawings by ECD Architects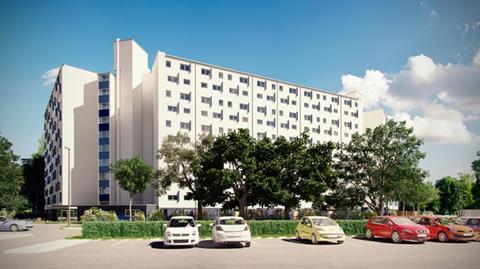 There is understandable consternation among those committed to sustainable development that the government has recently withdrawn its widely heralded commitment to ensure that all new homes would be zero carbon by 2016. But for others, the zero carbon target was only ever a small part of the wider challenge towards a more sustainable future. This is a challenge whose true nature is revealed by the fact that 80% of UK homes that will exist in 2050 have already been built.
This startling statistic suggests that the real battleground for achieving energy efficiency in housing construction will not be focused on new builds but on the refurbishment of our existing stock. And if this is indeed the case, then the challenges don't come much bigger than at Wilmcote House in Portsmouth.
Wilmcote House is a large council house block built in 1968 containing 107 flats and three-bed maisonettes arranged across 11 storeys. It incorporates three blocks linked by two stair cores and was constructed using a prefabricated reinforced concrete sandwich panel system. While this system was a common construction method for council housing at the time, it has proven to be woefully inadequate for long-term durability and environmental performance.
Wilmcote House now sadly exhibits many of the social, architectural and environmental problems that afflict social housing of its era. Poor insulation, structural instability, insufficient maintenance and crumbling fabric have led to an extensive list of repairs and spiralling heating bills for its residents, many of whom are already on low incomes and are at high risk of succumbing to fuel poverty. With just 25mm of insulation incorporated into its sandwich panel system, Wilmcote House offers thinner protection from the elements than that found on an average-priced ski jacket.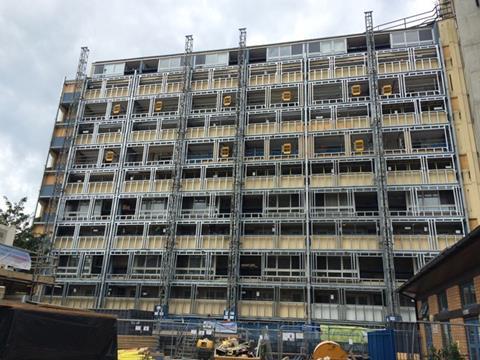 But while the construction flaws at Wilmcote House may be symptomatic of its era, the council block is now about to see a design innovation that will make it totally unique. It is finally being refurbished by London-based ECD Architects in a pioneering and highly experimental £13m renovation project that will see it upgraded to EnerPHit standards, a European-wide sustainable retrofit system that incorporates Passivhaus principles.
Adoption of Passivhaus principles can be challenging enough even for new-build homes but applying it to this scale and type of housing is an unprecedented undertaking that is being closely monitored as a UK and European pilot case study. Wilmcote House therefore could have far-reaching implications for existing housing stock across this country and beyond as it redefines the perceived constraints and capabilities of sustainable retrofit solutions.
Thermal envelope
The retrofit solution selected for Wilmcote House may sound theoretically simple but applying it to the physical, structural and environmental characteristics of the building required a high level of technical complexity. Essentially the constructional solution is to overclad the building entirely in a new thermal envelope.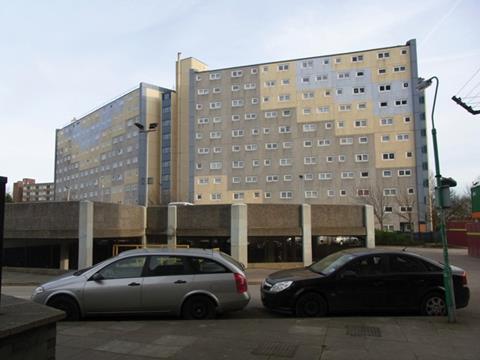 This envelope incorporates the installation of high-performance and super-airtight Metsec steel frame to external walls, combined with a highly insulated Rockpanel cladding facade system, helping deliver a U-value of 0.13W/m2K.
It also includes the reconstruction of the roof from a highly problematic bitumen flat roof with valley gutter falls to an insulated pitched roof with structural waterproofing system. Airtightness is achieved by a series of tapes and membranes fixed over the existing exposed surfaces before the insulation is applied. The resultant exterior wall has been thickened by approximately 400mm, much of which is packed with insulation.
The new thermal envelope applied to Wilmcote House has been split into three, one for each block with the communal staircases excluded. While the insulated Metsec cladding arrangement is present throughout the entire thermal envelope, the envelope configuration differs considerably on each side of the building's two principal elevations.
The road elevation to the north-west adopts the simpler of the two approaches. Here, lightweight Metsec cladding is fixed to the external face of the building and supported entirely by the existing building structure. It is attached to a new steel frame that is fixed back to the existing floor slabs and party walls across the entire facade. The facade is entirely enclosed and is primarily occupied by bedroom windows.
The south-east elevation that faces onto gardens proved to be a trickier challenge. This facade is spanned by open access decks every two floors that correspond to the internal two-storey maisonette arrangement. Moreover, kitchen windows open onto the decks, meaning that the fully enclosed overcladding system applied to the roadside would not be possible here due to ventilation requirements.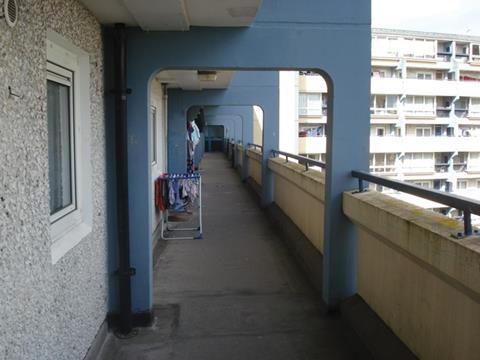 And finally, whereas the road elevation is a large expanse of flat wall and therefore comparatively simple to overclad, the decks on the garden side protrude beyond the face of the living room windows below and the facade also features a series of chamfered structural fins at each level that intermittently protrude or recede from the face of the building. These three constraints meant that the continuous face overcladding system applied flush to the roadside elevation would be impossible to replicate here.
The design team explored various options, including individual wrapping of all exposed surfaces, walls as well as fins, to retain the access decks as external spaces. Another advantage of this option would have been the retention of the recessed balconies inserted above the access decks and beside each living room. Inadequate provision of space to dry clothes was identified as one of the key resident complaints in early consultation and the design team was keen not to minimise these facilities any further.
But in the end this option was rejected on the grounds of complexity and the high risk of thermal bridging created by the junctions between insulated and uninsulated wrapped components. The eventual chosen solution follows a similar overcladding approach to the roadside – fully enclosing the decks and balconies within a new thermal skin. But there are some key differences.
Firstly, the Metsec frame is self-supporting with independent foundation piles driven into the ground to ensure that its weight is not loaded onto the structurally uneven arrangement of fins, decks and balconies that comprise the garden-side elevation.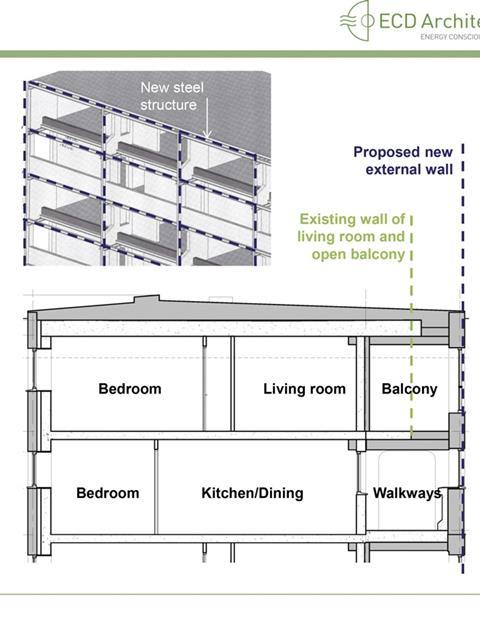 Secondly, kitchen windows, now within enclosed access decks, are fixed shut for fire compartmentalisation. Extract and ventilation to kitchens is served by new ducts that connect them directly to the new facade above the access decks. Building management will have the ability to open the deck windows if desired.
And thirdly, because the new facade has been applied to the face of the access decks, which extend beyond the windows of the living rooms above and below, the living rooms have been enlarged and extended by 7m² to meet the new exterior wall. The balconies have also been retained as winter garden-esque semi-enclosed sunspaces that still provide the crucial sense of external amenity.
Services
The retrofit solution being applied to Wilmcote House does not solely involve the installation of a new thermal envelope to the building. It also instigates significant changes to the heating and mechanical servicing system of each flat. The current storage heating systems – which prove so exorbitantly expensive to use that many residents simply choose not to turn them on – will be replaced by individual MVHR (mechanical ventilation with heat recovery) systems in each property. These will be crucial in improving internal air quality and helping prevent the condensation and mould growth that were widespread prior to refurbishment.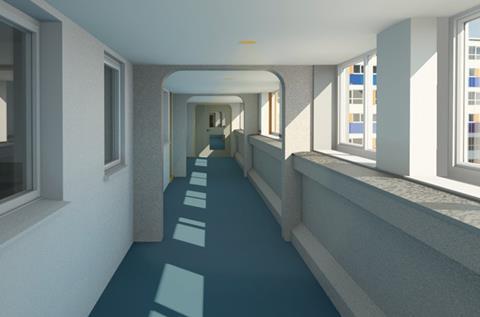 New pipework and insulated hot water cylinders will be discreetly inserted into each flat with subtle rearrangement of heating and storage areas ensuring no loss of net floor area to flats. The only visible evidence of the new services within flats will be occasional boxouts for riser connections and a slight reduction in the ceiling height of each flat entrance hall. This will be caused by new bulkheads incorporating intake and extract ducting serving each flat and linking it to the external facade.
Refurbishment works are currently under way and will proceed while the flats are still fully occupied, with strict operational hours arrangements being observed in order to try to minimise noise and disruption to residents. Completion is scheduled for next year.
Interestingly, the storage heating systems will not be disconnected for the time being so residents' behavioural and budgetary traits and decision-making can be monitored and used to inform wider pilot study data and conclusions.
And herein lies the real value of the radical refurbishment strategy being applied to Wilmcote House. The results could not only improve the comfort, lives and finances of the residents of 107 flats in Portsmouth. They could potentially revolutionise our expectations of what level of environmental enhancement is possible when high-performance sustainable retrofit solutions are applied to even the most dilapidated and energy inefficient forms of housing.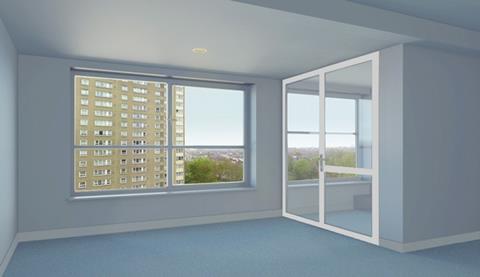 Project Team
Client Portsmouth city council
Architect ECD Architects
Main contractor Keepmoat
Project manager / QS Keegans
Engineer Carter Clack Partnership