Report names and shames the industry's worst offenders
Housebuilders are up in arms over a controversial report by the RIBA that claims contractors are building inadequate 'shoebox homes'.
One source at a major housebuilder branded the report – which names and shames contractors that provide the least floor space – "seriously flawed".
The source said: "This is in our view an obsolete story. Housebuilders have been changing their building mix ever since 2007, providing more family homes rather than flats. Houses are getting bigger not smaller.
"The data is seriously flawed. In our case they analysed less than 4% of our units. It's not a serious quantitative study, it's very selective."
The report names Lovell, Crest Nicholson, Barratt, Galliford Try and Bellway among the worst offenders for building small homes.
The RIBA analysis of size of three-bed homes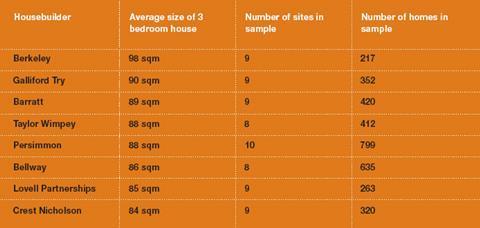 The RIBA analysis of size of one-bed homes