A Victorian chapel, rooftop houses, and a playground in the sky are just some of the innovations that feature in this year's Building Awards housing shortlist, showcasing the country's best residential projects
Barns Road, Oxford, Oxfordshire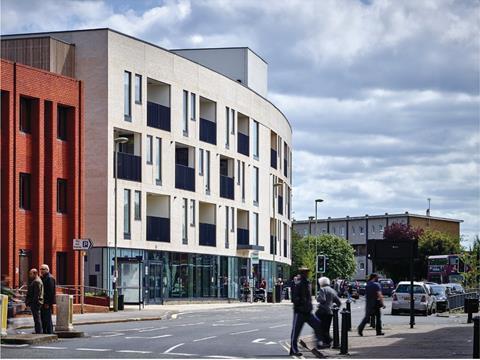 Architect: Allford Hall Monaghan Morris
Client: Green Square Group
Contractor: Feltham Construction
Submitted by: Allford Hall Monaghan Morris
Barns Road is one of three projects collectively known as the HAB Oakus Oxford Project. The project provides 70% affordable housing and a range of community, retail and workshop facilities on three sites across the city. A total of 108 housing units have been built in developments modelled on terrace and mansion block typologies, but all architecturally unified by common materials and a contemporary yet contextual response. The Barns Road site provides 40 units behind a shallow four-storey curved frontage punctured with deep recessed balconies and lined with shops, workshops and art installations on its ground floor.
Carrowbreck Meadow, Hellesdon, Norfolk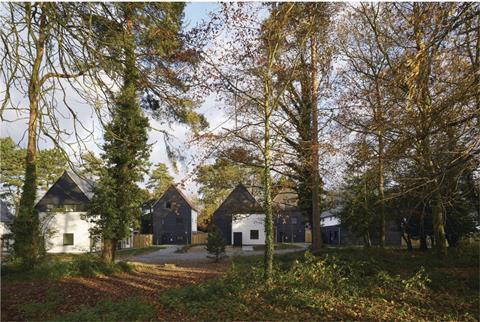 Architect: Hamson Barron Smith
Client: Broadland Growth
Contractor: R G Carters
Submitted by: Hamson Barron Smith
Carrowbreck Meadow is the largest Passivhaus scheme in Greater Norwich and one of the biggest in eastern England. Sheltering in a wooded clearing in a thick forest, its pitched roofs and clapboard cladding are significant because they prove that Passivhaus can still be achieved with a rustic architecture set within a rural vernacular. The scheme is also significant for its contractual methodology which included training for workers and apprentices to deliver the cultural shift in work ethic and approach required to fully embrace Passivhaus principles. The project is a pilot for a much bigger local regeneration scheme and detailed post-occupancy data could influence the adoption of Passivhaus elsewhere.
Fitzroy Place, London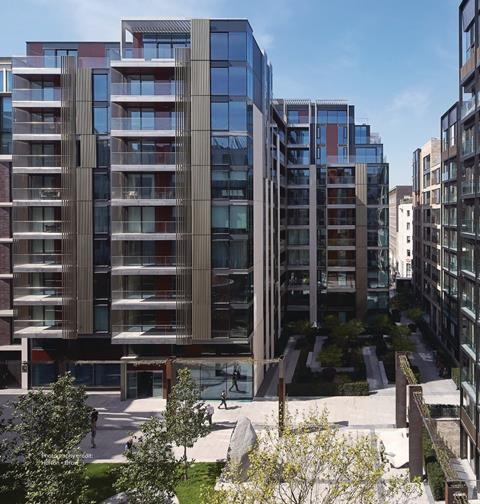 Architect: Lifschutz Davidson Sandilands / Sheppard Robson
Client: Aviva Investors / Exemplar
Contractor: Sir Robert McAlpine
Submitted by: Aecom (services engineer)
This landmark mixed-use central London scheme marks the culmination of a long-running redevelopment saga which had previously seen the frustration of the ill-fated Noho scheme put forward by the Candy brothers a decade ago. The project involves the redevelopment of Middlesex hospital, which was demolished in 2008 and of which only the lavishly restored grade II*-listed chapel remains, now incorporated into the new scheme. The surrounding development provides 234 private homes and 54 affordable units, all arranged around a new public square, 8,500ft² of retail and 144,000ft² of offices. The project transforms one of the largest remaining developments blocks in the West End and included London's largest two-storey basement dig.
Holy Trinity School, London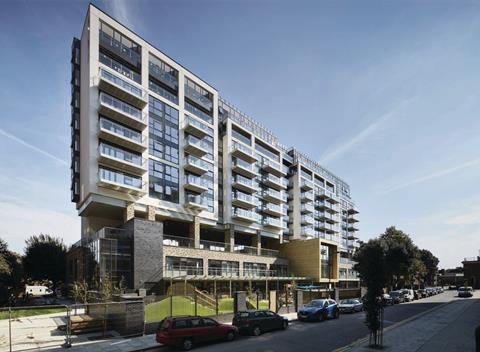 Architect: Rock Townsend / Stockwool
Client: Holy Trinity Primary School / London Diocesan Board for Schools / Telford Homes
Contractor: Telford Homes
Submitted by: Rock Townsend / Stockwool
Described as "genius" by former mayor of London Boris Johnson, this truly innovative project provides an ingenious and exhilarating architectural response to the perennial design challenge of fitting schools and housing onto restricted urban sites. In this case 14 storeys of housing is hoisted above a new two-storey primary school with an open playground deck for pupils filling the void between the two. Careful regard was also taken to the positioning of residential cores in order to ensure that they did not clash with the layout of the school below. The projects sets a benchmark for how high-density housing can be successfully delivered within the crowded inner city.
Oval Quarter, London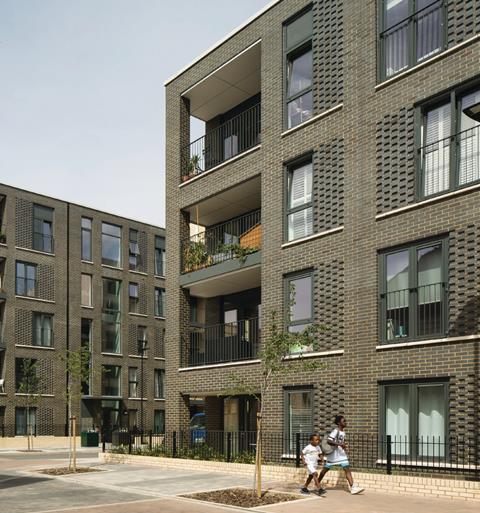 Architect: PRP
Client: Regenter
Contractor: Higgins
Submitted by: PRP / Higgins
Oval Quarter remodels a failing 1970s housing estate into a new urban village and vibrant inner-city quarter. The scheme delivers 808 mixed (50/50 balance) tenure homes (social, shared ownership and for sale) and 172 refurbished properties. In addition, a multi-storey community and retail centre is housed underneath a landscaped park, with its sloping roof forming part of a new public space. The design-and-build project is an exemplar for how comprehensive estate redevelopment can deliver genuine regeneration and retain a socially mixed community.
Pinnacle N10, London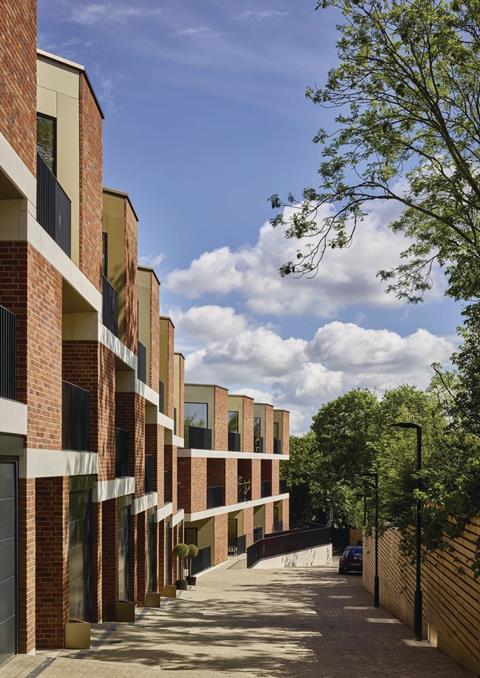 Architect: ph+ Architects
Client: JAMM Living
Contractor: Gilbert Ash
Submitted by: ph+ Architects
London's other Pinnacle offers a detailed and heavily contextualised contemporary reinterpretation of the Edwardian housing stock so synonymous with both the local neighbourhood and the capital as a whole. A stepped terrace of stacked brickwork blocks slope gently down a hill, each one separated horizontally by deep recessed chamfered balconies and vertically by thick spans of pale concrete. The splayed geometries and crisp detailing throughout add a further quality of dynamic craftsmanship to the streetscape and massing of this ambitious conservation area development.
Spring at Stonebridge Park, London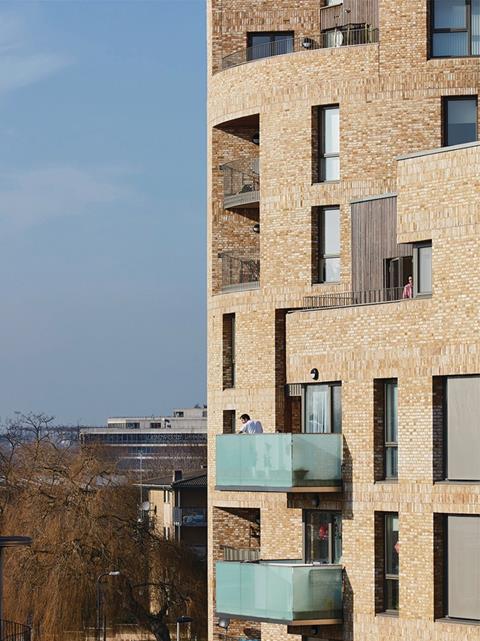 Architect: Cullinan Studio
Client: The Hyde Group
Contractor: Durkan
Submitted by: Cullinan Studio
This beautifully crafted scheme arranges a series of richly textured brickwork blocks clustered around a new urban layout of streets and courtyards. The blocks are arranged into an inventive family of house-types, which include mews terraces, mews bookends, villas and the signature structure of a nine-storey rotunda. This ziggurat-like structure, with its scalloped summit and deep punched windows and balconies, embodies the virtuoso design flair that characterises the entire scheme. The scheme also maximises its rich parkland and canalside setting by ensuring that the blocks carve dynamic and highly modelled silhouettes against their natural landscape backdrop.
As yet another London estate regeneration scheme, this development sets an impressive threshold of quality to which all schemes of this nature should aspire to.
Tapestry, London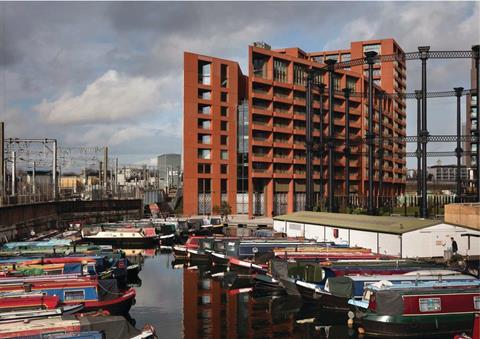 Architect: Niall McLaughlin Architects
Client: Argent
Contractor: Kier Construction
Submitted by: Cullinan Studio
As the landmark King's Cross Central redevelopment enters its final stages, attention will turn towards the mainly residential developments being built to the north of the site. And one of the most prominent of these is the Tapestry Building, occupying an enviable position right on the Regent's Canal. With its dynamic form culminating in a pair of razor-sharp prows overlooking the canal and the entire exterior decadently clad in red terracotta cast with a decorative embroidered weave, the building cuts an unmistakably dramatic silhouette against the sky and at close range. But this envelope conceals more ingenuity in the form of a multi-use sports hall, an eight-storey car park furrowed into the middle of the plan, and a garden podium situated above it lined by high-level townhouses and offering spectacular views out over central London.
Trumpington Meadows, Cambridge, Cambridgeshire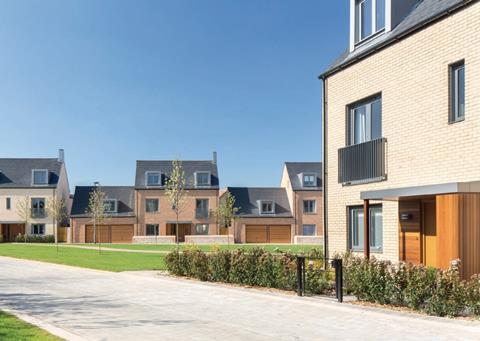 Architect: Allies & Morrison
Client: Barratt Homes
Contractor: Barratt Homes
Submitted by: Barratt Homes Eastern Counties
Trumpington Meadows is one a raft of schemes confirming Cambridge's rapid expansion along its edges. The project provides a vast new community of 1,200 homes set within a rolling 148-acre waterside country park. The scheme attempts to offer a blueprint for 21st-century living by providing essential housing in a manner that is sustainable, promotes walking, cycling and public transport and has minimal impact on surrounding conservation areas and countryside. Some 40% of homes are affordable and the new neighbourhood has been carefully integrated with the existing village.
Woodside Square, London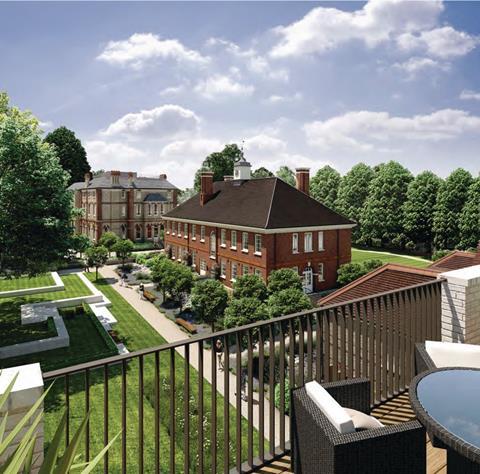 Architect: Pollard Thomas Edwards
Client: Hill & Hanover
Contractor: Hill
Submitted by: Hill
Woodside Square is a collection of 159 contemporary one-, two-, three- and four-bedroom homes, 70% of which will be available exclusively to the over-55s.
By so doing it reflects the national drive to provide high-quality housing for older people. This particular scheme provides a strong emphasis on wellbeing with all homes designed to Lifetime Homes standards and set among community facilities and a generous six acres of landscaped spaces. Located within a green north London suburb with a strong heritage of arts and crafts houses, the new buildings offer architectural detailing and a leafy setting that ensures strong integration with local context.

To find out which project wins Housing Project of the Year, book a table to attend our annual Building Awards ceremony www.building-awards.com.
To see the full shortlists for every category click here