To celebrate the World Cup, Building is calling on the built environment's best footballers to show us their tricks
Building has decided to join in the football frenzy that inevitably surrounds the World Cup by hosting an online video soccer skills contest.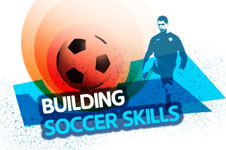 Upload a video demonstrating your soccer skills, and you could win two tickets to see England play in their first qualifying game of the European Championship. Whether you're an expert at keepy-uppies, stepovers or the Cruff turn send us your video and show the construction world what you can do.
Simply upload your videos to YouTube or another video hosting website,
tell us
about it, and we'll add them to our Soccer Skills web page.
The player with the best Soccer Skills will be announced on Friday 9 July.
And to kick the ball off, so to speak, and give you an idea of what we're looking for here are a few clips Building created with the help of staff from John Rowan and Partners and Franklin and Andrews.