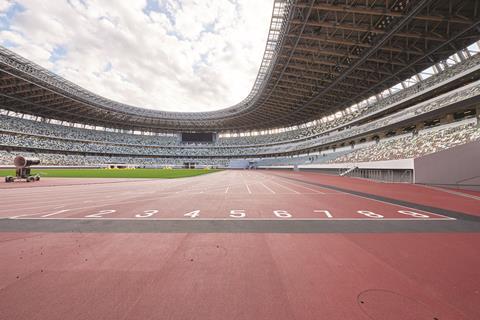 It is under 200 days until the start of the 2020 Olympic Games in Tokyo on 24 July. Japan's capital city will also host the Paralympic Games at the end of August.
A total of 43 venues will be used during the summer – eight new permanent venues, 10 temporary ones and 25 existing sites, six of which were used for the 1964 Summer Olympics. The permanent venues have all been completed, except for the £400m aquatics centre, which is on schedule to be ready next month. The entire venue-related budget is around $7.7bn (£5.8bn).
The New National Stadium in Tokyo hosted its inaugural sporting event on New Year's Day as Vissel Kobe beat Kashima Antlers 2-0 in the Japan Football Association's 99th Emperor's Cup final.
Much of the anticipated revenue is down to ticket sales. Some 23 million people applied for the 1 million Olympic tickets available only to Japanese residents, while the demand for Paralympic tickets saw a record-breaking 3.1 million requests.
As the average temperatures in July and August are over 30°C, the International Olympic Committee has moved the marathon route 800km north of Tokyo to Sapporo. Meanwhile, mist cooling systems in the New National Stadium will help to reduce internal temperatures by up to 10°C. The Games of the XXXII Olympiad officially end on 9 August and the Paralympics opening ceremony is on 25 August.
New permanent venues for the Tokyo Olympic and Paralympic Games
Musashino Forest Sport Plaza
First of the new permanent venues to be completed in March 2017
Yumenoshima Park Archery Field
Located on Dream Island, it is built on a landfill site used between 1957 and 1967
Sea Forest Waterway
Spectators will have views of Tokyo Bay and the Tokyo Gate Bridge from the grandstand
Kasai Canoe Slalom Centre
The slalom course is the first of its kind in Japan and will have temporary seating for 7,500 fans
Oi Hockey Stadium
Blue surface used at the stadium is made from up to 60% sugar cane - which requires 2/3 less water than previous Olympic turfs
New National Stadium
Built on exactly the same footprint as previous National Stadium in Tokyo which was used for the Summer Games in 1964
Ariake Arena
The waterside venue is expected to cost $320 million (£243 million)
Tokyo Aquatics Centre
Once complete it will be among the biggest swimming facilities in the world