The founders of Alinea have a track record in Davis Langdon and EC Harris and some pretty impressive towers behind them. But can this offshoot compete with the big boys, and see off start-up rivals?
The six co-founders of Alinea are clambering on to the roof of London's Adelphi building for a Building photoshoot. They ascend a service ladder to the highest part of the building overlooking central London - a skyline the six of them have, more than any other group of cost consultants, helped to shape over the past 25 years.
Between them, (as pictured, left to right) Steve Watts, Paul Zuccherelli, Iain Parker, Richard Taylor, Mark Lacey and Paul Allen have over 150 years of experience, gained at two of the UK's best -known QSs, Davis Langdon and EC Harris. They have worked on 100 million ft2 of projects, primarily in the London commercial sector, including icons such as the Shard and the Leadenhall Building. Then, seven months ago, they rocked the tight-knit London scene by quitting plum jobs heading up 100-strong commercial teams at DL and EC Harris to go it alone.
It is a bitterly cold November morning, but the Alinea six are boisterous. "Can you see any of your buildings from up here, Mark? They're all a bit small, aren't they?" quips Watts, one of the world's foremost tall buildings experts and board member of the Council on Tall Buildings and Urban Habitat. "Have they started knocking down your buildings yet, Paul?" jokes Parker to Allen, the oldest member of the team.
It's no wonder they're in high spirits. We are standing on top of their first collective project - Alinea is refurbishing 220,000ft2 of the art deco Adelphi for property investor Blackstone, a commission Alinea landed within two weeks of launching - and they've gone from strength to strength from here, picking up 6 million ft2 of schemes worth over £1bn in construction value. They are now 22-people strong, will be 28 in February, and say they're outperforming their business plan. They expect staff to number 100 within five years. They're also clearly having fun.
But they still have to prove they can make good on their ambition - delivering the biggest projects in London and the UK, the next Shard or Leadenhall. The signs are good, with major schemes including £1.5bn mixed-use Silvertown Quays in east London for Chelsfield and a proposed tower scheme on Leadenhall Street in the City for Mitsubishi Estate. But other clients will need persuading that they can take on the kinds of projects they became accustomed to at Davis Langdon and EC Harris, without their previous employers' scale, depth of expertise and financial muscle. Some industry figures privately ask what differentiates them from the host of other post-recession start-ups, many of which are now quite well established.
Interviewing all six co-founders wouldn't exactly be an even match, so Alinea agree to put up two - Taylor and Parker, who lead on business development and people respectively. Nonetheless, they're keen to stress the firm is a business led by equal partners. An engaging double act, Taylor is never far from a wisecrack, while Parker has a more philosophical bent. Both are passionate about their venture and argue persuasively that Alinea is a match for any competitor and any project, of any scale.
So, what's new?
Alinea is a cost consultant - although it offers a range of related services including employer's agent, benchmarking, value engineering, due diligence and design review - and focuses on the commercial, retail, residential and corporate real estate sectors in London and the UK. It was funded entirely by the six co-founders, who all have an equal equity stake in the business. The absence of external funders means they are "totally independent" and "free from external influence", says Parker.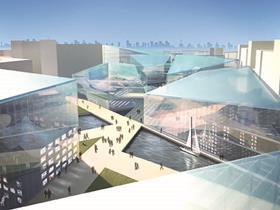 The firm was founded in May by Davis Langdon's former head of commercial Paul Allen, former head of tall buildings Steve Watts, former head of offices Iain Parker and former head of retail Paul Zuccherelli, along with EC Harris' former head of commercial Richard Taylor and former partner in the London team Mark Lacey. All the partners bar Allen tendered their resignations at the beginning of this year and departed in April, while Allen exited DL last November.
But the seeds of Alinea were sown much earlier - all six co-founders originally worked together at Davis Langdon, running the firm's once-dominant London-based commercial team for much of the noughties. "We came to know each other inside out then," Taylor says. He and Lacey then jumped ship to EC Harris, in late 2010 and mid-2011 respectively.
The idea for founding Alinea came about when the six co-founders and their wives met for their annual Christmas gathering. "As we talked we realised there was an opportunity for the six of us," Taylor says. "The market was shifting and we had a good balance across sectors and we were all mates." They were also all "a bit fed up" at their then employers, Parker says. Taylor adds that they also "wanted to be more hands on with projects again, back at the coal face". After sounding out a few clients over the Christmas period, within four weeks they had all handed in their notices. "It was one of those moments in life where you think: if we don't do this now we probably won't, so how about it?" Parker says. They say all their departures were amicable and "grown up".
On day one, Alinea had no furniture in its Blackfriars office, just a telephone, but it began to receive a lot of interest. On day two this included a call from the Middle East inviting them to bid for a 2 million ft2 shopping centre. "We all looked at each other in this bare room with just a telephone and couldn't stop laughing," Taylor recalls. They politely declined.
The Adelphi win gave them the confidence that "clients were willing to commit" to Alinea. They have since picked up further major projects, several of which are still confidential, including four around the £100m mark and a total of 3,000 residential units. Their clients include Lipton Rogers, Legal & General, British Land, Stanhope, John Lewis and Great Portland Estate. The firm is on course to turn over £1.5m in its first full year to the end of April and expects to turn over £2.5m in year two. Impressively, they expect to not only make a profit this financial year, but also make back the money they initially invested starting up the business. In the meantime, Taylor says, "our wives aren't talking to us".
"We couldn't have asked for a better start," says Parker. "But we're very humble about that, we're not complacent about it." That is probably for the best. While many clients have clearly embraced Alinea, others are likely to be wary, particularly given the amount of chopping and changing in the London cost consultancy market in recent years. One client, who said he was a "fan" of Alinea, nonetheless cautioned that they had missed a trick by launching after several other start-ups, including fellow former DL offshoot start-ups Quantem (2006) and Core Five (2012). "They could have established themselves for when the market picks up," he says. "The risk is they don't establish themselves quickly enough to take advantage." But fellow consultant Hanif Kara, co-founder of engineer AKT II and well-connected in the London commercial market is unequivocally positive: "They've really hit the ground running, as you'd expect."
We all looked at each other in this bare room with just a telephone and couldn't stop laughing
On the timing of the launch, Parker says he has "no regrets". Most clients have told him that "the timing is really good," precisely because the market is now picking up. But the partners do take seriously the importance of having clear differentiators with the competition, both large and small. This focus manifests itself in recruiting highly-regarded specialists as well as QSs. Alinea's first recruit was a research analyst and they've recruited a figure they describe as the industry's "pre-eminent" facade cost consultant to join in February, while they're looking to employ a BIM market leader to complement their existing BIM technician.
Alinea is also serious about competing with the bigger practices for major jobs. The partners have invested in the IT, the infrastructure, the people and the brand to compete with larger rivals. "We've erred on the side of boldness, rather than caution, on all these things," Parker says. "We didn't want to lose a job to anyone just because we didn't have one of those things in place. We want to be competing for the next Shards." They are also "recruiting speculatively" ahead of their workload, Parker says. "You can't say to a client, 'oh, can we pitch for this and if we get it we'll recruit the team' because it doesn't work like that."
They argue they can offer more partner time on projects than their bigger rivals, even as they grow. Taylor points out that, should they reach 100-strong, they would still only be 10-15 staff per founding partner - less than they were managing previously - and adds that the partnership will grow by then anyway. Their small size also allows them to peer review all work, including every estimate.
Where do you go from here?
Would Alinea ever consider merging with any of the other Davis Langdon off-shoots, to form a kind of Davis Langdon Mark II? "We get asked that a lot," says Parker. Taylor interjects with an emphatic: "No", but Parker goes for a more nuanced: "Not at the moment". Taylor also says that they're "not in this to sell up". "We want to create a legacy, we want the business to live on," he says.
Taylor and Parker insist there are no competing egos among the co-founders. But how can that be so among six people at the top of their profession? "There are no egos and if they emerge we'll knock them down," Taylor insists. "We have a nominal chairman to chair partner meetings but otherwise everything's decided equally and we're committed to maintaining that as we grow."
"But there is a table tennis champion," he adds, clearly referring to himself. Alinea's office sports a table tennis table, which, by the sounds of it, is regularly used. "I've only lost two games in six months," Taylor adds triumphantly. "I've beaten him twice myself!" Parker interjects, but Taylor cuts back in: "You know I'm the champ." No egos then, unless it's on the table tennis table.
Taylor and Parker - like the rest of the Alinea co-founders - are among the most personable people you're likely to meet in construction. But they're also steely and determined. If this is the beginnings of a London bull market, Alinea is primed to take full advantage.
Source
This article was published in print with the headline "The skyline six"