Vinci's construction boss on why the firm is putting airports at the centre of its growth strategy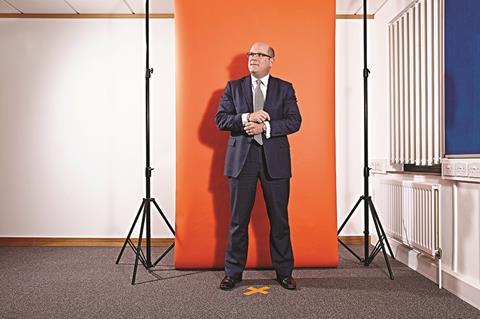 On first appearance Andrew Ridley-Barker looks like a construction boss straight out of central casting. The managing director of Vinci Construction UK is smartly dressed, his hair is cut short and neat, and he has a strong, welcoming smile. When he reaches out to shake your hand, however, he jangles.
This, it turns out, is due to the multiple metal bracelets he wears on his wrist, which he says go right back to his childhood spent living in first Malawi, then Zambia, Kenya and Zaire. "It comes from when I was a kid - I've always had them," he says. "I had to take them off when I came here for school - they wouldn't let me wear them."
Now that he's in charge of a £1bn construction business, it seems unlikely that anybody will try to dictate Ridley-Barker's sartorial choices. Life, however, still has its challenges. Like almost every other main contractor, Vinci has had a tough few years and has had to adapt in order to become as efficient and lean as possible. It acquired
Taylor Woodrow Construction in 2008, turning it into a £1bn business. Last year the company restructured, consolidating its buildings division into two operations and moving its airports business into the Building South business. However, Ridley-Barker is clearly now thinking about growth.
So, as the firm approaches the end of its current reporting year, how has that strategy been working out? And now that the economy seems to have turned a corner, what
does he see as the key growth sectors for the year ahead?
The quest for growth
While Vinci Construction UK's turnover remained largely unchanged between 2011 and 2012, the company recorded a sharp fall in operating profit, from £10.9m to £4.5m. The fall in after-tax profit was even more dramatic - from £11.6m in 2011 to £1.8m last year, on a turnover of £1.06bn.
In order to address this, the directors' report in last year's accounts declared that Vinci Construction UK would bid for fewer small projects and instead "focus more on strategic frameworks and higher-value project work", reasoning that there is "greater competition for lower value projects" and that "historically higher value projects return a higher margin".
"We are much more selective," says Ridley-Barker. "Bidding for work is extremely expensive and we have to be careful about deciding which projects to go for … While we have increased the average value of our projects, particularly in the buildings part of our business, we do need to maintain a complexion of projects. We need some higher value projects and some lower value projects." He adds that Vinci is concentrating its efforts on schemes where it believes it has a particular specialism or where it can strengthen its offer with the wider expertise of the Vinci group internationally.
While Ridley-Barker won't be drawn on what Vinci Construction UK's numbers will look like at the end of this year, which considering the Vinci Group is listed on the Paris stock exchange is fair enough, he says that the company's order book continues to be in robust health. (Vinci's last set of accounts said that its order book for the 12 months ahead was its largest ever.) So what areas does he think will be most fruitful for the company in the coming years? "We see infrastructure as a very important sector for us," he says, listing projects on which the company is already heavily engaged, including Crossrail and the Nottingham tram extension. "In the building world our main areas by activity continue to be health, education, commercial, and of late industrial has started to come back."
Taking off?
But the area Ridley-Barker is most keen to talk about is airports, which he sees as the most significant source of growth for the company. Vinci Construction UK's involvement in airports goes back a long way. Indeed, it has been a consistent feature in the business' strategy for well over half a century, or to put it another way, for the vast majority of the history of commercial flight.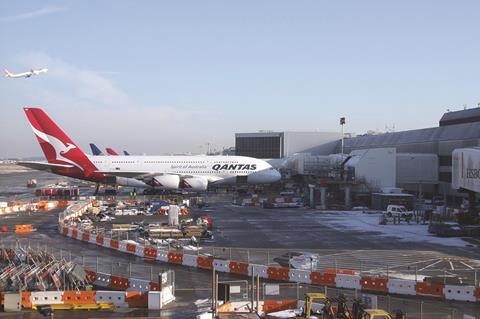 "We've been working in airports since the fifties continuously - we've never left," says Ridley-Barker, referring to Taylor Woodrow's early work on airports. "So if you look at Heathrow there's our thumb print on an awful lot of the infrastructure, whether that's in terms of construction management, project management, design, main contracting or principal contracting." As an example, he cites Vinci's role building Heathrow Terminal 4, completed in 1986. When an extension was required in 2007, the company found itself back on site, with one project manager having worked as a site engineer on the original project.
Vinci UK's airports division accounts for around £100m of revenue each year, or just shy of 10% of the company's annual turnover. Consequently, this is a vital period for the company, with both Heathrow and Gatwick - Vinci UK's main clients in the sector - in the process of agreeing the shape of their five-year capital investment programmes (worth £2bn and £1bn respectively) for the next five years, beginning in April next year. With such a long history in aviation, Vinci is in a good position to pick up substantial chunks of the work available, but nothing is certain and protecting that income stream is clearly vital. "We want to maintain it - it's important," says Ridley-Barker. "We dropped off a few years ago in activity levels and it's coming back up again now. We've got seven projects at Heathrow and two at Gatwick. It's important for us to continue our focus on airports."
While airports make an important contribution to Vinci's bottom line, they are also challenging and stimulating environments in which to work. After all, the day-to-day business of an airport has to continue alongside any construction work. "An airport doesn't want to have a construction site in the middle of it, and a construction site doesn't want to have an airport in the middle of it," says Ridley-Barker. "They're oil and water - they don't mix. You've got to be very careful when you deliver projects inside the wire and inside the controlled zone that you have people who understand it; who understand how to deliver the project."
An airport doesn't want to have a construction site in the middle of it, and a construction site doesn't want to have an airport in the middle of it
For instance, in the UK at least, retail forms a vital part of an airport's business model. But operators only have the limited period of time between passengers clearing security and needing to reach their gate. Consequently, anything that shortens that window of opportunity or reduces retail space, like a construction project, has an immediate impact on profit.
Similarly, contractors in airports need to ensure that they don't get in the way of the efficient movement of people and luggage - particularly at hub airports where many passengers are catching connecting flights.
"If contractors have been in and removed all the way-finding - and these are large, complex, confusing airports - then that's no good for passenger reliability," says Ridley-Barker.
And if not getting in the way of retail sales or marauding passengers wasn't enough, contractors working in airports also some rather bulkier items to contend with: planes. While it may sometimes seem in London that flights come in and out of Heathrow and Gatwick 24 hours a day, there is in fact a window - albeit small - when runways fall silent. And that is the only time when it's possible for some of Vinci's projects to proceed. "We have people who can work on a stand overnight, take an aircraft off at the beginning of a shift, work on the stand overnight and return the aircraft ready for operations at 5am," says Ridley-Barker.
While Vinci Construction UK may be solely a contractor, its French parent company has turned client. The group recently acquired the main Portuguese airports operator ANA Aeroportos and with it 10 airports in the country. Add that to the company's existing assets and Vinci now operates 23 airports handling around 40 million passengers a year. This wider experience, says Ridley-Barker, is hugely beneficial to Vinci Construction UK's domestic airports work. "Here in the UK we don't own airports," he says. "But we're increasingly looking to bring in group expertise that we have sitting in Portugal, in France and Cambodia in operating airports to assist us in the delivery of our airports construction in the UK."
So, Vinci Construction UK is placing airports at the centre of its growth strategy. If successful, it should also put Vinci in a strong position for when the really big airports contracts are up for grabs. After all, the Davies Commission, set up to review airport capacity in the south-east of England, is due to make its recommendations in two years' time and seems unlikely to propose maintaining the status quo.
"Heathrow is virtually full already - it's operating at 99% - and Gatwick is running the most efficient single runway airport in the world," says Ridley-Barker. "So we have to have a consensus on what has to be done. Of course it's frustrating how long it takes to get major infrastructure projects moving in the UK. But if we're going to maintain the economy, we need good connections with the rest of the world."