Until two months ago Peter Hansford was the government's chief construction advisor. Now the position has been abolished. Here, he talks frankly about the state of the industry and how
his legacy will be perceived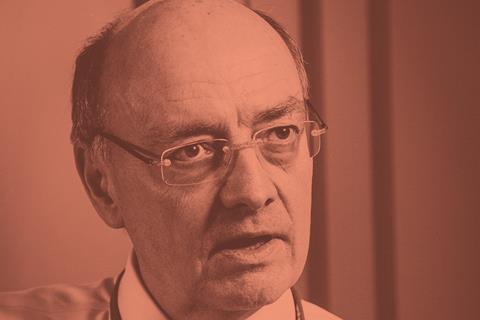 The man who until two months ago was the government's chief construction adviser, Peter Hansford, has reached some uncompromising conclusions about the state of an industry that he says is unsustainably fragmented, and what that means about what it can expect from the new administration.
"Government has put money into those industries [that have] come up with a compelling investment case, and that's what construction needs to do." Has it done it? "Not yet," he says.
While Hansford's stark analysis might well be a tough message for the sector, he may likewise find there are those in the industry forming their own opinions of his tenure as the industry's leader in Whitehall, a role he describes as the "glue" connecting government with the sector. Because, unfortunately for the industry, that glue has come spectacularly unstuck, the role being canned by the government out of the blue last year amid a wholesale rethinking of the government's relationship with business. Former RIBA president Jack Pringle - writing in this magazine - described the move as a "disaster".
There is no reason to think that decision was reflection of Hansford's abilities. The 61-year-old former Institution of Civil Engineers president was due to step down in September whatever happened. But with the original creation of the chief construction adviser (CCA) job in 2009 seen by the industry as a major victory, could he have done anything to prevent its axing? How does he think his contribution as chief construction advisor will ultimately be assessed? And with Hansford in a more relaxed mood since leaving the post, will this naturally diplomatic man break his silence to say what he really thinks of the decision?
Hansford took up the construction advisor job from QS Paul Morrell, a former Davis Langdon senior partner, in the autumn of 2012. Where Morrell had focused on sustainable construction, government procurement and BIM during his tenure, Hansford's primary preoccupation was the sector's industrial strategy, Construction 2025.
Commissioned by then business secretary Vince Cable, Hansford drew up the industry/government joint document in consultation with the sector in just six short months, and topped it with eye-catching targets to lower construction costs, cut the time taken to build, improve exports and reduce carbon emissions. The aim was the creation of a high-tech world-beating construction industry in little over a decade, and delivery was to be taken forward by a newly-formed Construction Leadership Council (CLC) with a delivery group sitting under it. "I'm really proud of the way the industry has come together over Construction 2025," he says.
However, acclaim for the strategy hasn't been universal. Some have questioned how achievable and credible its round-number aims are, with Hansford's predecessor telling Building in December he wanted to see "no more damn fool targets which are there presumably just to catch the eye of politicians and the media". The most common criticism, however, has been that it is a strategy without an implementation plan.
Hansford, a former civil engineering project manager on the construction of the Docklands Light Railway, clearly has sympathies with this view - in fact he admits now that an implementation plan for the strategy was drawn up but never published - but he says ultimately the criticism is based on a misunderstanding of how government works.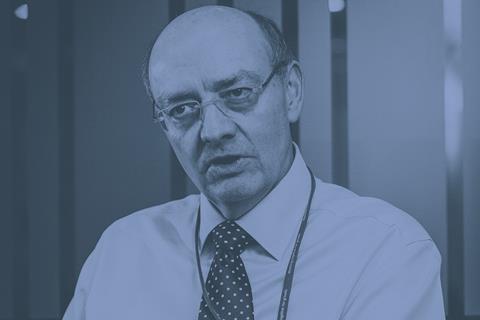 No apologies
"I started thinking we needed a detailed plan for this - when are we going to do this bit, when are we going to do that bit and who's going to do that? And it's not quite like that," Hansford says. "I would have needed - in my old world - a project management office, a reporting structure, and an army of 30 people, centrally, to make this happen. But you can't do that in such a complex industry and frankly I didn't have the resources for it either.
"Actually [it is done by] setting a direction, getting hearts and minds buy-in, and getting commitment of key people to make it happen. Then to some extent you're entrusting it, relying on the collective goodwill of industry and government to take it forward. I had to become a bit more relaxed about it. I'm not apologising for it."
He isn't apologising for the strategy's targets either. "Yes there was an element of - I'll confess now - I wanted some round numbers," he admits. "No one would have remembered [targets of] 32 and 54 and 49. The amount of science behind those numbers is maybe questionable, but the direction is right. Should it be 33% or 32 or 36? I'm not going to argue about that, I don't care. The point is, they're not unrealistic, and nobody's told me they're unrealistic. People who are criticising the actual number are being pedantic."
Hansford says the crucial test of the strategy's success is not these questions, but whether it is still defining the agenda for those looking to reform the industry. "I worried that it might be a flash in the pan. That's not my view [now]. I think things are changing. I think if somebody was to write the construction future agenda today I don't think it would look very different - which means I think we got it about right."
The other thing Hansford is proud of is the body set up to deliver the strategy, the CLC. He isn't at all perturbed by the fact it was slashed in size last year, from the original 30-strong format, to just 12 members. Far from it - he says the change was a "happy coincidence" of his own thinking coinciding with ministers' views that the previous incarnation had always been "much bigger than I wanted it to be".
Many of those shut out of the top table in this new slimmed-down form have voiced concerns the new body is contractor-heavy, with Bouygues' Madani Sow, Laing O'Rourke's Anna Stewart and Mike Putnam of Skanska all appointed.
Is it dominated by contractors? "It's not," Hansford says. "There's some great people from the design side, people like [BDP chairman] David Cash, we've been very cognisant of having the right voices there. But, yeah, inevitably there are a number of contractors [on the board]. Why is that? Hey, they're some of the leading players who are going to make things happen in this industry, like it or not. I wouldn't apologise for that."
Hansford seems oddly detached over the outcome of another of his major initiatives, the industry payment charter, launched with fanfare in 2013 as a bold bid to solve the poor payment practices which have dogged the industry for decades, but to which the government seemed to initially struggle to get traction with major contractors. Critics at the time said the charter would have little impact without monitoring or enforcement of its provisions built in - something which the government said it was working on. So have these provisions been settled and who has now signed on the dotted line? Hansford says he is confident the charter is being taken forward, but that I should ask the business department for the detail. "This is one of the workstreams being taken forward by Madani Sow, but it's not close on my radar really," he says.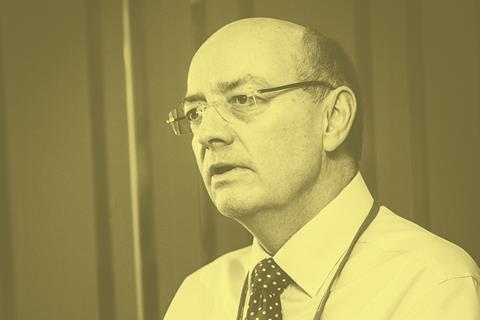 Industry woes
Happily, being out of government seems to have freed Hansford to speak his mind more. There is no doubt he is passionate about reforming how the industry works, and losing the job title means he can be more critical. He says the sector has both too many individual firms, and too many trade bodies representing it. Industries such as automotive and aerospace have had more success in recent years by consolidating into large systems integrators powered by structured, organised supply chains.
"My view is that we have too many players," he says. "We waste so much money in this industry in our interfaces. If you were to design an industry you wouldn't design it the way we've got it. It's a personal view but I think, if we're really going to change construction, we need less players.
"His view is this sector's structure doesn't generate enough profit to allow firms to invest in innovation, with Building's top 150 contractors generating an average pre-tax margin of just 1.2% last year. "I don't think it's sustainable. I think it's resulting in an unhealthy, sub-optimal industry. Procurement is only part of it. It's chicken and egg really: You procure the way you do because the industry model is the way it is. It's how you break that circle that's interesting."
This fragmentation clearly made Hansford's job much harder. His initial idea was that Construction 2025 would effectively be rolled out by the industry's trade bodies, who manned the "delivery group". However, the body made little progress and was eventually disbanded. "It was never, in hindsight, going to be the vehicle to deliver C25. I thought it was," he admits. "But I was wrong. Their role in life is to represent their members. I suppose we were asking them to do something they weren't set up or equipped to do."
Hansford says the decision to cancel the £125k a-year CCA role was influenced by the politics of continuing spending austerity, though he admits that ultimately this wasn't the deciding factor, as industry trade bodies offered to fund the salary.
I wanted round numbers. No one would have remembered [targets of] 32 and 54 and 49. The amount of science behind those numbers is maybe questionable, but the direction is right
More, he says, it was an expression of a change in government thinking after the election, that Hansford understands and accepts. "I think a fundamental change in philosophy of the government we elected last May is that it wants industry to lead itself, and it wants it to not be funded by the public purse. This is about industry putting its money where its mouth is. Therefore the resource should be coming from industry. For me … politics doesn't come into this," he says.
But does this necessarily mean it was right to scrap his job? "I was surprised when the role was removed. I understood the need to make a change, and I made clear my views about whether or not that was the best way to do it. At the end of the day, ministers decide."
While he will not be critical of the government, it's pretty clear he disagreed with the decision because he thought the CCA role still had value. "I wouldn't have done it if it had no value. Of course it had value. That's not in question. [In September] I talked about how it was important that the baton wasn't dropped, and I was going to ensure any gaps created by the loss of the role were filled in an appropriate way. By then I'd reached the conclusion that some things you can fight, some things you can't; you have to accept that this change is going to happen."
Despite this evident disappointment, however, he does remain positive overall about the changes made by the new government. "The point in question is will the absence of the role impede the changes that need to happen? Construction 2025 is not a series of discrete projects, it's a series of interlinked initiatives, and the risk is they won't be properly interlinked. But I think that's recognised, and I think that Andrew Wolstenholme in his role [as CLC co-chair for the industy] sees that. If they need to fix it in some way in the future, then I'm sure they will."
Hansford is making a good job of minimising the problems created by abolishing the role - and in some ways he's damned if he does, and damned if he doesn't. If he's right that the role won't be missed, then there's an implication his work didn't have much value in the first place. Unfortunately, the best construction can do is hope he's right that his agenda will continue to be taken forward more collectively.
Construction strategy key targets
Lower costs - a 33% reduction in the initial cost of construction and the whole life cost of built assets
Faster delivery - a 50% reduction in the overall time, from inception to completion, for new build and refurbished assets
Lower emissions - a 50% reduction in greenhouse gas emissions in the built environment
Improvement in exports - a 50% reduction in the trade gap between total exports and total imports for construction products and materials