Six years ago designer Steve Edge was advocating corporate rebranding as a way of surviving the recession. Now that the market place is hotting up again, he thinks firms should be even more aware about their image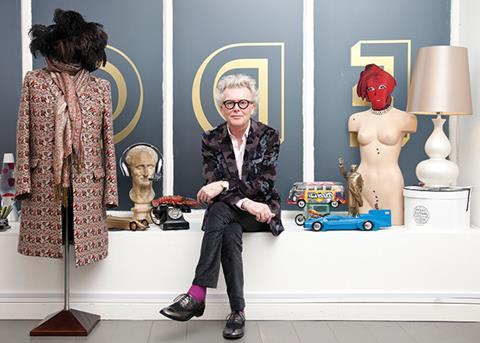 Designer Steve Edge doesn't really fit in at the average construction industry shindig. Among the grey suits, cornflower blue shirts and paunches, Edge's flowing blond locks, floral print jacket and bright fuschia socks look a tad out of place. Yet this is the man many of the industry's largest companies go to when their image needs a tweak - or even an overhaul - and he's been doing it for nearly 20 years.
While his combination of colourful clothes, wacky ideas (he used to ride a horse to meetings in King's Cross when he was younger), and even more colourful conversation (peppered with "mates" and an assortment of four-letter words) run the risk of falling into a parody of the creative brand consultant, there has been no shortage of top construction names prepared to take him very seriously. While he has worked with the likes of George Lucas, Christian Dior and Cartier, his construction client list alone is a virtual roll call of the sector's most important players, including Argent, Brookfield, Countryside, Kier, Mace, Wates and Willmott Dixon. In 2009 he met with Building to explain why companies facing the recession had to invest more in marketing and image in order to counter collapsing sales. Now, as the sector leaves recession and business picks up, 56-year old Edge makes the case that branding and image are more important than ever. So what do the sector's firms need to be doing in the current environment?
"When competition gets great, you've got to really be seen and fly your flag higher than your next door neighbour," Edge says. In his thick East End accent he flows swiftly into another metaphor: "The premiership that all those boys are in, it's one point that makes the difference."
His start in the sector came in his mid-thirties with Skanska, "about 20 years ago" when he was called in to improve the presentation of the firm's bid documents. The breadth of his client list gives him a unique position to judge the success or failure of the sector's efforts with image and branding, and what the industry had in place at the time left him less than impressed. "I was always agog, mate, that when I was looking at all these bid documents, that you turn to the back with the CVs and there's some silly bloke standing in front of a hessian background, taken in 1970; and some dodgy looking bird outside a nightclub that's badly lit.
"They [the contractor] stick those photos in thinking it's going to help them build this huge building with all this money. And they [the client] look at this team and think 'you're having a laugh, aren't you?'"
Edge worked both to improve the images, but also to break the firm's pitch down to "spoon-feed" information to clients, in a way designed to make it "a pleasure" to go through their bid. "Instead of being informational, it's about being inspirational," he says.
Of course, his advice now goes far wider than bid documents - having since worked on projects like the entire rebrand of Kier - with his company, Edge Design, offering a range of branding and design services.
When Edge talks about his passion for design, you believe him. He speaks with real affection of Argent's regeneration scheme at King's Cross, where he is working on branding one of the buildings, because of the difference the developer has made to such a dilapidated area.
But despite the good stories construction firms often have, he says many are still getting their communications wrong, commonly making things far too complicated for people outside the company in question to understand. "A lot of people throw five balls at people because they are communicating all different stories, different messages, and everybody drops all those balls because they can't catch any of them," he says. "When we work with a brand, once we get it right, we throw one fucking ball."
Edge does still get called in to work on bids, and while he acknowledges the standard has improved immensely since he first started working with construction, some - "to this day" still have the look and feel of those from 20 years ago.
He adds that the acquisitive nature of many firms can also land them with "big sprawling spider diagrams" of how the firm works, "none of which really communicate on an effective level" to those outside or inside the business.
Indeed, he adds that when he worked on rebranding Kier's various divisions to Kier Group, one of the issues the firm was seeking to solve was that staff didn't know the full range of services the firm provided, in part because the branding was confusing, something which actually stopped people cross-selling to clients. Edge argues having a central name and visual identity has improved staff's understanding about what the firm does.
That said, he adds that firms need to be able to communicate the breadth of their services at the same time as having an overarching brand identity. He says: "People think it's obvious that if we do this, then we also do that. Well, how many times do you go to a restaurant and if it's not on the menu, you don't ask for it?"
Edge says one area where firms aren't leveraging their brands well enough is on site-based advertising. "It's the world's greatest advertising space in capital cities," he says. "It is getting there, but it has not been used to its full extent." He adds that he's got a few "interesting formulas" himself, but he's not willing to go into more detail.
Construction brands should be as prominent as McDonald's, he argues, and known as experts in their fields. Social media has given them the keys to do so but too few have taken the opportunity.
Certainly from Edge's perspective, the job is far from over when it comes to improving construction's image and branding. But no doubt this whirling dervish of creativity will have an influence on where the sector goes in that regard over the next decade.
Source
Original print title: 'Standing out'