Argent's managing partner David Partridge on King's Cross Central and the next £1bn of construction contracts
There cannot be another development in the UK with more diverse occupiers than King's Cross Central. At one end of the spectrum, the scheme's manager Argent in January this year announced that it had sold one of the development's most prominent sites to internet giant Google, which subsequently revealed plans to build itself a £300m HQ there. At the other, the company leases spaces to individual street food vendors, pulling in about £25 per stall, per day.
Administering such a wide range of occupiers is, of course, complex and time consuming, but according to Argent's managing partner David Partridge, it is necessary if his ambitions to create a fully formed urban environment are to be realised. "You have to do all that kind of stuff - you can't do one without the other," he says. "The richness of the place is all about layering. It's incredibly hard work. You have to just keep layering it on and layering it on until it builds up into a very rich picture."
A warm, engaging man who talks with great enthusiasm, Partridge took charge of Argent last year when the company restructured to become an LLP and former joint chief executive and well-known industry figure Roger Madelin took a step back from day-to-day management. The move, which formally severed the link between Argent and its investment partner the BT Pension Scheme, transformed Argent from being a full-blown developer to something more akin to a development manager.
Partridge clearly thinks that King's Cross has the opportunity to be something a bit different from the usual shiny office blocks with a Pret on the ground floor. But what will that be? And what opportunities does the development still present for UK construction?
The richness of the place is all about layering. You have to just keep layering it on until it builds up into a very rich picture
That such a prestigious company as Google has chosen to relocate to King's Cross says a lot about the 67-acre scheme's chances of actually being built out. However, the picture has not always looked so rosy. For years, the vast majority of activity on the site was as a result of public sector investment, with the development of a new home for Central St Martins, part of the University of the Arts, alongside several blocks of affordable housing. Only the redevelopment of the Great Northern Hotel at the southern tip of the site could have been described as commercial.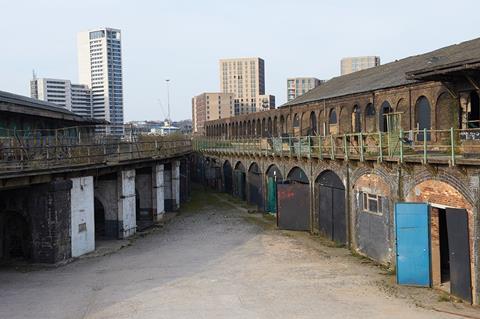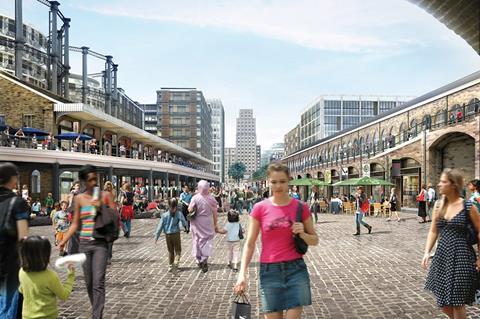 "Back in 2007 at one stage we had the ability to build two or three speculative office buildings, one or two residential buildings and maybe something interesting around the central square," says Partridge. "As it turns out, those markets fell off a cliff. So yes, we had to roll with the punches a bit in the recession."
However, a corner appears to have been turned in terms of attracting private investment. At the end of 2010 property firm BNP Paribas bought a site on the development, prompting Argent to restart work on two further speculative office buildings. The first private housing development, comprising 143 units in a scheme designed by architect dRMM, is expected to be complete by the end of the year. As Hanif Kara, a director at consultancy AKT which is working as structural engineer on Camden council's new building at King's Cross, puts it: "The resilience and staying power they've shown is unprecedented. For the first time I really think it's going to happen."
In fact, the upfront investment in infrastructure at King's Cross, combined with the new Central St Martins building, has had long-term benefits. "It made it very easy for the people who could come into the housing market or start picking up the pre-lets on the commercial space," says Partridge. "They were moving into something that wasn't just a figment of a developer's imagination and was something that is already up and running and full of [people] who are already using the streets and squares that we'd put in."
As a result, Partridge believes that Argent can now command much higher values at King's Cross than was the case prior to the crash. In retrospect, it has been a good thing for Argent that certain deals fell through. "Sainsbury's for instance, when we were first talking to them back around 2007 would have had a really good deal," he says. "There's no way in the world that we'd give someone a deal like that again."
But what of the future? Touring the site, it becomes evident just quite how much of the project is left to complete. Indeed, Partridge says that out of the 8 million ft2 for which Argent has planning permission, just over half is now committed and there is still between £750,000 and £1bn worth of construction contracts still to play for. He says the coal drops next to the Central St Martins Granary Building, where coal was unloaded from trains and onto canal barges, will form the next major phase of retail, with plans for around 100,000ft2 of development, while two substantial residential schemes will start on site in the next couple of months.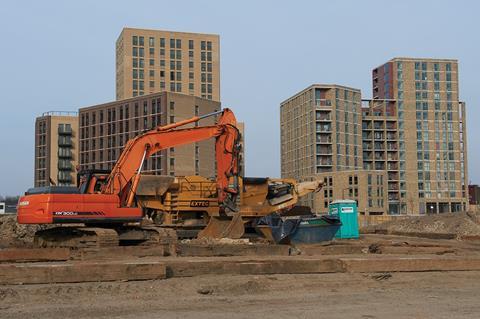 Further ahead, Partridge and his team are considering how to differentiate the commercial element of the northern half of the site from its southern counterpart. He says this could lead to more of a "Clerkenwell feel", in the northern section with space created for firms looking to take advantage of the geographical proximity of the University of the Arts, Google and the Francis Crick Institute, a biomedical research facility being constructed nearby and scheduled to open in 2015. "We've got a real cluster of interesting organisations that smaller businesses will want to be near to," says Partridge. "So, we're looking to create something bespoke for them, which will be different in terms of tenure and architecture."
However, the ability of main contractors to successfully bid for work at King's Cross will depend in part on who is doing the procuring. During the last two decades Argent worked closely with two contractors - Bam and Carillion - with a third, Kier, joining the limited roster on the King's Cross project. That said, with Argent's twin strategy of developing sites itself and selling plots to companies seeking to act as client, there will be opportunities for other companies to work on the scheme.
"We've got three major contractors that we've worked with," says Partridge. "Having said that, people have come in from outside and bought a plot and run a tender process on their own. Camden council ran a tender that happened to be won by Kier. BNP Paribas ran their own, which was won by Vinci, and Google ran their own and that was won by Bam. So depending on which organisation it is and how hands-on they are, we've been part of the process in some cases and in other cases we've only helped them get through to planning permission and after that they've run it themselves." He adds that the decision - never before confirmed - to select Bam Construct as preferred bidder on the Google job was "absolutely" taken by the internet firm. Bam surprised some in the industry by beating heavyweights Carillion, Balfour Beatty and Skanska in March to land what, when a contract is signed, will be its largest ever job.
Despite the fact that there is still so much work to be done on the project, Partridge is already considering life after King's Cross. The restructure of the company last year is a case in point. Until then, Argent was effectively tied into one shareholder - the BT Pension Scheme - which has a majority stake in the projects that Argent has developed since the mid-nineties, including Manchester's Piccadilly Place, as well as Brindleyplace in Birmingham. The establishment of the LLP loosens that link, although Argent will continue to work on behalf of the BT Pension Scheme on current projects.
"We've had 15 years acting as the conduit of their investments and one day the pension scheme is going to stop needing that kind of exposure," says Partridge. "It's closed and one day they're going to have to convert it all to cash. We didn't want to suddenly get to the end of King's Cross and go 'oops, we don't have another project and what do we do with these 90 people we're employing?'."
Instead, Partridge and his fellow directors set up the LLP to allow them and their successors to work on behalf of other investors. It has been reported that Argent is the frontrunner in the race to deliver the Airport City project for the Greater Manchester Pension Fund and Partridge confirms that "we're down to the last few". "It was about passing the company on to a new generation and saying 'right, you're a partner, you've still got the benefit of Roger's grey hairs - what's left of them - myself and the other directors … but you've got a great platform and it's up to you to step up and run the new projects'."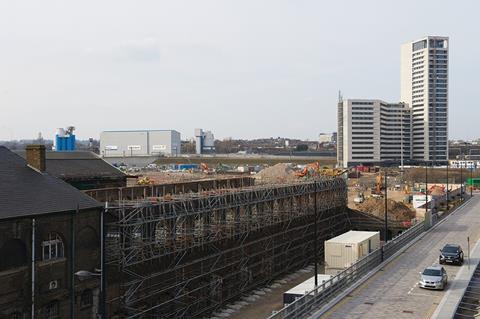 ARGENT - A HISTORY
1981 Argent founded by Michael and Peter Freeman and begins working on mainly office and warehouse developments round the M25.
1989 The company disposes of most of its holdings before the market crash in a move that allows Argent to build up a large commercial property portfolio in partnership with US private equity firm Warburg Pincus during the early-nineties downturn.
1993 Argent re-enters development with purchase of the 17 acre Brindleyplace site in central Birmingham.
1994 The company is floated on London Stock Exchange for £150m.
1995 Argent forms Argent Development Consortium, a joint venture with BT Pension Scheme, Royal Mail Pension Plan and Citigroup, to carry out a multimillion-pound development programme at Brindleyplace, Thames Valley Park, Reading and in the City of London.
1997 BT Pension Scheme purchases Argent for £240m and takes it private. Later in the year, Argent's £400m gross investment portfolio is transferred to BTPS, managed by Hermes. Argent's development projects are transferred to Argent Projects Partnerships (APP), a new partnership between Argent and the Freeman brothers. Roger Madelin becomes chief executive of Argent.
2000 APP takes on the development of 67 acres at King's Cross, in partnership with London and Continental Railways and logistics firm DHL.
2006 London Borough of Camden grants outline consent for the development of King's Cross Central for 8 million ft2 of development.
2006 David Partridge becomes joint chief executive of Argent.
2008 Infrastructure work starts at King's Cross Central.