Paul Sheffield could barely have chosen a worse time to become chief executive of a UK construction firm, but two years after taking over at Kier, his growth strategy appears to be paying off. By Allister Hayman
'You probably think I'm the dullest person around," quips Paul Sheffield. He's referring to the fact that he started his career at the firm he now runs. But the chief executive of Kier has had anything but a dull climb to the top job at the contractor. And the two years he has now been in charge, with the market in turmoil, could hardly be described as humdrum.
Since first walking through the doors of Kier as a fresh-faced civil engineer in 1983, Sheffield's career has taken him from an air base in the north of Scotland to Papua New Guinea, Saudi Arabia, Turkey and Hong Kong. Now, nearly 30 years on, aged 50, he is heading the whole operation and he readily concedes that he couldn't have taken over in much more trying circumstances. "You can hear somebody saying, 'Well it was all right when I left'," he jokes. Then more seriously: "Clearly it's a very, very, tough trading environment out there - as everybody knows. But the big strength we've got is we've got a very vibrant business and the breadth of what we do gives it a certain amount of stability."
So far, the £2.2bn construction, services and property firm has weathered the storm pretty well. It reported a 9% rise in pre-tax profit for the second half of 2011, although its revenue fell 5%. Here, Sheffield explains how he is keeping Kier on an even keel and why the future success of the firm lies in mixing infrastructure work at home with some exotic locations overseas.
Civils and the south Caribbean
The "very, very tough trading environment" that Sheffield speaks of has been most visible in the group's maintenance service division, which he says is feeling the pinch of public spending cuts.
"Local authorities have been turning off the tap on planned maintenance," he says. "We've seen a pretty draconian cut in the planned maintenance side of the business and that's contributed to a decline in revenues." While construction revenue dropped slightly from £728m in the last six months of 2010 to £720m in the same period in 2011, revenue from the service businesses fell more sharply, from £243m to £218m over the same period.
The firm's share price took a tumble of some 20% on the back of a downbeat assessment of the market in its results last month - and in particular a warning that public sector outsourcing opportunities were not coming online as expected.
But, Sheffield is more upbeat than the results statement and says there is a "huge amount of bidding" going on at the moment and he expects that to begin to flow into revenues from 2013. "There are very big contracts out there that need to be won by somebody and if we get our share we should see some growth coming into our services business next year."
The construction side of the business is more buoyant, largely due to the firm's push into infrastructure. In 2008, the firm had around £1.4bn of UK construction work and £200m of civils and overseas business. On taking charge, Sheffield set a target of trebling the firm's civils and overseas business by 2015, and he is on track - after doubling the civils and overseas work in two years, it now makes up a third of the firm's £1.5bn construction business.
If you set overly ambitious targets on growth volumes you can very easily trip up by winning the wrong sort of work
Some high-profile recent wins include a £210m Crossrail contract in a joint venture with BAM and Ferrovial for major works at Farringdon station, a £100m site preparation contract at Hinkley Point C nuclear power station in a joint venture with Bam Nuttall, as well as a £50m energy-from-waste plant in Plymouth. "We've always had a relatively small but strong civil engineering and overseas business, but I've always felt that we've needed to expand that side of the business to give us more balance," Sheffield says. "It's a strategy that is helping us to grow and maintain overall revenues and volumes while the UK building market shrinks."
As for international work, Kier isn't just following the consultants' rush to India and China - though it does operate in Hong Kong. Overseas revenues are up to £80m from a low point of £20m in 2010, and Sheffield says he wants to raise that to £150m by 2014 by continuing to focus on three core markets: the Middle East, the Caribbean and Hong Kong.
The firm has opened an office in Trinidad, alongside its long-held post in Jamaica, as the group looks to capitalise on a growing oil and gas economy in the south Caribbean. It is also looking to expand its business in Saudi Arabia, while in Hong Kong it is on site with £330m worth of construction work and is developing a seven-year business plan to grow its business there.
Not that Sheffield likes to talk about targets. "Being too specific about growth targets can lead to the wrong behaviour," he says. "It's easy to win work - the key is winning work you can make money out of, and if you set overly ambitious targets on growth volumes you can very easily trip up by winning the wrong sort of work."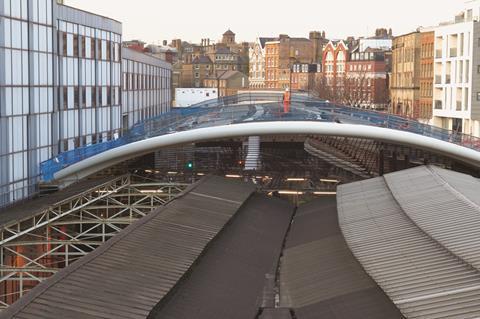 Which work?
So what is the right sort of work for Kier? "We're focusing on technically challenging projects with a sophisticated customer - clients who recognise the need for technical excellence in delivering complex schemes rather than for a cheap price," says Sheffield. "If a project is purely being awarded and let on the basis of the cheapest price I think somebody will beat us - but if it's technical quality and competency that you need, I think we're as good as any."
Sheffield says this means that, with the market the way it currently is, the firm is looking to remove itself, as much as possible, from competitive bidding. Around a third of its construction work is now on frameworks, with another third in infrastructure and overseas and only the remaining third in the open market.
"You can never extract yourself entirely from the competitive market place but the objective has got to be to do as little as you can - and where projects are let on the competitive market place, try to target the ones that have got a skew towards the technical complexity that clients will value. For us it's all about targeted contracts and trying to manage our risk at the same time as putting in good technical submissions."
And a key part of this strategy lies in developing the firm's property business. Three years ago the firm was delivering about 2,000 homes per year. That has now fallen to about 500 and, although it still maintains a significant landbank of about 5,400 units, the strategy is to steadily manage that down and invest instead in property development.
"Buying housing land is very speculative," Sheffield says. "We would much rather put our capital into property development where you can manage the risks and de-risk them - and they create construction opportunities and service opportunities in the long term."
The firm's property arm saw revenue shrink from £126m in the second half of 2010 to £108m in the second half of 2011, although profit tripled from £3.4m to £10m over the period. Sheffield says the firm plans to double the £45m invested in its property business over the next two years and is looking for a return on that capital of about 15%.
"Investing in the property business acts as the glue between other parts of the company and a real catalyst for creating work for ourselves," he says.
In fact, along with the boost to the firm's civils and overseas work, Sheffield rates the evolution of the property business as one of his top achievements since taking the helm.
So, to recap: Sheffield plans to double the investment in the firm's property arm and increase international revenue from £80m to £150m by 2014, as well as planning to grow his business exponentially in Saudi Arabia, Hong Kong and the Caribbean. Never a dull moment, then.
It's nice to have cash in your back pocket…
This month it emerged that Kier is in talks to buy parts of the construction division of Scottish housebuilder Stewart Milne. Although Sheffield stresses the talks with the Aberdeen-based firm are at "an early stage", he says the move is part of a strategy to grow their business through acquisitions. "One of the very few areas of the UK that we don't operate a construction business is in the Aberdeen area, so it is logical that we are talking to one of the best operators there," he says.
Sheffield says the firm is also looking at facilities maintenance firms with an eye to growing what he says is Kier's "tiny tiny market share" - around £100m - of the circa £35bn per year FM market.
"We can grow organically or do some sort of acquisition. I feel organic growth is going to be too slow so clearly there is an opportunity there for us to acquire. We're looking for a business with the right customer base; the right geographic spread that complements what we do; and a similar sort of scale as what we've got now so we can effectively double our business in a short period of time."
And with £130m in cash reserves at the end of 2011, Kier certainly has the means to deliver, although Sheffield says it won't all be spent: "In the times we're moving into it's no bad thing having some cash in your back pocket."