Developers reach financial agreement to make John McAslan + Partners design a reality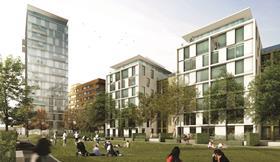 Plans for a £300m housing development in Earls Court in London is set to start next year after the developers finalised arrangements for a joint venture.
Developer Capital & Counties Properties (Capco) today finalised an agreement with Hong Kong developers the Kwok family to take a 50% stake in the development of the 7.5 acre Seagrave Road site.
Capco received £63m in cash from the Kwok family as aprt of the deal..
The development, designed by architect John McAslan + Partners, will comprise 808 new homes, including a 16 storey tower, and a new garden square.
Ian Hawksworth, chief executive of Capco said: "We are pleased to have completed our joint venture agreement in relation to the Seagrave Road project and look forward to starting on site in 2013 to create this exciting new residential quarter for London."