Firm used high pressure tactics to get customers to buy solar panels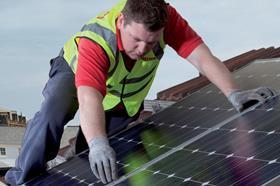 A £50m solar specialist has been wound up after an investigation commissioned by business secretary Vince Cable found it guilty of mis-selling solar panels.
Solar Energy Savings Limited did not conduct installations itself but contacted customers to sell them the systems and then sent salespeople to their homes.
An investigation conducted by the Insolvency Service found the firm engaged in high pressure selling tactics; overstated the performance of solar panels; and led customers to believe they could take solar photovoltaic systems with them when they moved house at no extra cost.
It also falsely led customers to think the 30% discounts it was offering were government-backed and time-limited.
Scott Crighton, investigation supervisor at the Insolvency Service, said: "Solar Energy Savings Limited persistently and deliberately flouted both statutory regulations and industry standard selling practices in order to generate sales and widely promoted a non-existent scheme in order to induce members of the public into signing a contract."
Solar Energy Savings Limited, which has turnover in excess of £50m, was wound-up by the High Court in Manchester last week.
The firm did not admitt to the allegations from the investigation and did not contest the winding-up petition.