Read about Chris Eubank's plans to save Brighton's Grade I-listed West Pier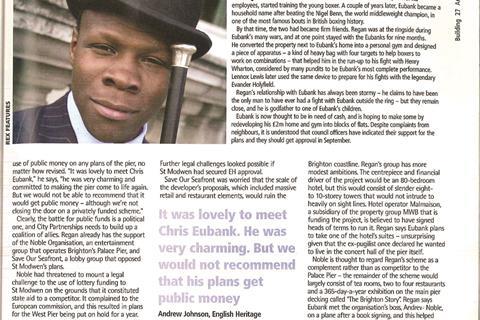 The 144-year-old Eastbourne Pier was reduced to its frame at the end of last month, after a fire ripped through the Grade II-listed landmark. But no sooner had the promenade started to cool, than plans to restore the destroyed section of the 300m-long pier were called for - with early reports that parts could be re-opened as soon as Christmas. Those looking to save the pier may be interested in Building's feature from 27 August 2004, where an unlikely candidate featured campaigning to save Brighton's Grade I-listed West Pier from demolition: former middleweight world champion boxer Chris Eubank.
Unfortunately, Chris refused to meet with Building's Mark Leftly for their arranged interview, but his business partner John Regan did. Regan outlined their work towards raising a targeted £23m for restoration, but were unable to get English Heritage on board with the proposals. An English Heritage spokesperson said: "It was lovely to meet Chris Eubank; he was very charming and committed to making the pier come to life again. But we would not be able to recommend that it would get public money."
Despite their efforts, Brighton's West Pier still remains derelict 10 years later.
To read the full article from 27 August 2004, download the pdf on the left.